Set course for more sustainable journeys that are more respectful of nature and living things
It's good to travel, explore and encounter new things. But not anywhere, anytime or any way. Designing the journeys and ships of tomorrow means creating experiences that are more sustainable and more respectful of people and ecosystems than ever before. We're setting course to rise to the new societal and environmental challenges to better understand, share and protect the world around us.
Combining passion and exploration
Every journey is an exploration, whether of the natural, cultural, gastronomic or artistic world, because every discovery, every observation, every encounter is an adventure. Luc Jacquet, Eugénie Drion, Francine Kreiss, Laurence de la Ferrière and more: prestigious travellers share their sensitive and unique perspectives on the planet on board our ships.
Building strong relationships
Respectful, in-depth discussions with local populations, from Greenland and French Guiana to the Bijagos Islands, and meticulous on-site scouting to discover the lifestyles of populations and cooperate with them is the first step in designing exploration trips off the beaten track. This philosophy is at the heart of our ethical charter, ensuring we leave the smallest footprint possible.
Meet Daniel Cron, scientific coordinator on board Le Commandant Charcot.
Learn about Pure Ocean, a foundation supported by PONANT which funds innovative scientific research projects to protect the oceans. 
Get insight into the life of Pipaluk, a young Greenland woman open to the world, or Adam and Ole, two Inuit hunters who shared their expertise with PONANT during a reconnaissance trip to the North Pole aboard Le Commandant Charcot.
Discover the ancestral traditions and wisdom of the remote populations of Oceania with Serge Guiraud, a naturalist guide and ethnologist. 
Learn about ice science on board Le Commandant Charcot or discover the northernmost research station in the world at Spitsbergen.
Find out all about the history of kayaking, a way of observing the world while completely connected to the environment.
Contribute to scientific exploration by sharing your observations via participatory science apps, such as Happy Whale.
; 
Photos credits :  ©Studio PONANT/Morgane Monneret; ©PONANT/Mathilde Vanneron, Julien Fabro; ©PONANT Photo Ambassador/Ian Dawson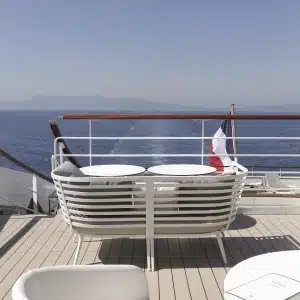 Explore the world with PONANT
Set off on more sustainable journeys to discover our planet's treasures