A filmmaker at the intersection of images, science and emotions
On 1 November 2021, Le Commandant Charcot, PONANT's first advanced polar exploration vessel, set sail from Punta Arenas, Chile for its very first Antarctic cruise. On board was a passenger who displayed undisguised enthusiasm: filmmaker Luc Jacquet. This was an opportunity for him to set off (yet again) in search of images and emotions in the heart of the icy White Continent that he finds so fascinating.
First contact with the White Continent
Luc Jacquet has been visiting Antarctica for 30 years. The first time was in 1992, when he wintered over at the Dumont d'Urville Station, spending 14 months in Adélie Land. He was 24 years old and had just completed a master's degree in animal biology in Lyon. After responding to an advert, "Seeking a student for an ornithology programme in Antarctica", he embarked on a journey into the unknown of Adélie Land for the first time. There, he identified marine mammals and seabirds alongside a team from the CNRS (French National Centre for Scientific Research). More unusually, he also found himself "playing" cameraman for Swiss director Hans-Ulrich Schlumpf. This encounter with Antarctica would, unbeknownst to him, change the course of his life forever. It sparked a passion for the southern continent's vast open spaces, the feeling of freedom they provoke in him and the majesty of its fauna, as well as for images and film. Antarctica is "an extreme land that seems almost unreal at first, inspiring a taste for adventure and for the exhilaration of distant lands. It is a place of extreme beauty with such pure, brutal and changeable landscapes. A land of contrasts with outsized dimensions. It's the kind of place cinema was made for!"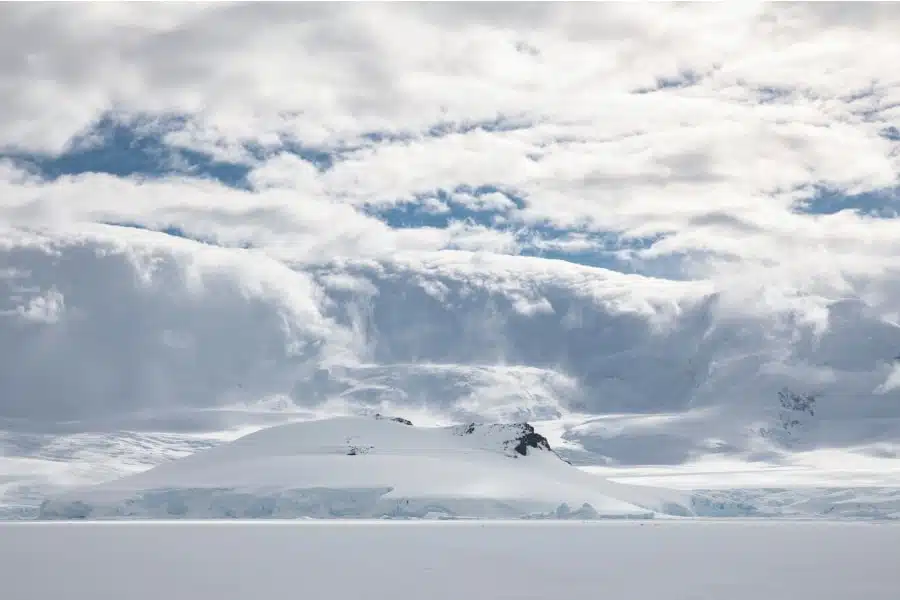 Luc Jacquet remembers his first face-to-face encounter with an emperor penguin as if it were yesterday and has championed the beauty and majesty of this animal ever since. The filmmaker shared his intense personal commitment to these animals in March of the Penguins, a profoundly moving documentary released in 2005. In his visually stunning first feature-length film, which won an Oscar in 2006, Luc Jacquet shared the magic, nobility and life force of this Antarctic bird. More than ten years later, he invited us to follow in the footsteps of his favourite animal again in March of the Penguins 2: The Call, this time focusing on penguins' life underwater.
The call of the Antarctic
He has returned to Antarctica many times since that first visit, with return trips aboard L'Astrolabe and Le Marion Dufresne, crossings of the Drake Passage in sailboats, an expedition aboard Le Boréal, and more. And 30 years later, Luc Jacquet still feels this irrepressible "urge to return". This powerful urge is coupled with a deep desire to understand the origin of this "polar magnetism", this attraction that pushes him to return whenever he can to explore the vast expanses of the White Continent again and again. "I find it difficult to explain and control the way Antarctica makes me feel. I feel nostalgia for the icy landscapes, overwintering and sea ice. I take immense pleasure in the fact that every time I go back, I have the same purpose, focus and intensity. It's very powerful!" And this is why the filmmaker accepted PONANT's invitation to take part in Le Commandant Charcot's inaugural cruise. It was an opportunity to be seized and a privilege to be honoured, providing another chance to find answers to his questions about the origin of this mysterious "call of the Antarctic".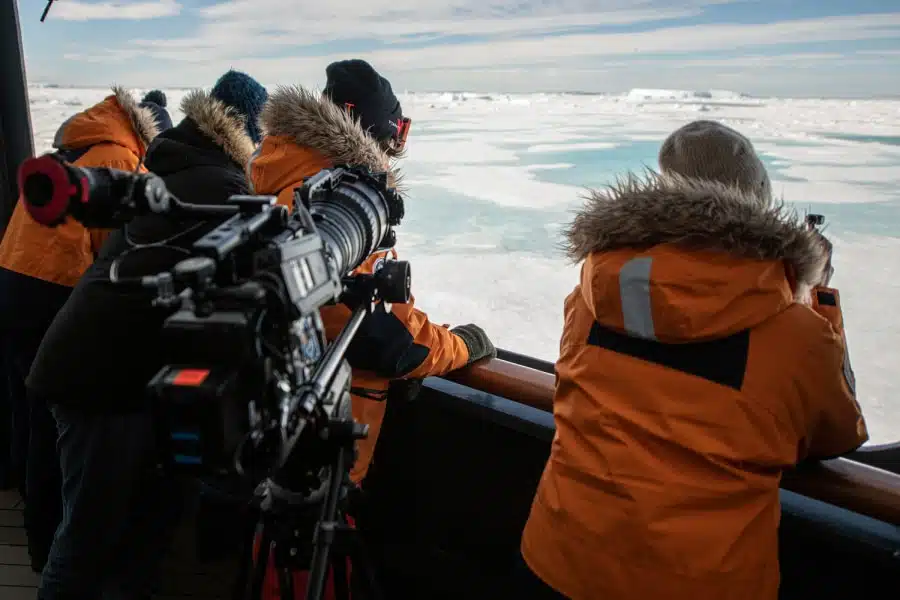 Le Commandant Charcot, a new way of travelling
With Le Commandant Charcot, "it's obvious that PONANT is firmly committed to inventing new ways of travelling," observes Luc Jacquet. "Clear efforts have been made to minimise this ship's environmental impact." What's more, "I had never sailed on these seas in such comfort," admits the filmmaker, impressed by Le Commandant Charcot's potential, both scientifically and in terms of exploration. "It's an absolutely wonderful tool!" and the perfect advocate to get your message across. Luc Jacquet also took advantage of the cruise to share his passion with passengers. Together with his team, he organised numerous sessions to select the shots for the film. "We bared all, sharing all our filming secrets with passengers almost every day. There was a great deal of interest and desire to understand. Normally, there aren't these opportunities. A film crew usually lives in a vacuum."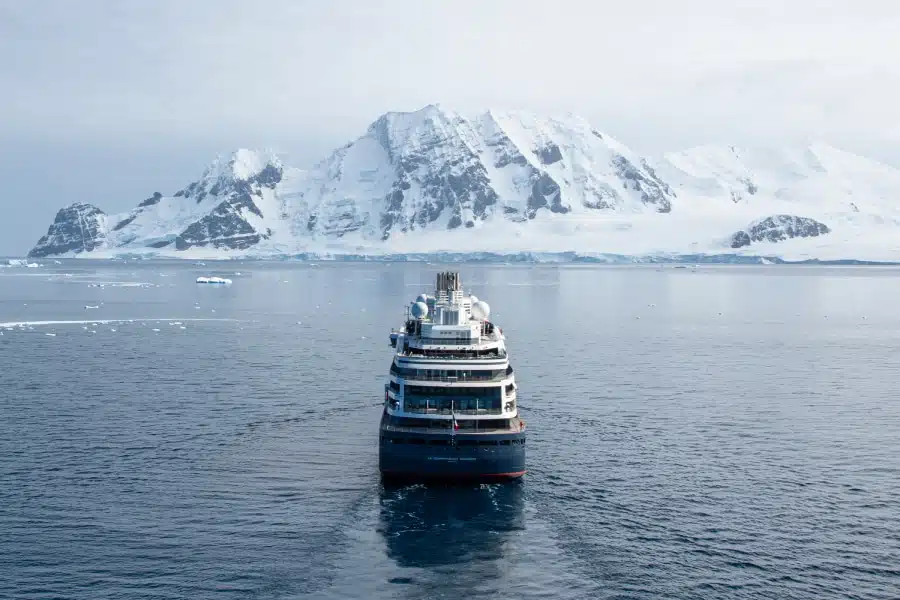 By the grace of image
Although he set off with his team without really knowing what he would find, Luc Jacquet was certain of some things: "I didn't come to make a film that simply describes the landscape. I was looking for a feeling, an inner vibration that I wanted to share with the audience." Thus, in search of this new perspective on Antarctica, Luc Jacquet embarked on a quest for "the grace of image" with his chief camera operator, Christophe Graillot. Filming is now complete, with them taking home about 80 or 90 hours of rushes. That's a lot! This incredible raw material is as rich as it is unexpected and will be used in an immersive exhibition project, as well as a film. "A film I couldn't imagine before we left", says the filmmaker. And although a lot remains to be done, the director is already talking about "a black and white image that will trace a silhouette, probably that of the observer, an image full of contrasts that uses particular focal lengths to give the impression of not always being in focus. The intention will be to give an impression rather than be purely descriptive." This dual project could well see the emperor penguin return as the star of the show. "We all have our obsessions," says Luc Jacquet. "When an emperor penguin approaches you on the sea ice, it's an incredible feeling. It's the only place that makes you feel like you are almost reconciling with the wilderness. I never tire of that feeling." Luc Jacquet also feels polar magnetism in the animal nature and majesty of the emperor penguin.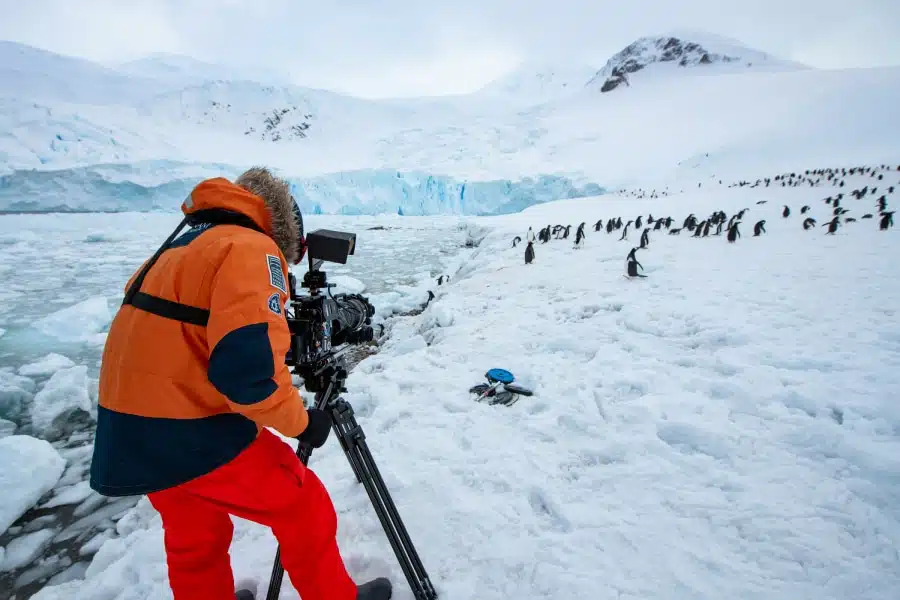 "It's the only place that makes you feel like you are almost reconciling with the wilderness. I never tire of that feeling."
Film, the language of emotion
"Freeing those who view our images from the cold and the time spent waiting in order to summarise and constantly praise the beauty of the world. That's our job!" Within the strict framework of the report, Luc Jacquet prefers to navigate between two waters, between documentary and fiction. "I like the unexpected aspect of documentary, the power of reality. But I also like the imagination and narrative framework that fiction can bring", he explains. "Making films means bringing back a point of view and taking part. You don't make an 'objective' image." Each time he goes on an excursion to the Southern Territories, Luc Jacquet strives to walk the line between reality and feeling. To achieve this, he chose the language of cinema. "A complex language that is never fixed and must be mastered. (…) It is the language of emotion, probably the best way to win people over" on environmental issues. Luc Jacquet has been talking about it passionately for 30 years now, tirelessly building a bridge "between the earth and its inhabitants, between the landscapes and you". This is his way of taking responsibility as a filmmaker: "Building a bridge between scientific knowledge, the general public and my own emotions. In other words, not creating a blissful description of the world but keeping some joy, some wonder." Because, in the end, "you have to feel something first".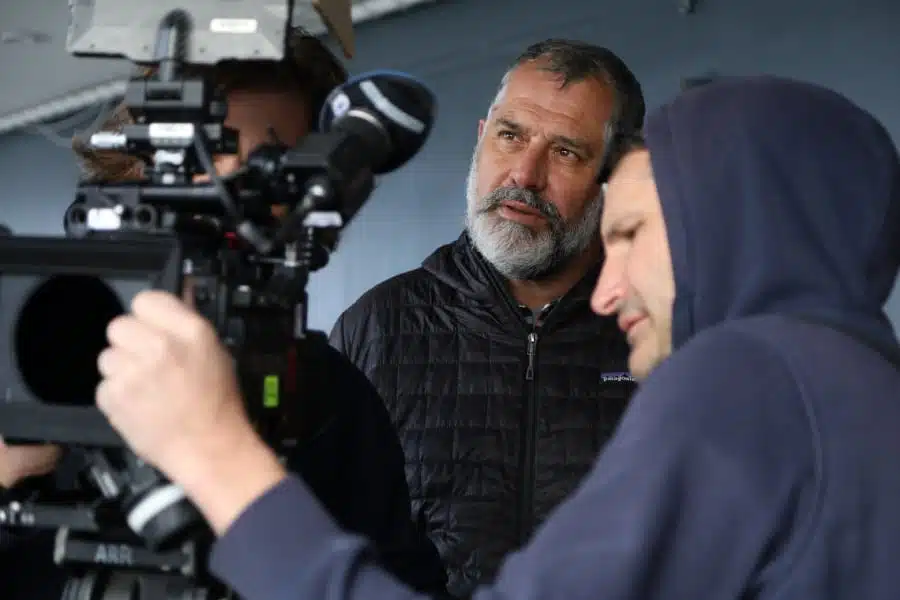 In 2011, between two "imperial" encounters and an immersion in the heart of the primary forests (Il était une forêt, 2013), Luc Jacquet boarded Le Boréal to shoot Ice and the Sky, a documentary created through his non-profit Wild-Touch,tracing the life and work of explorer and glaciologist Claude Lorius. At his side on the PONANT Sistership was Claude Lorius himself, who celebrated his 80th birthday on board! It was an opportunity for Luc Jacquet to capture the story of the man who remains one of the greatest "priests" of science and one of the first people to alert the world to climate change. In May 2015, the film was chosen to close the Cannes Film Festival, and Luc and Claude received a moving ovation at the end of the screening.
"Discover a selection of images shot by Luc Jacquet and his teams during this trip to Antarctica aboard Le Commandant Charcot." »
Photos credits : ©Studio PONANT; ©Sarah Del Ben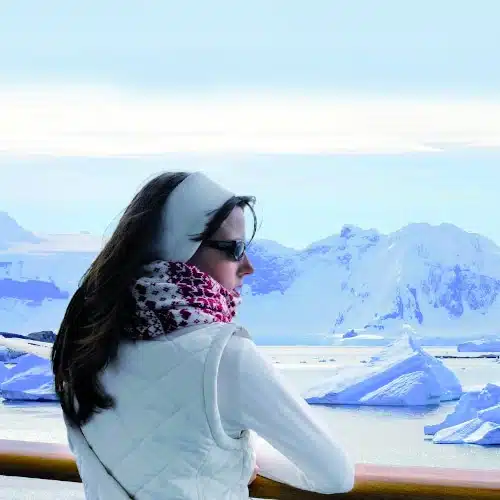 Be captivated by the magic of the poles
Embark on a polar expedition cruise with PONANT