"Freediving is a doorway to life and awakening"
Her chosen discipline is one in which calmness and contemplation guide every movement, every thought. Combining a sense of permanent wonder with kindly magnetism, freediver, reporter and underwater photographer Francine Kreiss willingly shares her passion for the depths she's so familiar with, both on land and on PONANT cruises.
How did you first begin freediving?
I've been half in the water and half on land since the beginning of my life. As a young child, I was fascinated by the sun's rays in the sea, and that's never left me! I come from southwest France, where I used to go surfing. At first, freediving was a tool I could use to save myself if a large wave came. I almost drowned three times, and I realised that by being relaxed and at ease underwater, I could gain extra minutes to survive. Then, when I moved to the south-east: no more waves! So I started freediving more regularly.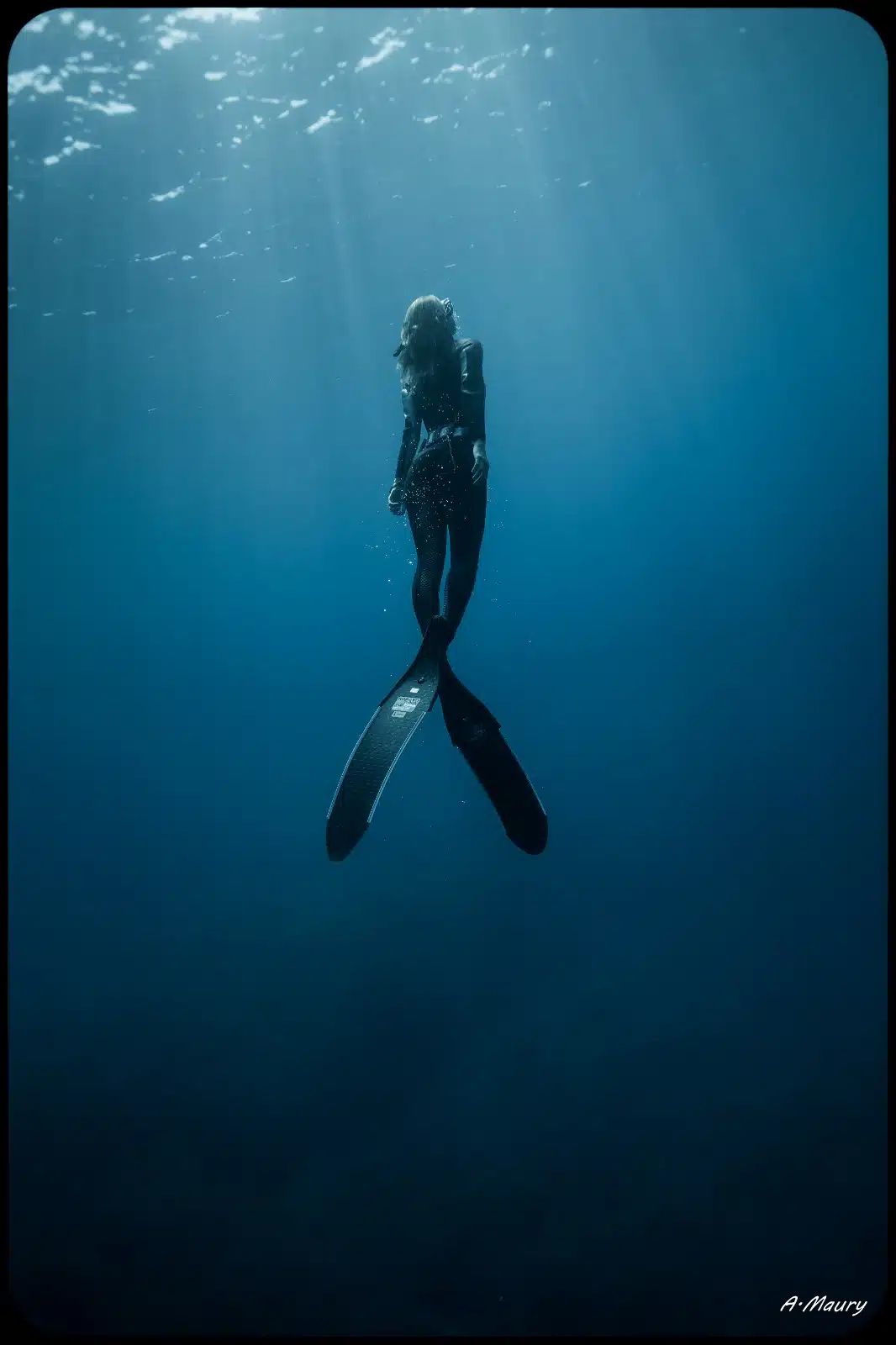 How did you become world freediving champion?
I used to freedive with a club where Mifsud, the world champion, was, and I learned a lot there. Because I was putting in some good performances, they suggested the idea of entering competitions to me. I didn't have the competitive spirit – I can't stand that kind of thing – but they explained that with freediving it's different; it's like one big family. There weren't many women involved, and I ended up winning titles, mainly in static apnea (holding the breath as long as possible underwater without moving) but also a few in depth apnea (diving to depth along a cable and coming back up). I went to the world team championships in Egypt with the French team, but more through a desire to travel than a desire to win.
Is freediving a way of cutting yourself off from the world or reconnecting with it?
For me, it's a doorway to life and awakening; it's an experience in which you cut yourself off from the world but not from life. When you're a child, you put on a mask and snorkel to go looking for colour, fish and life. In freediving, there's a notion of urgency in slowness: you reach a point where you experience an exceptional moment, but unlike the bottle, you can't remain there. Every second you spend asking your body to keep going, it's as if you're saying to it: "Let me have a little more of the dream." And you come back saying to yourself: "I hope I'll get to relive that moment when I go back down" – like when you wake up and ask yourself whether, if you go back to sleep, you'll get to continue the rest of the interrupted dream.
It may be a cliché, but I think you have to keep your inner child alive under the water. What guides me under the water is the permanent sense of amazement.
In 2011, a uniquely original event at a pool in Belgium – the deepest in the world at the time – brought scuba divers and freedivers together for an attempt to establish the record for the largest number of bubbles. Francine stayed in the water having fun trying to make the best bubbles for three hours and managed to beat the record: a great opportunity to demystify freediving!
What does freediving give you in your everyday life?
Whether it's windy, rainy or cold, I know that when I get in the water I won't be in the same state of mind when I re-emerge, that there will have been a calming down. Even if it doesn't happen automatically. I'll wait an hour for the sea to take me, to empty me.
Freediving is a moment of both introspection and relaxation; it's almost like a kind of underwater yoga. I'm not very mystical either; I go underwater because I like peace and quiet, and for the often-forgotten sensation of sensuality in relation to the water. When I was on land, as a teenager, they had me playing football, not dancing! Once under water, I learned to be a woman, to balance and position myself, to have a certain elegance… to dance. Progressing and developing underwater in this way made me more at ease on land. People who see me underwater get the impression that they're watching a different person.
For me, freediving has become both a highly therapeutic tool and a tool of exploration. We've been to the moon, yet we still don't know what's at the bottom of the oceans, as they say. It's incredible when you think to yourself that you're in the stratosphere of the deep abysses.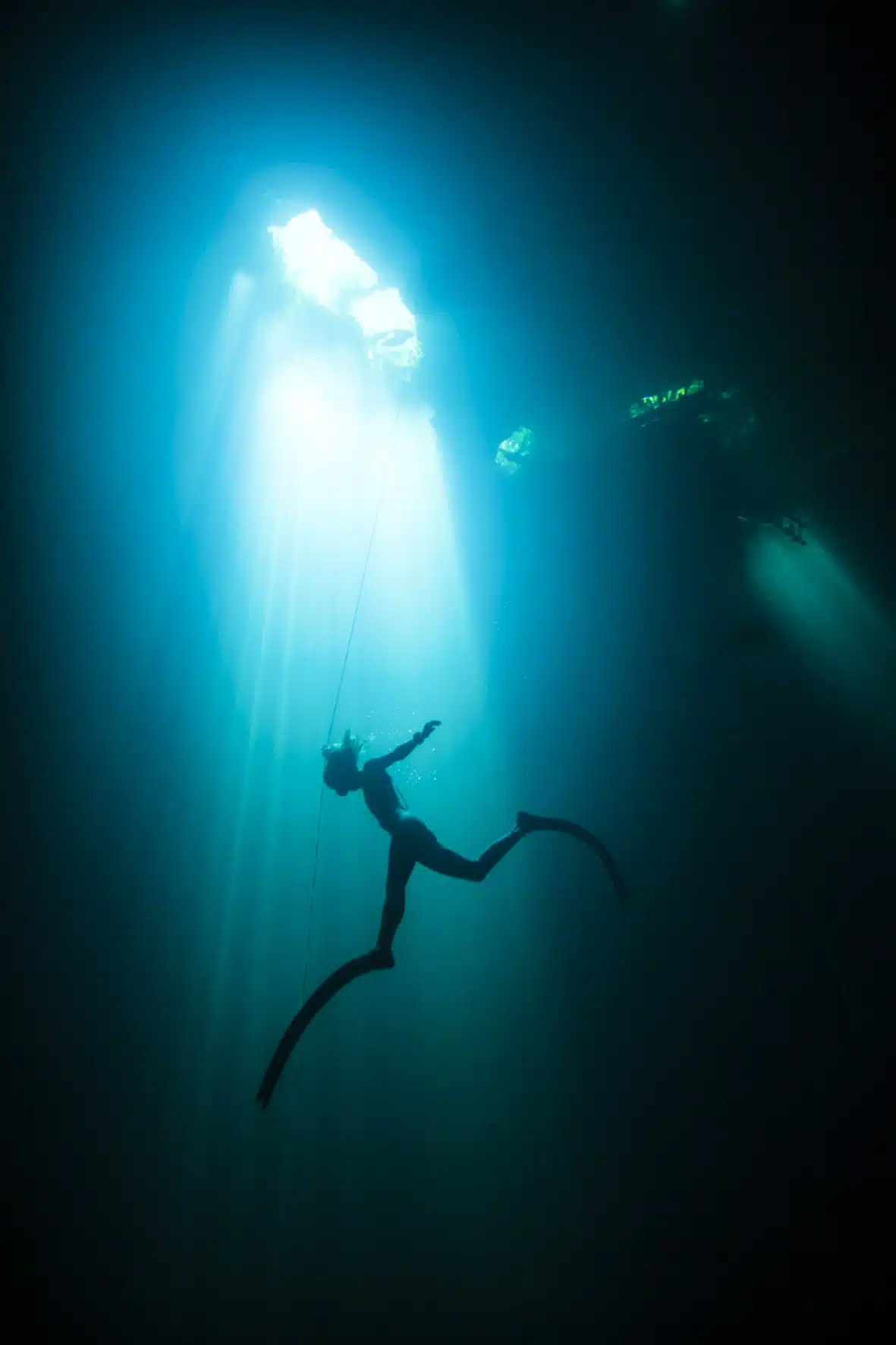 How would you describe this abyssal world?
When you go below the surface, you "switch off" the noise. Silence has become an extremely rare luxury. Even under the water, it's become difficult to find! Underwater, it's like a cathedral; there's lots of light and silence; it's essentially very religious.
It isn't a "world of silence" under the water; you have a lyrical, poetic type of sound. The sounds of the fish knocking and tapping the coral, of the lapping of the water, of the rhythm of your own heart, and even of that of the breathing in the snorkel, all help to relax the mind. Silence and relaxation are two of the obvious benefits of freediving. I know that when I go under the water, I'll re-emerge from it calmed and relaxed.
What's the most amazing thing you've encountered underwater?
The most moving was an encounter with a humpback whale and her calf that came up close to me and matched my movements. What was very touching is that the whale was enormous, yet she had the sense of space needed to avoid bumping into you: she would raise her caudal fin to let you pass. She was gentle and gracious. That touched me profoundly. And then there was the look she gave as she passed: you could see the origins of the world in her eye. It was deeply affecting.
I also encountered a tiger shark in South Africa. That was a real adrenaline-filled encounter. I was making some adjustments at a depth of 26 metres when I raised my head and sensed a strange and magnetic ambiance; and I saw it coming. It didn't stop. For the first time in my life, I felt muscular fear. I didn't panic, as panic is death. I was fascinated by the fish, which was noble and dignified! At the last moment, it turned away. I expected that's how it would go. It just came to see who I was then left.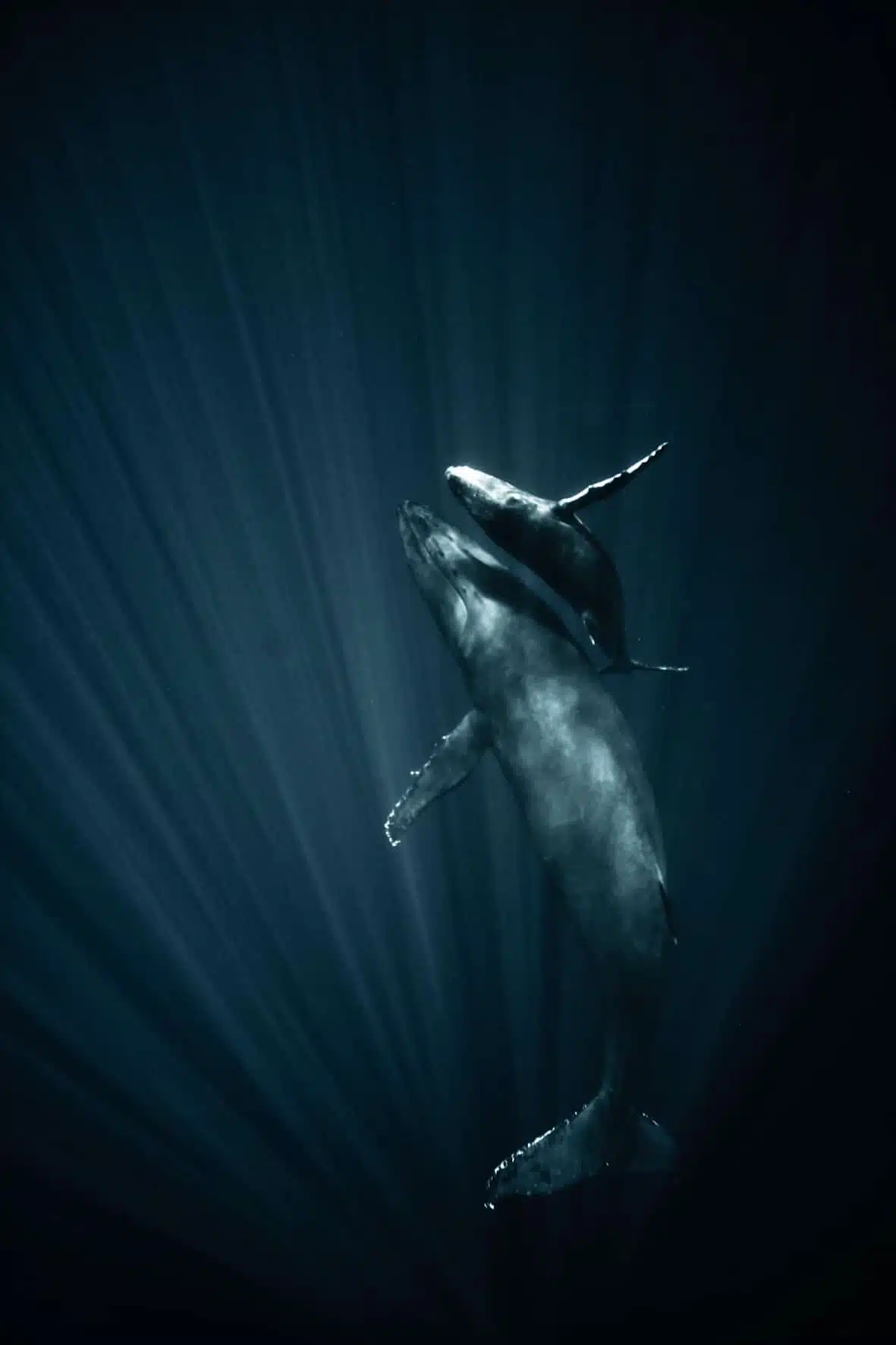 Francine Kreiss also does underwater photography. Her core tenet: to show the truth of marine worlds by avoiding the use of artificial lighting. "At 10 metres you no longer get colours, but I really like this monochrome aspect: things happen; it's more graphical." Freediving gives her a genuine freedom to get up as close as possible to the marine fauna, capture the moment and find unusual angles.
Have these passions inspired you to commit to any particular cause relating to marine environments?
Being a freediver is a state of mind that transforms you. I can spend several hours underwater and re-emerge in a state close to animality. And then there's the fact that you're truly in the living world: in the water, in contact with the air, with rocks…
I have big ambitions for saving the planet, like everyone, but I also know that it begins with saving the fish in front of you. I'm president of an organisation based in Hyères called Explore & Preserve.  One of the things we do, in particular, is collect plastic from seawalls. It's horrible, because you spend a whole weekend doing it, then when you return to the site two weeks later you find the same thing; but we carry on: it's a symbolic gesture.
I also took part in an event in Corsica with the organisation Water Family, which had invited top sportspeople to participate. The message was mainly about understanding that in Corsica – which has lots of rivers – waste comes from the land, from the rivers. Once the waste is in the sea, I'd almost say it's too late. It's the tip of the iceberg.
What advice would you give to someone looking to get into freediving?
Freediving is about learning how to stop breathing, and for this you need to learn how to breathe. You can start by learning to breathe with the stomach. Breathe in, hold, breathe out. while looking out over beautiful scenery, or in the surroundings of your garden, or with a flower in front of you: concentrate on the moment. This enables you to release the pressure, because the best freediving you experience is when you're at your most relaxed. Then next, learn to relax in the water. You can't freedive if you're stressed, if there's noise. Though everyone finds their own way of achieving it, the essential thing is to be able to relax and let go.
You can get started in the water when you go snorkelling, which is completely accessible for most people: put yourself in a vertical position and go down a metre or two to discover another dimension. This sensation of tipping up beneath the surface is on its own highly symbolic and important.
Where to dive in the Seychelles?
Located far off the beaten track, the Seychelles have magnificent seabeds teeming with colour and life to offer underwater explorers. In fact, Francine Kreiss herself counts Assumption Island and its barracudas, the turquoise waters off the sands of St. François Atoll and encounters with turtles around the vertiginous Astove Wall amongst her favourite experiences.
Photos credits : © Studio PONANT / O. Blaud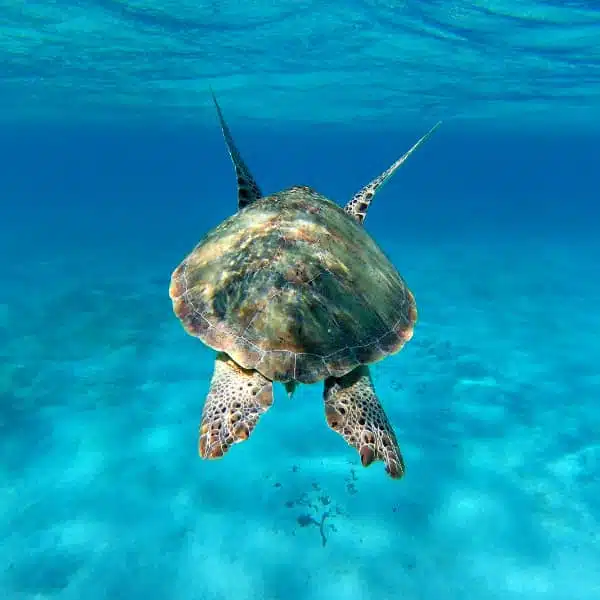 Explore the seabed with PONANT
Embark for a cruise to the most beautiful shores and coasts of the tropics