Serge Guiraud introduces us to some of the world's most unique cultures
Serge Guiraud, ethnologist and specialist in visual anthropology and a PONANT Naturalist Guide, specialises in the tropical regions of South America and Melanesia. As part of his role within the PONANT Expeditions team is, like his colleagues, to accompany guests in the exploration of the regions visited and, through his experience in human science, inform them about the populations encountered. Here, Serge introduces us to some of the remote populations in Oceania he has encountered and shares with us some of the unique cultural moments has experienced in these remote villages.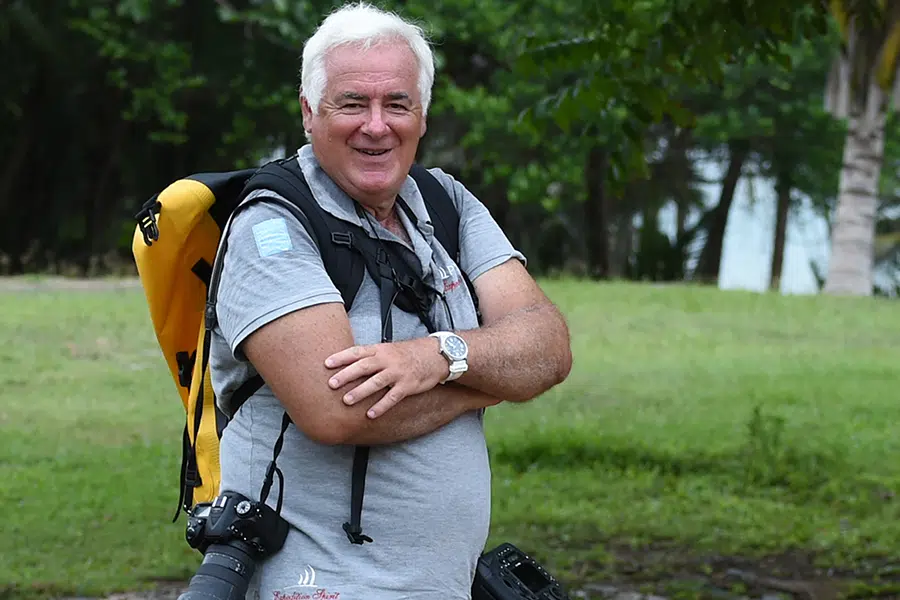 What is the most memorable moment you have experienced with any of the indigenous populations in Oceania?
I have many great memories that jostle for this position. However, the warm welcome that Melanesians provide for each of our visits, are what I remember fondly. The music, the smiles, the flower and kava offerings are always moments of intense emotion.
My most touching memory took place on Stanley Island in the north of Queensland. Our Aboriginal guide asked, at the start of our visit, to respect a minute of silence in tribute to those that were killed in the Paris attacks. This act of empathy shattered all cultural barriers, reminding us that we are all people of the same world.
What is the importance of dance ceremonies in

 

Melanesian

 

culture?
The celebration of rites and ceremonies is a means of socialisation. These moments serve to update a myth, to integrate an individual into a community, to thank the gods for a good harvest or even to appease the evil spirits.
At certain times in life, the community comes together to celebrate an event that has occurred "out of the ordinary." They take the opportunity to deploy their imagination, to mark its attachment to ancestral elements and to script acts from the past that are now abolished. It is the community's responsibility to organise the ceremonies, which, through their rehearsals, will define the place of the individual within it. This process allows the individual to know their duties within their tribe and, conversely, what they are entitled to expect from their community. These celebrations of rites and ceremonies help to build social cohesion.
Communities celebrate many rites and ceremonies, each of them being a special and big event. They are distinguished from daily activities and are carried out formally according to the traditions of each ethnic group. This does not in any way mean that a change or alteration of these rituals will not occur. Gestures, dances, ornaments, songs and music are always symbolic in nature. By regularly celebrating these rites, the local people feel that they are maintaining the balance of the world.
Alotau, Papua New Guinea – © Olivier Blaud – Baining fire dance, Papua New Guinea – © Serge Guiraud – Roderick Bay, Solomon Islands – © Olivier Blaud – Ureparapara, Vanuatu – © Serge Guiraud – Vanikoro, Solomon Islands – © Olivier Blaud – Vanikoro, Solomon Islands – © Olivier Blaud
Can you share with us a special cultural tradition you have witnessed at one of the Melanesian communities you have visited?
Vanuatu is an archipelago made up of 83 islands, most of them of volcanic origin. With a population of 280,000 people, the Ni-Vanuatu speak 113 different languages, which also includes​​ several different dialects. This small republic, independent since the 30th July 1980, has the highest concentrations of cultural and linguistic diversity, considering the small number of its inhabitants.
On the island of Ambrym there is a "rank system", a complex system which consists of a whole series of social ranks, in which a payment is required to upgrade to a higher rank. Generally, the means of payment is a curved pig tooth, of which its value is determined by the degree of curvature of the tusk.
Gaining a higher social rank allows for greater influence in the community and a better life in the world of the dead. Each passage to a higher rank is sponsored by a member of the coveted rank or higher, and access to a new grade is achieved by the delivery of a certain number of pigs and their sacrifice during which ornaments are displayed. This is also when the person changes their name. Access to the next level makes it possible to become "a Great Man". This status of "a Great Man" should not be understood to be the same meaning in the West, where the person has authority. In Ambrym society, "a Great Man" enjoys greater influence as their status allows them to be closer to the world of the ancestral spirits who hold the highest power over the community.
If particular rituals are forbidden to the sight of women and children, the "Ole" dance, presented to the guests, can be seen by everyone in the community. Only a space which corresponds to the men's house remains strictly prohibited. This is where young men or "graduation candidates" stay and cook, remaining here for 3 to 4 months, and who are prohibited from undertaking in any sexual interaction until they graduate.
The cultural performance presented to guests consists of a dance performance orchestrated by elders. Masked men flanked by followers appear in the ceremonial square. They perform the "Ole" dance with large crest masks and their bodies covered with banana leaves. The dancers follow the rhythm of the slit drums, then at the end of the ceremony the masks are destroyed.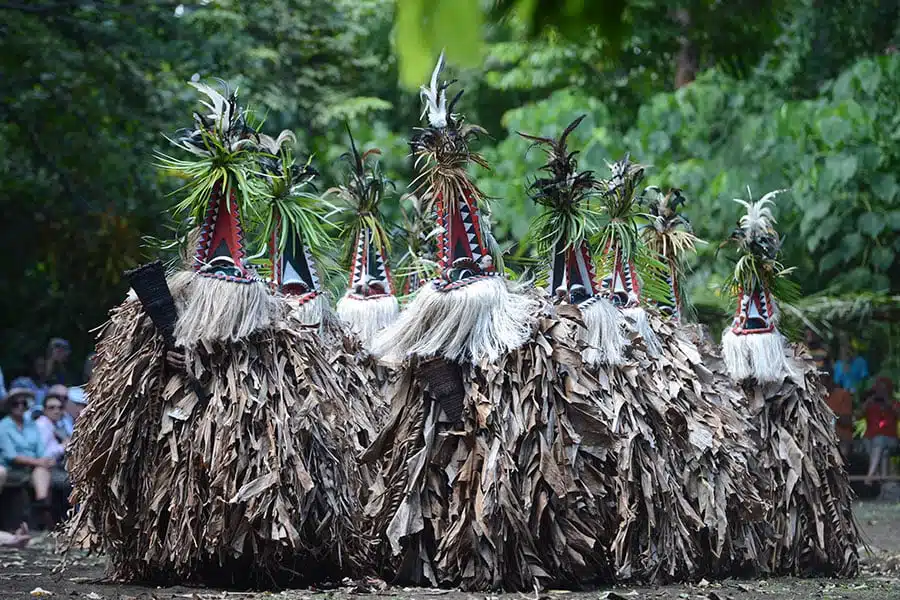 Rom Ceremony – Ambrym – Vanuatu © Serge Guiraud
Do you have any other exciting facts, about these people or others, that you want to share with us?
The clothes do not make the man!" We all know the meaning of this popular expression – you cannot judge a person by the clothes that they wear. In tribal societies, what clothing people wear mean nothing and it is the skin that is the marker of a person's identity. In these communities, it is patterns and body ornaments that portray a person's social status and display defining life experiences (birth of a first child, bereavement, illness).
When meeting with Melanesian or Aboriginal populations in Australia, the first impression that influences our judgment is the degree of nudity. The more the body is stripped, the higher our perception of authenticity. We now know that this is not the case, however I find it fascinating to discover how tribes shape the individual to integrate them within the group. In many societies, a child when born is not considered a full human being, and to access this status, they must go through a process that anthropology calls "the making of the body". Not only is the child given one or more names, but ornaments and body paintings specific to their age and gender are also applied. In the first years of their life and sometimes even later, they are subjected to tests: "the rites of passage". Unfortunately, secular society places little importance on these rites of passage, which creates a social vacuum between western and indigenous societies.
Photo credit: © Serge Guiraud & © Olivier Blaud
Serge Guiraud is an ethnologist, specialising in visual anthropology and has been a Naturalist Guide on board the PONANT fleet since 2011. Serge was born in Toulouse and trained as a video technician. He completed a Master's degree in anthropology at the Jean Jaurès University in Toulouse and since 1984 he has studied the Amazon and its populations. His work has been the subject of scientific publications and reports as well as illustrations published in international magazines. Serge has produced around thirty documentary films and has exhibited his photographs in France and abroad. For more than 15 years, he has worked in collaboration with French museums in the documentation and enrichment of extra-European collections. He is also responsible for field missions in Brazil for the Toulouse Museum and the Lyon Confluence Museum.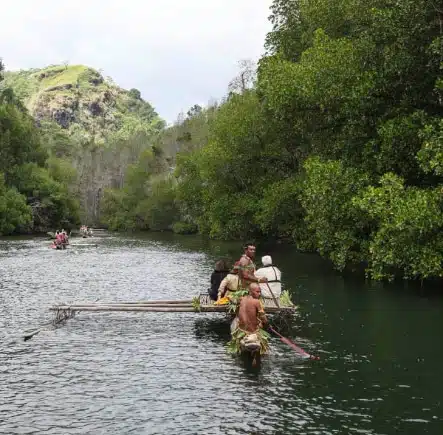 Immerse yourself in the diverse cultures of Oceania
Join PONANT on a tropical expedition in Oceania.