4,000 years of Greenlandic culture
When most people hear the word "kayak", they tend to think of the small, light, short, flat-bottomed boat people use for sport or as a summer leisure activity on river rapids. But nearly 4,000 years ago, the kayak or qajaq was vital to the Inuit of the Arctic Circle for transport, hunting and fishing. Although this traditional boat is disappearing, it is still a symbol of Greenland reclaiming its culture. Find out more with Yann Lemoine, a kayaker-guide with PONANT who passionately shares Greenlandic heritage and is well-versed in traditional kayak building techniques.
The Arctic: the birthplace of the sea kayak
Indigenous peoples made the first kayaks nearly 4,000 years ago in the subarctic regions of the world. The qajaq, which literally translates from Inuktitut as "skin boat", is made of stitched greased sealskin stretched over a driftwood frame, assembled using wooden pegs and bound with leather ties. "And when there wasn't enough wood, people would use ivory, animal bones, caribou antlers…Basically, anything that was rigid and that could be sculpted", Yann Lemoine explains. These small watercrafts were a way of getting around quickly and nimbly in the icy waters of the Far North, used for transport and fishing as well as hunting seals, narwhals, belugas, bears and caribou. Sometimes long and stable for sailing in open waters, sometimes short, light and easy to handle for moving through the drifting ice, each kayak was different and tailor-made to perfectly fit its owner and so provide maximum manoeuvrability.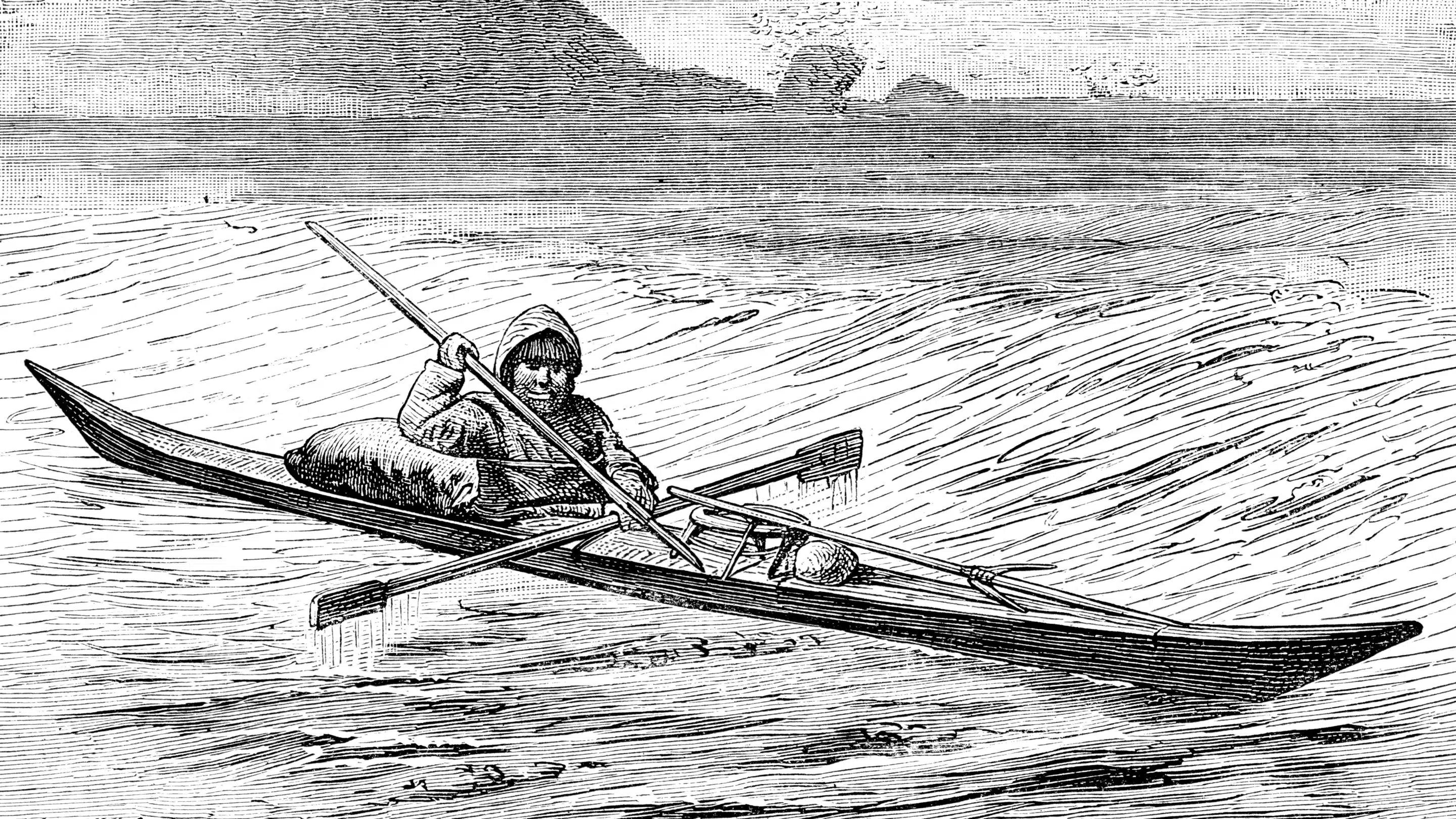 Sea kayaking: a tradition rediscovered
Although this traditional boat is still vital for some peoples of the Far North, it is disappearing in favour of small motorboats. However, according to Yann Lemoine, the traditional kayak is still "one of the main ambassadors of the genius of circumpolar cultures", as demonstrated by the return of traditional building techniques. Techniques he himself learned from master Inuit kayakers during his many expeditions to Greenland. And the facts speak for themselves: "Reinventing the kayak is like reinventing the wheel. Everyone who strays from the Inuit design ends up in deep water", he says with a smile. "The kayaks we use have technical characteristics that are more than just inspired by traditional forms. They're practically copies." The "V" shape hard-chine hull, with its angular wetted area1, is an obvious example of this. "It makes the kayak more stable and manoeuvrable and allows it to quietly cut through the water." Another example is the wooden Greenland paddle which produces lift and already had the profile of an aeroplane wing 4,000 years ago. "We have two of them that we let passengers try out to immerse themselves deeper in the culture and history of polar kayaking."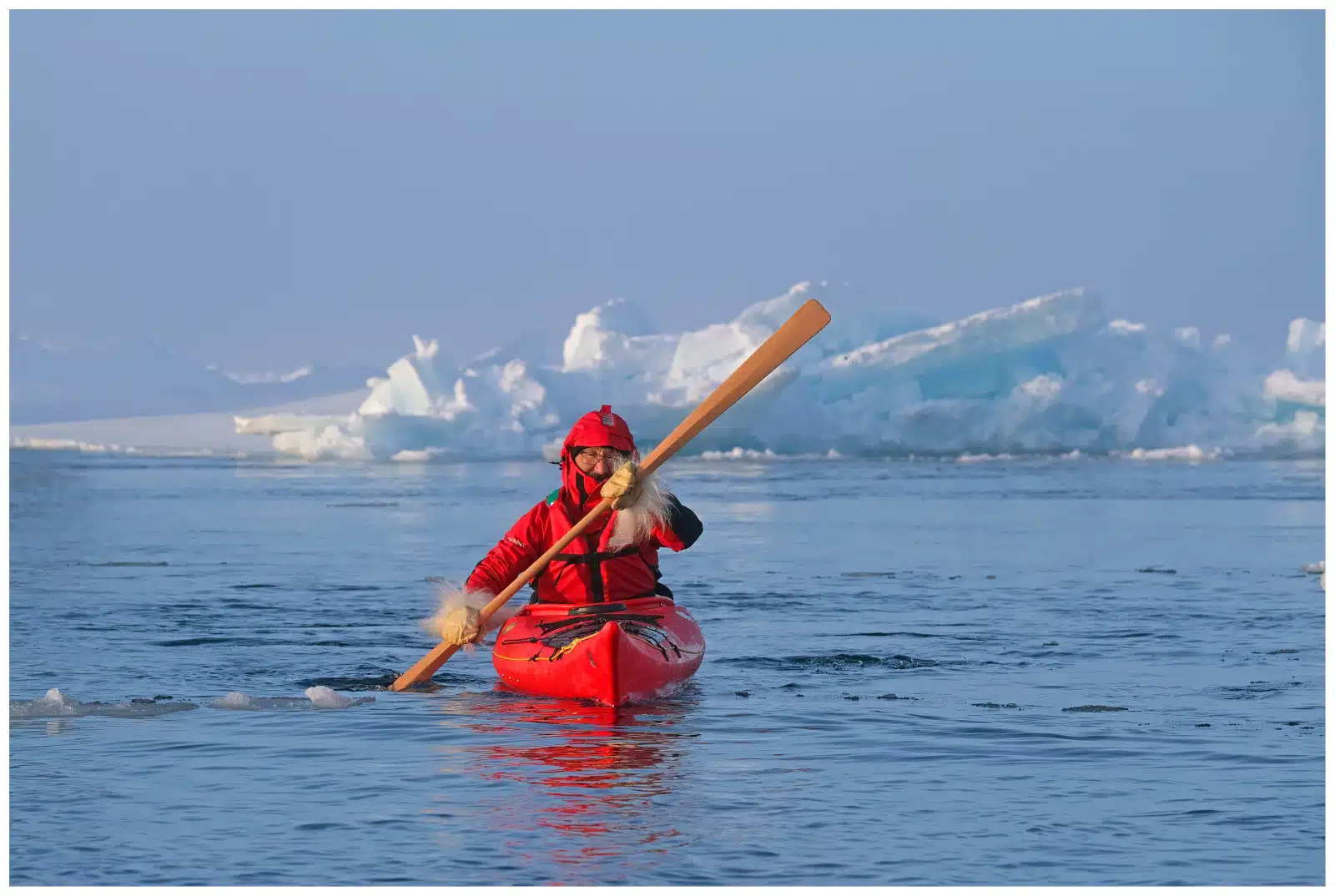 Inuit kayak: Greenland's restored heritage
Yann Lemoine is striving to restore and reintroduce this culture and history to Inuit villages. "I've accumulated heritage that I humbly try to give back to its rightful owners." This approach is a direct continuation of Kamp Absalonsen's work. The master kayaker was responsible for the revival of traditional kayaking in Greenland in the mid-1980s. At a time when the territory was reasserting its identity as distinct from that of Denmark, he made practising traditional kayaking as a leisure activity the spearhead of a campaign to reclaim the Greenlandic culture and language. Today, Greenland has several fairly specialised kayak clubs, which hold international Greenlandic kayak championships each year. They're amazing to watch!"
Face to face with the ice
It has now been nearly 50 years since Yann Lemoine first sat in a kayak and over 30 since he made it his career and way of life. Thirty years of passion for the wide, open spaces of the polar regions and the freedom they represent. "I believe, completely subjectively of course, that sea kayaking is one of the best tools for gaining an understanding of the ice." Polar sea kayaking means going back to the source, back to where it all began. It means gliding through the water to find yourself alone facing the ice, as close to it as possible. It means being able to touch it, admire its fabulous colours, listen to it crack, smell it – "because yes, ice has a smell!" – and, in the clear Arctic waters, it means being able to appreciate its size both above and below the water. Kayaking is not an end in itself; it is a tool – a tool of transmission and awareness-raising of the need to protect nature. But "this tool also opens doors to new sensations. Facing the ice, you find yourself face to face with yourself. It's about contemplation. Everyone can experience their own emotions in the silence, independently of each other."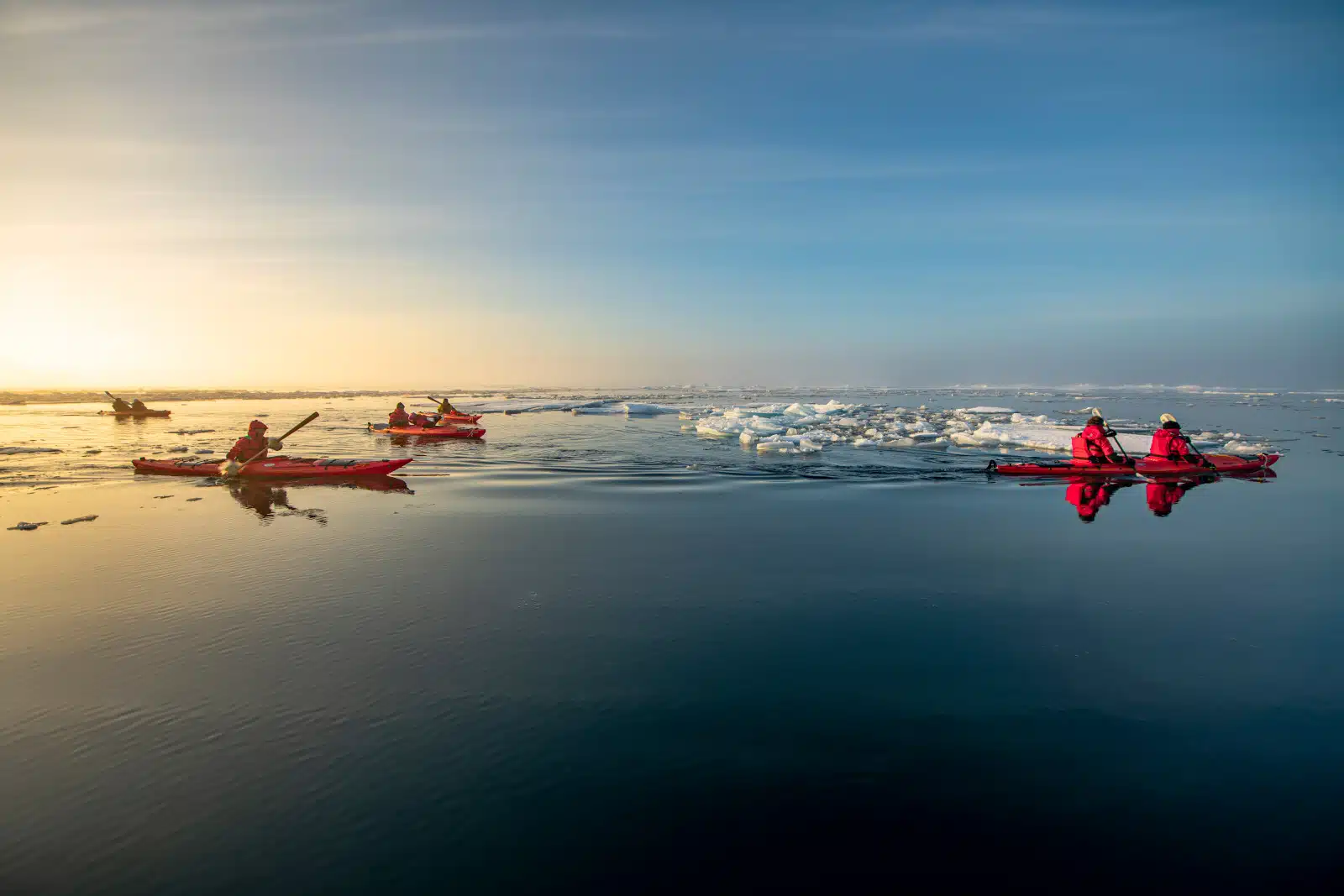 Kayaking with PONANT: reviving a tradition
Already a part of the company's various exploration cruises, sea kayaking excursions are about to enter a new dimension with the addition of Le Commandant Charcot to the fleet. New polar odysseys are on the horizon at the edges of the known world, and for Yann Lemoine, this means a host of new icy paradises to discover and share. He is already getting excited about the Northwest Passage. "Perhaps it will be an opportunity to kayak with the Chukchi, the other kayaking masters?" At any rate, it is bound to be an opportunity to venture beyond exploration and write another chapter in the story of polar kayaking in the heart of the ice.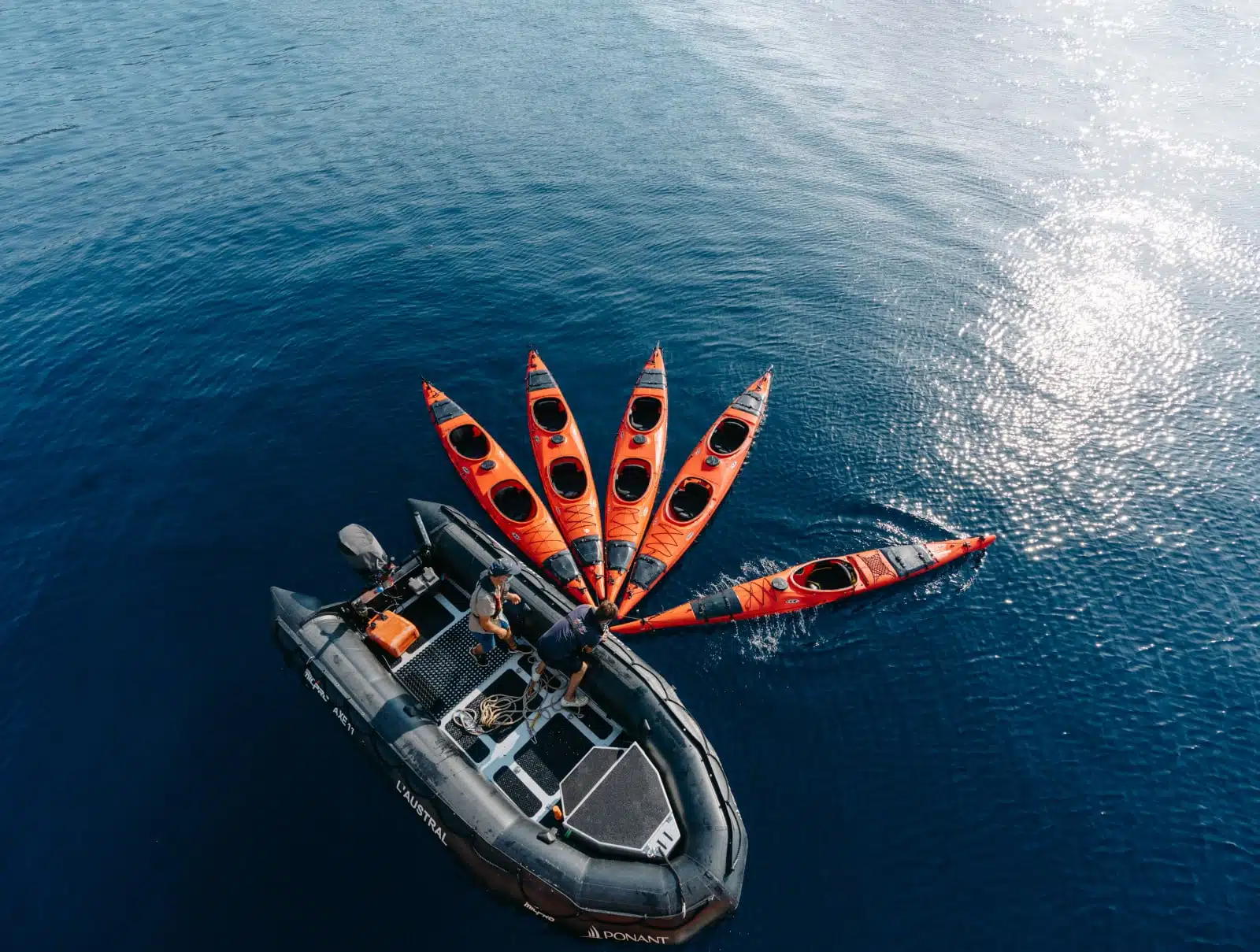 (1) The area of the hull that is submerged in water.
Photos credits : © Istock / © Ian Dawson / © Studio PONANT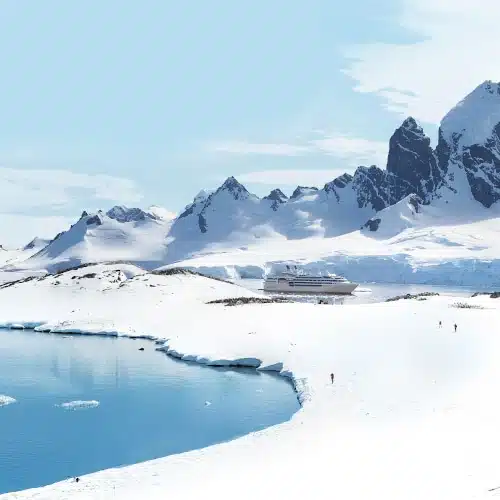 Explore the polar regions by kayak
Set sail for an expedition cruise and glide through the icy waters in direct contact with the elements.