Initial feedback
On 6 September 2021, Le Commandant Charcot became the first French ship to reach the geographic North Pole. One month later, she left the port of Le Havre for some final tests before setting a course for Antarctica's sea ice. Some members of PONANT's teams and its most loyal passengers were on board. Let's find out what the chosen few thought of these two maiden voyages.
The PONANT spirit
Although Le Commandant Charcot pushes the limits of what is possible when it comes to polar expedition cruises, some things never change. The spirit that has driven the only French cruise ship operator for over thirty years had to stay the same onboard its new exploration vessel – the spirit of a small fleet that combines refinement and intimacy. Aboard Le Commandant Charcot, as with the other 12 ships in the PONANT fleet, passengers appreciate this taste for French-style cruises: high-end service worthy "of the luxury French hotel industry", "smiling, available and nice staff", and "captains who are always approachable and whose bridge is always open".
Experience the polar wilderness in an intimate setting
The welcoming and considerate PONANT spirit can be enjoyed across all 150 metres and nine decks of Le Commandant Charcot, in each of her 123 suites and cabins and in all of her communal spaces. The design of this extraordinary ship was inspired by the desire to take polar exploration a step further while raising luxury hotel standards onboard. Three French naval architecture experts were at the helm: Thibaut Tincelin, Jean-Michel Wilmotte and Jean-Philippe Nuel. With the understated luxury of her interiors, Le Commandant Charcot preserves passenger privacy. She also showcases the grandeur and scale of the surrounding polar landscapes, and the first feedback is unanimous: "the cabins are more spacious", "you feel like you're all alone; you enjoy this feeling of freedom", and "you have more privacy than on the other ships". And "on the promenade deck on deck five, you can walk the whole way around the ship", says Alison, a naturalist-guide and science activity leader, with enthusiasm. "I'll go for a 45-minute walk every day!" Refined lines and elegant materials are enhanced by the 300 or so artworks that pepper the ship, including the fascinating digital installation by Miguel Chevalier in the reception area.
The science behind making dreams come true
Providing a gentle and peaceful guest experience, Le Commandant Charcot also has a myriad of powerful science and engineering facilities that make it possible to experience polar exploration to the fullest. The feeling that you can reach the ends of the earth is incredibly moving and encourages your imagination and passion to run wild: you can already picture yourself "visiting places that few people have explored and meeting Inuit communities." "It's the ultimate voyage!", said the company's loyal passengers with enthusiasm. And this dream is shared by the onboard scientific teams who are "absolutely thrilled and amazed to have so much space dedicated to science", according to Hugues Decamus, Le Commandant Charcot's head mechanic. No less than two laboratories and four cabins are reserved for researchers. Studies on paleoclimatology, marine mammals, sleep cycles in the polar region, electromagnetic signals and eDNA (environmental DNA) are all on the agenda.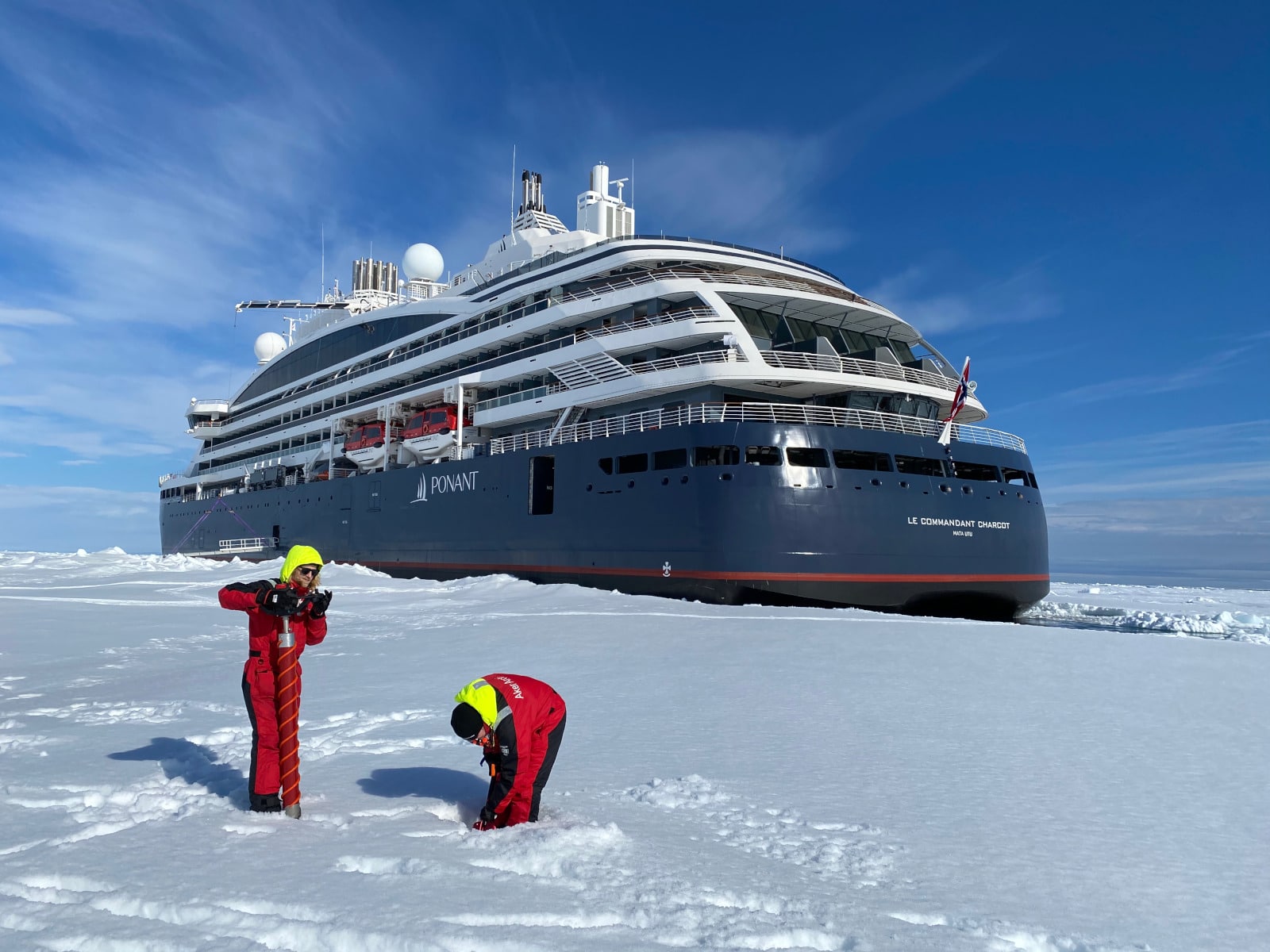 The geographic North Pole: the first challenge met
Le Commandant Charcot is the result of six years of study and work. From the very beginning, it was about a dream: taking passengers and scientists to the most remote polar regions safely and with respect for the environment. When she reached the geographic North Pole for the first time on 6 September 2021 — a first for a French ship — the chosen few onboard fulfilled this goal. "Reaching 90° North was incredible exciting", says Alastair Newton, Director of the National Geographic partnership,  with emotion. It's more than a simple point on a map, "you feel like you're going to a mystical place to uncover its mysteries". Florence Kuyper, expedition leader, goes one step further: setting sail on Le Commandant Charcot, "is more than just an adventure; it's pure exploration!" And for Captain Étienne Garcia, "it's absolutely something to be very proud of. You can't be vain about this type of voyage. Instead, you feel a great sense of peace and quite emotional that you had the chance to do it."
Full steam ahead for the vast white continent!
After the resounding success of these first two voyages, Le Commandant Charcot departed for her first cruises in Antarctica, starting in Punta Arenas in Chile.
Some highlights:
Trying to reach Peter I Island, an incredible piece of land covered in a thick blanket of snow in the Bellingshausen Sea, and to get a close-up view of Charcot Island.
Sailing between the ice in the Weddell Sea and trying to spot emperor penguins and the imposing Larsen Ice Shelf.
Setting off to discover the "last ocean" – the Ross Sea – a veritable polar Garden of Eden and the largest ice shelf in Antarctica.
Photos credits : © Studio PONANT ; © Julien Fabro ; © Gilles Trillard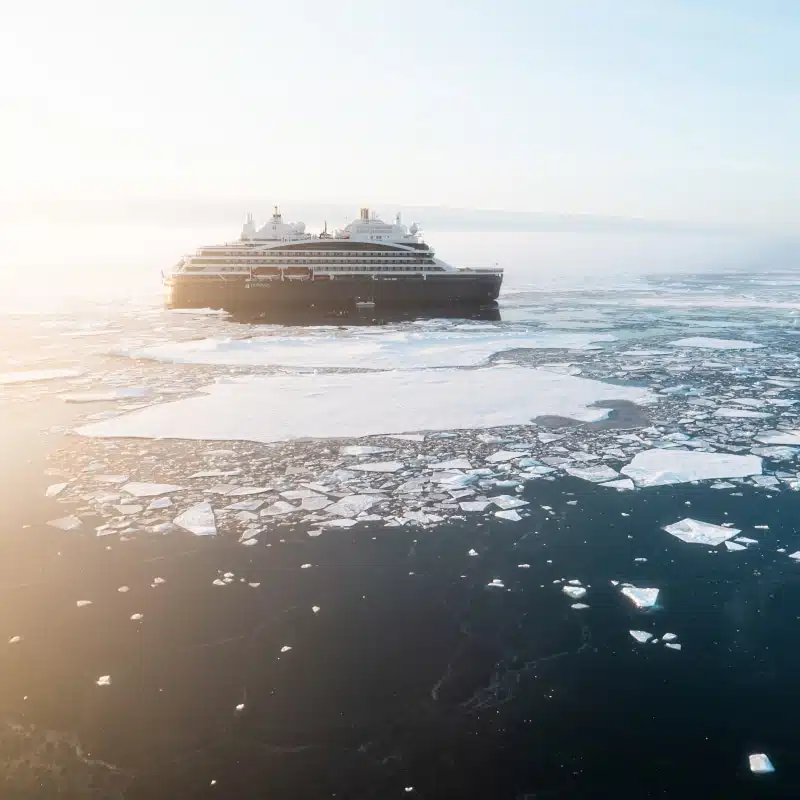 Push the limits of exploration
Embark on a polar odyssey aboard Le Commandant Charcot