Un new art of travel with PONANT
Discerning travellers seeking exclusive and moving experiences, spectacular landscapes and authentic encounters are invited to set sail on a luxury cruise with PONANT, where the joys of sailing are combined with exploration, contemplation and relaxation. A PONANT cruise promises adventures with a personal touch, guided by an experienced and passionate crew.
Full steam ahead for the Far North:a luxury cruise in the Arctic
Set off to discover the Arctic, the fascinating and challenging region of the first polar explorers, aboard our high-end ships, where everything is focused on luxury, comfort, refinement and intimacy. Outside, a myriad of fjords, sea ice, icebergs and glaciers – the favoured realms of whales, walruses, reindeer and polar bears – are just waiting to be admired.
During your land-based excursions, you can strike up a conversation with the welcoming Inuit communities. The Arctic promises unexpected and unforgettable encounters with these hunter-fishers and guardians of age-old traditions, who live in harmony with nature and with whom PONANT has taken care to forge lasting bonds.
Head to the largest desert in the world: a luxury cruise in Antarctica
Set off on an adventure to the vast expanses of the White Continent, following in the footsteps of Ernest Shackleton, Roald Amundsen and Jean-Baptiste Charcot. A land of adventure and science, Antarctica is encircled by the vast Southern Ocean and preserves countless fascinating and mysterious natural wonders. Subglacial streams and lakes, thousand-year-old volcanoes and mountains, windswept dry valleys, and more: these breathtaking polar landscapes are home to incredible wildlife, which includes petrels and albatrosses, Adélie, gentoo and Emperor penguins, leopard seals, whales and dolphins.
From the outdoor decks to the private balcony of your spacious cabin, everything on board has been designed to make your luxury Antarctic cruise a magnificent and profoundly moving experience.
Explore the wonderlands of the Med: a luxury cruise in the Mediterranean
Revisit the Mediterranean and its incredible historical and natural treasures. Stimulate your senses by sampling the culinary delights of unspoilt regions and enjoy the quality of a luxury ship designed for travelling in the sun, with large windows, an underwater lounge, a heated seawater pool and relaxing spa treatments.
Whether you're sailing along the Italian, Greek or Croatian coast, your crew will know the area's every secret! With idyllic coves and bays, picturesque fishing villages hugging the coastline, exceptional seabeds to snorkel along and explore, listed UNESCO World Heritage Sites and more, the Med promises unusual routes and secret stopovers for a luxury cruise that's all about freedom.
Raise awareness, preserve and respect
These three commitments are integral to PONANT's DNA and have been among the company's fundamental requirements ever since it was founded. Its ships are all at the cutting edge of technological innovation to reduce their environmental impact.
PONANT also works with international NGOs via its foundation to preserve ecosystems worldwide.
And it fully complies with international standards and best practices in polar environments to guarantee that these sensitive ecosystems are preserved.
These commitments are set out in PONANT's ethics charter, which it is eager to share with its passengers in an effort to raise awareness.
Photo credits: ©StudioPONANT / Ophelie Bleunven/ Gwenvaël Engel; ©PONANT / Julien Fabro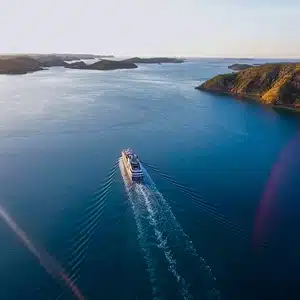 Embark on a luxury cruise