Experience the ultimate festive season far from the madding crowd
When it comes to once-in-a-lifetime journeys, they don't get much better than this. Picture this: a festive season spent sailing the infinite surreal landscapes of Antarctica, and swapping the crowds of people gift shopping for seals or penguins relaxing atop the ice. As if you needed any more convincing, here are our top reasons to plan for a once-in-a-lifetime Christmas or New Year celebratory polar expedition cruise to enjoy a special stress-free holiday packed full of outstanding memories.
1. A traditional White Christmas
Guaranteed! Experience a traditional White Christmas in a totally non-traditional way! Imagine the feeling when you spot your very first iceberg, perhaps when looking out from your own private balcony while savouring the view, or the moment when ice-capped mountains appear on the horizon, as if by magic, and you 'know' you have reached Antarctica. It's snow time!
2. A stress-free, relaxing holiday
How about the concept of a year-end holiday with no cleaning, no Christmas or New Year's Eve shopping to stock and restock the fridge… just settle, take a deep breath, and relax. Delicious gourmet meals, inclusive drinks, 24 hour room service. Enjoy a sumptuous Christmas lunch or New Year celebrations – with no clean-up!
3. Everyday discoveries in a pristine world
Trade your event calendar for a new polar gift each day. Our expedition voyages always remain flexible to accommodate the whims of nature, sometimes providing opportunities to take the unmarked turn-off to present guests with unscripted surprises. Regardless, you can be assured each day there will be scenery, wildlife, excursions in Zodiacs® or with the Expedition Team ashore to explore, that will take your breath away.
4. Toast the New Year on the ice
Celebrate the arrival of the New Year with a glass (or two!) of Charles Heidsieck – PONANT's highly regarded house champagne. Perhaps celebrate with a glass of bubbles while standing on the ice floe, or after dip in the heated pool… The Open Bar policy means your choice of drink is available any time you want, so anytime is party time! And there is plenty of ice to go around.
5. Nature's own festive decorations
Forget dressing the Christmas tree with fairy lights and tinsel. Here, nature shows off her grandeur with a fluorescent light show illuminating icebergs as if lit from within, snow fields, glaciers and snow-draped volcanoes reflecting an ever-varied colour palette with the changing light of the (very) long days. Who needs fireworks when you have an endless blanket of stars with zero light pollution? Nature's own festive decorations – a magical atmosphere, unmatched.
6. Unforgettable family experiences
An expedition voyage to Antarctica is a truly memorable gift for a once-in-a-lifetime multi-generational family holiday, ideal for all to relax, reconnect and celebrate together. With a minumum age of 8 years old on PONANT Expeditions, Antarctica is a destination where the whole family can experience that child-like wonder once again.
7. No reindeer…
…but countless fur seals, adorable penguins of all persuasions (from the smallest, Adélie, to Chinstrap, Gentoo and King), plus albatross, elephant seals, orcas and whales to boggle your mind and fill your camera lens – all living, and waiting for you, in this spell-binding atmosphere of total serenity unequalled anywhere else on Earth.
8. Escape from the world you know
The developed world can be a maddening place during the festive season, so what better way to whisk yourself as far away from the hustle and bustle as possible than a voyage to Antarctica. Relish in this unique opportunity to feel far from civilisation amongst deserted, other-worldly landscapes and moments of complete tranquility.
We practise responsible tourism
PONANT is a proud voting Member of International Association of Antarctica Tour Operators (IAATO), an organisation founded in 1991 to advocate, promote and practice safe and environmentally responsible private-sector travel to Antarctica – www.iaato.org. Being a member means we are committed to respect strict ecologically sound disembarkation protocols. You can find out more about our commitment to sustainable tourism and development here.
Photo credits: © PONANT / Violette Vauchelle, Olivier Blaud, Morgane Monneret, Clement Louineau.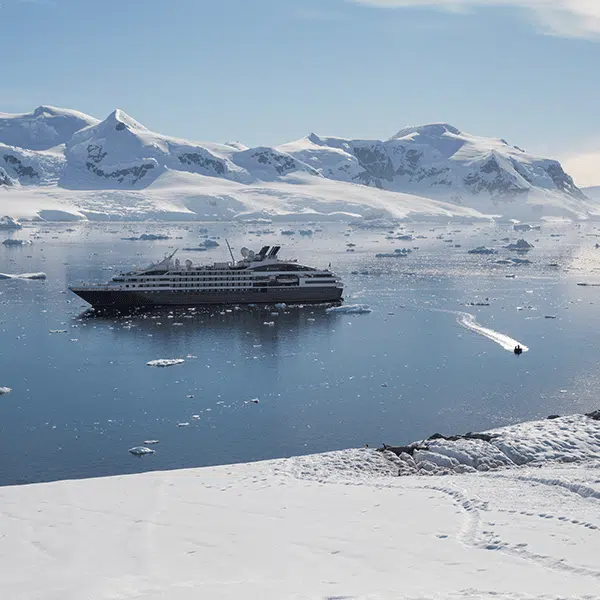 Our Antarctica Expeditions
Take a look at our range of itineraries throughout the Great White Continent and find your perfect polar voyage.