Two cities, two identities
More than 600 kilometres separate these two cities on the west coast of the United States. And it's not just the distance: plenty of other things pit Los Angeles against San Francisco. It's for you to judge, here are 5 differences between the two Californian cities!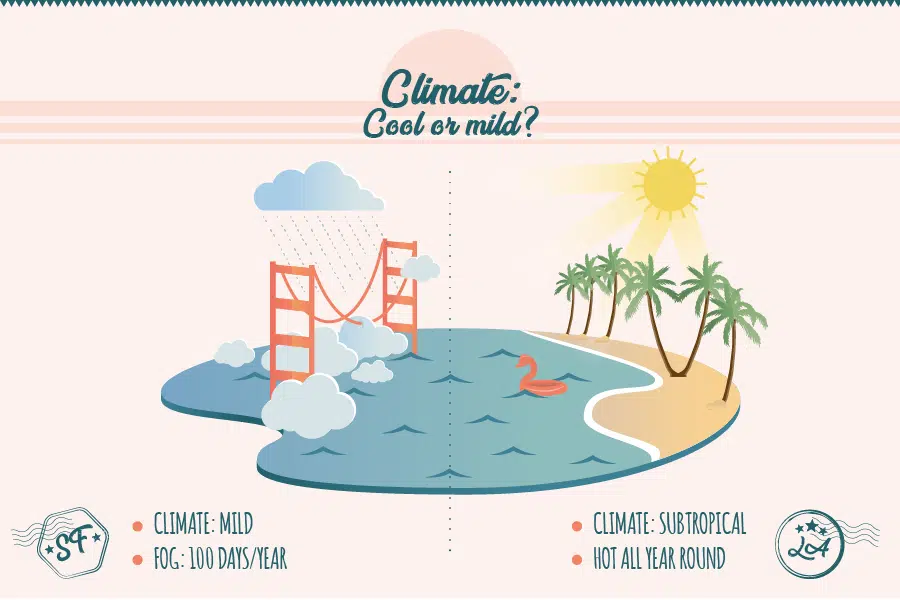 If we were to give a caricature of San Francisco, it would be Los Angeles' "Wales". While LA is a town renowned for its mildness, in San Francisco the rains are exclusively concentrated in the winter and there's little variation in temperature between winter and summer (10°C). Its downside: thick fog forms in the bay more than 100 days per year. In Los Angeles, the climate is hot and subtropical with wet winters and very dry summers. And of course, pleasant temperatures all year round!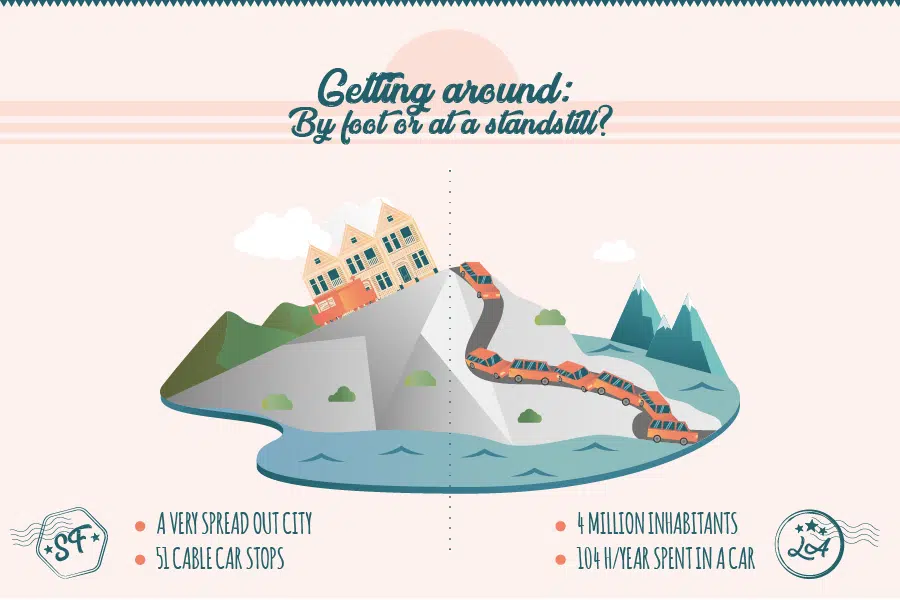 Known for its undulating landscape with its 43 hills, the city of San Francisco spreads between the Pacific Ocean and the surrounding mountains. Los Angeles, on the other hand, with its 4 million inhabitants and so the highest population in California, occupies a narrow coastal plain surrounded by mountains on three sides. In the giant city of Los Angeles, it's no surprise: travelling by car is a necessity… but it also tries your patience. People spend more time stuck in traffic jams (104 hours per year on average) in Los Angeles than in any other city in the world! In San Francisco it's a different story, the city can be easily discovered by foot during a long stroll with a break on the cable car.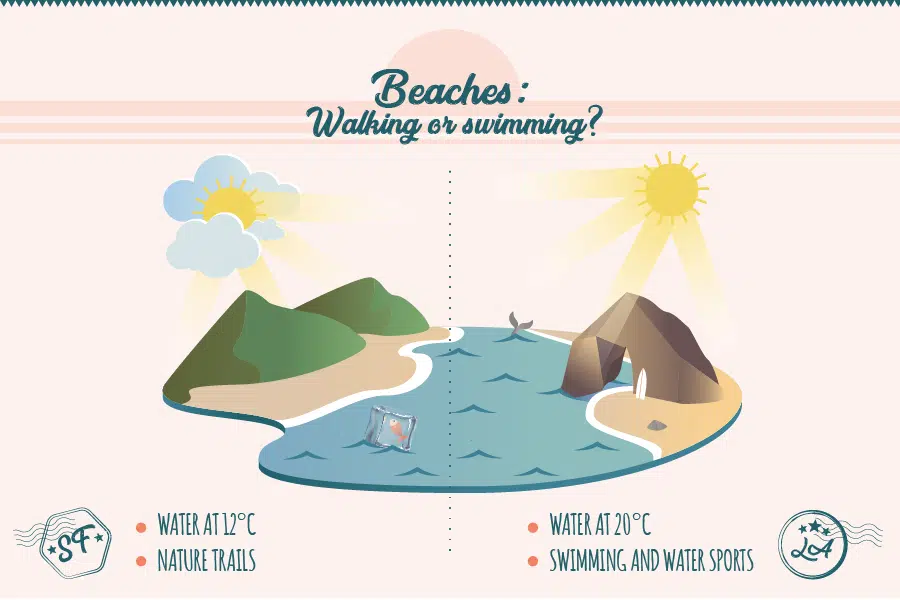 The waters of the Pacific Ocean which run alongside the west coast of SF are enticing. But it takes real guts to dive in – temperatures are around 12°C on average The most sensible thing to do would be to go to the LA region with its 1,600 kilometres of coasts. Our favourite: El Matador Beach. In summer, the temperature reaches 20°C, ideal for indulging in a swim!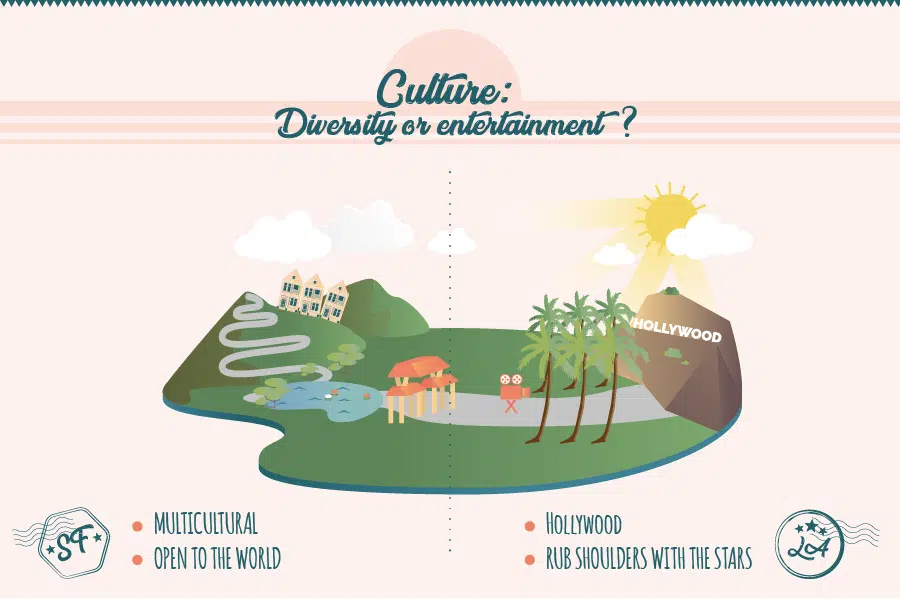 Kind of like Paris, San Francisco plays the multicultural card with its neighbourhoods which take you from Italy to Mexico and from China to Japan, in the space of a few minutes. As for LA, the famous Hollywood Boulevard is a reminder that this city attracts all the big film stars. More generally, it remains the uncontested entertainment capital of the world.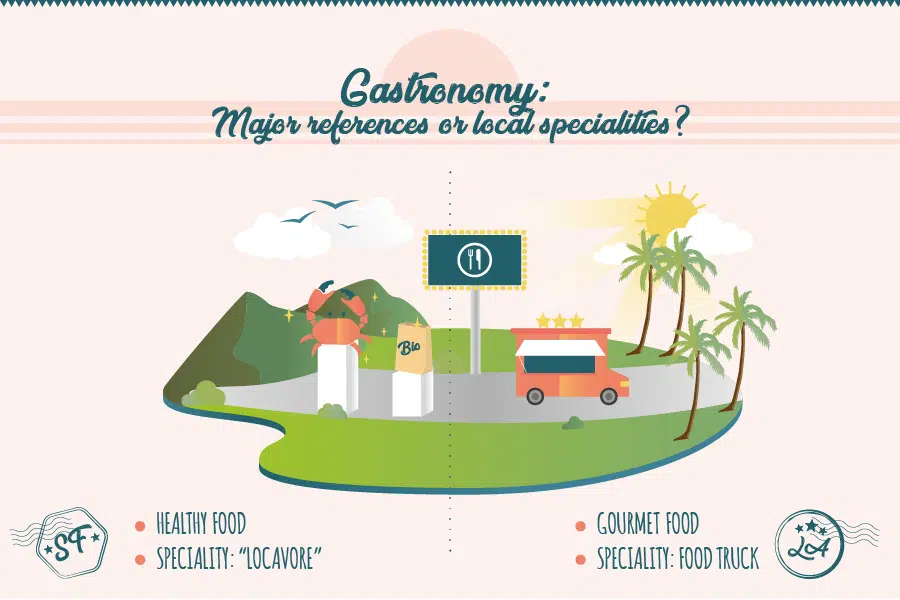 The "City of Angels" is where the food-truck movement began. It has more than 220 of them, including many owned by famous chefs. But LA is also teeming with famous two- and three-star restaurants. As for San Francisco, the "locavore" and organic culture is built on the back of the local cuisine. With exceptional produce, you can enjoy unique specialities such as a Dungeness crab or a fried oyster omelette!
So, Los Angeles or San Francisco? Two cities full of character, both equally unmissable during a trip to the west coast of the United States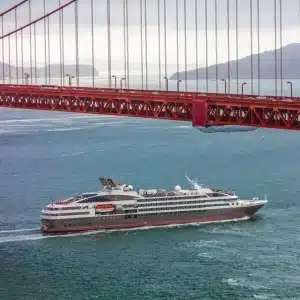 Our cruises in California
Visit the mythical cities of Los Angeles & San Francisco during a PONANT cruise.