Nature in all its majestic beauty
Virgin forests contribute to environmental balance and are the true guardians of biodiversity. These woodlands, which have never been exploited or influenced by humans, are found in both tropical and temperate zones, and constitute landscapes of unspoilt beauty. Here is an overview of five of these outstanding protected areas.
1. The Amazon Rainforest: a forest with global impact
Extending into nine countries, covering 5.5 million square kilometres and home to more than half of the world's biodiversity, the primary Amazon rainforest continues to amaze nature lovers. Besides acting as a green lung, the Amazon rainforest is a refuge for rare animals: from jaguars to hoatzins and from spider monkeys to pink river dolphins, a tenth of the world's species lives here. Vegetation has been present for millions of years in some areas, such as the Guiana Shield, the mouth of the Amazon River and the great river's various tributaries, including the Rio Negro and the Rio Tapajós. Given its sheer density and surface area, the region hides a wealth of other biological riches too!
2. Gunung Leuser National Park: a lush Indonesian landscape
Those looking for an authentic jungleexperience should head to Ketambe, on the island of Sumatra in Indonesia. This small village is halfway between two of the archipelago's highest mountains: Mount Bandahara and Mount Leuser. These two peaks are surrounded by outstanding protected ecological sites that include Gunung Leuser National Park, which is home to several endemic species. The wildlife that flourishes in the zone's humid climate is known as "ombrophilous" (able to withstand prolonged precipitation and shade). The various species live beneath a forest canopy formed by trees such as bayans, which are sometimes hundreds of years old. Legendary animals rule over this woodland kingdom: Sumatran tigers, orangutans, clouded leopards, ocelots and hundreds of varieties of birds and reptiles can be seen here if you are patient and cautious.
3. The Great Bear Rainforest: a change in climate
Although "virgin forests" typically conjure up the image of humid, tropical zones, the Great Bear Rainforest defies expectations with its astonishing flora and fauna. 3.6 million hectares of British Columbia are home to an unspoilt ecosystem: the temperate rainforest. Some of its trees, including a number of Western red cedars, have been around for centuries. With rolling hills separated by vast lakes and rivers, this protected area is enjoyed by a whole host of bear species. In addition to grizzlies and black bears, the Great Bear Rainforest is the only place where you can find Kermode bears, or, as they are more poetically known, spirit bears. Humpback whales, bald eagles and wolffish can also be spotted during excursions in this untamed wilderness.
4. The Congo Basin: on the banks of the great river
This region is as large as the Indian subcontinent: in central Africa, where the borders of Cameroon, the Central African Republic, Equatorial Guinea, the Republic of the Congo, the Democratic Republic of the Congo and Gabon meet, almost 4 million square kilometres of land is covered with primary tropical rainforest. 3,000 distinct varieties of plants thrive in these lush zones. They are called "evergreen", meaning that they keep their foliage all year round, and create a very dense and natural green horizon criss-crossed by immense rivers. In the heart of this basin lies Salonga National Park, where many intact forest areas are home to some uniquely beautiful animals like the Congo peafowl, and some truly remarkable species, such as the bonobo with its sophisticated social structure, and the West African slender-snouted crocodile, with its unusual appearance. African forest elephants, which look slightly different from their savannah-dwelling cousins, also thrive here.
5. Daintree Rainforest: a venerable canopy
Offering a striking landscape of emerald jungle flooded with lagoons and waterfalls, the Daintree Rainforest is thought to be the oldest rainforest in the world. This primary forest is approximately 125 million years old (i.e. ten times older than the Amazon rainforest), and runs parallel to the Great Barrier Reef in north-eastern Australia. Visitors come to discover a true wilderness, where intense humidity is combined with gigantic trees and vibrant biodiversity. It is home to saltwater crocodiles, southern cassowaries, spotted-tailed quolls and tree frogs with suction-cup-like feet. Well-sheltered from human activity, Daintree National Park remains the home of the Kuku Yalanji aboriginal tribe – the custodians of this outstanding biological heritage whose culture is firmly rooted in the virgin forest that surrounds them.
Svalbard: the primary forest of yesteryear
400 million years ago, the Norwegian archipelago was home to a vast forest. Before the continents drifted, the island was located at the equator – which is hard to imagine given its current incarnation, populated by polar bears and covered with ice for several months a year!
Creating protected areas: a sizeable challenge
WWF, Greenpeace, state authorities and the representatives of local indigenous tribes are striving to protect the world's primary forests from the overexploitation of their wood and wildlife. Over the past twenty years, this struggle has resulted in the designation of several million hectares of forests, on three continents, as protected areas.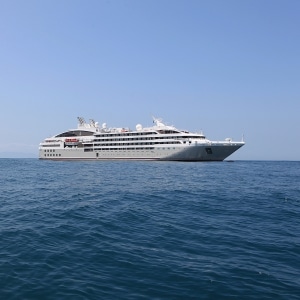 Explore the world with PONANT
From the Amazon to Australia, PONANT takes you to the heart of some spectacular landscapes aboard state-of-the-art ships.