True or false?
What about going on a cruise for your next holiday? People often ask themselves a lot of questions when thinking about going on a cruise for the first time. So we've put together a list of the most frequent questions that come up to give you a better idea of the on-board experience. True or false? Escales tells you the whole truth and nothing but the truth!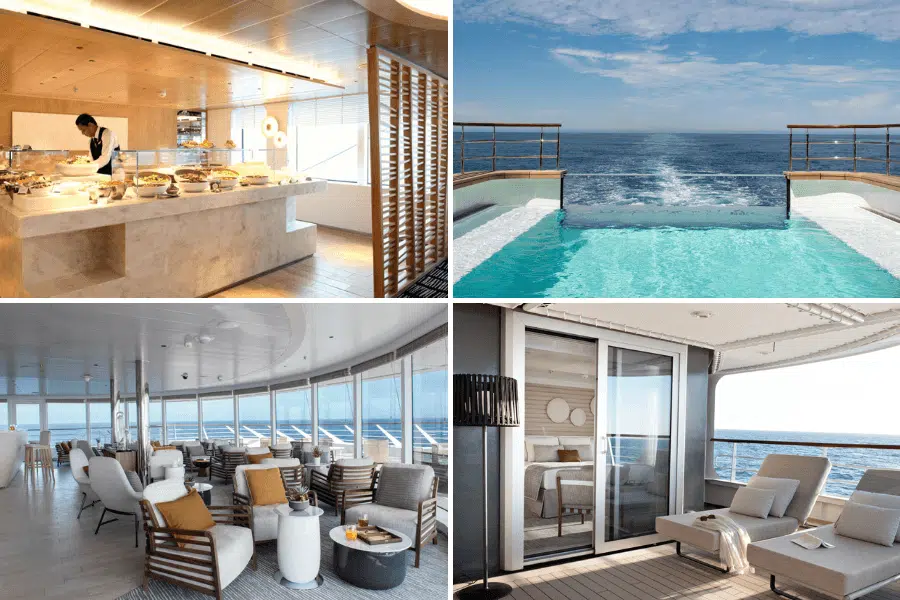 "There's nothing to do on board." False!
Life on board a PONANT cruise ship is a luxurious experience with all the entertainment and leisure activities that go with it. Here are a few examples: Movie buffs will be pleased to find video on demand (VOD) in their cabin. Conferences, shows and concerts are laid on for passengers every day. Children can read, borrow board games and even play video games on a Wii™. Energetic types can use the gym or go to aerobics classes. And if you fancy chilling out for a while? Head for the spa! All the ships in the PONANT fleet (except Le Ponant) have a wellbeing area with massage cabins, hammam and hair salon. Life on board is pretty good.
"Cruise ships are too crowded." False!
Whether you're on Le Ponant, a sailing ship with 32 cabins or one of our small ships of up to 264 passengers (132 cabins), every cruise is an intimate experience. You'll have the ultimate sensation of being on board your own private yacht, heading for a voyage of discovery of wondrous lands and their secret places.
"You can eat whenever you want." True!
Our food culture is high on the list on every PONANT ship. It's quite simple: you can enjoy sweet and savoury dishes day and night thanks to the 24-hour room service. Every meal is an experience in itself. Breakfast is buffet-style, or available in your cabin on request; lunch is also a buffet, but dinner is a very French affair, with 5-star table service. Coffee, tea, sweet treats and snacks are always available outside meal times.
"You have to stay in your cabin if you want peace and quiet." False!
All areas of a PONANT ship are designed and furnished to give passengers some private space. From the outside bar to the pool, lounges and wellbeing area, you'll always find somewhere to sit in silence and contemplate the horizon undisturbed.
"There's no personal service." False!
Life on board is a magical interlude where every detail counts. And for good reason: you'll be going on your very own tailor-made cruise. Room Service allows you to enjoy a meal or snack in your cabin. A convenient laundry service is available to wash and iron your clothes. And some Suites even offer a butler service. They will look after you, catering for every whim.
"The food on offer is 'proper' fine cuisine." True!
Being a French cruise company, PONANT pays homage to our country's excellent reputation for fine food, so the cuisine is first-class . Created by talented chefs, it is made solely from fresh ingredients. As you explore various destinations, you can sample local specialities in the Restaurant Gastronomique or the Restaurant Grill. On board Le Ponant, you can head for the Restaurant Karukéra, with its amazing cuisine inspired by the sea.
"A ship isn't as comfortable as a hotel." False!
Regardless of your ship or destination, you'll always enjoy luxurious quality, service and comfort. Each cabin is perfectly equipped with air conditioning, TV, pillow choice, a safe and special touches to help you feel at home (robe, slippers, towels and Hermès toiletries).
"Modern ships have stabilisers for preventing sea sickness." True!
Do you get sea sick as soon as you step on a boat? Not on a PONANT ship, as they all have stabilisers with dynamic fins that adapt to the ship's movement. A clever system that counters pitching and rolling. So you won't feel any of the usual symptoms!
"The cabins are small and some don't even have a window." False!
With the exception of some ships, namely the Le Ponant sailing ship, all cabins have a private balcony for unique sea views. This comfortable private space allows you to enjoy amazing panoramic views throughout your cruise.
The experience…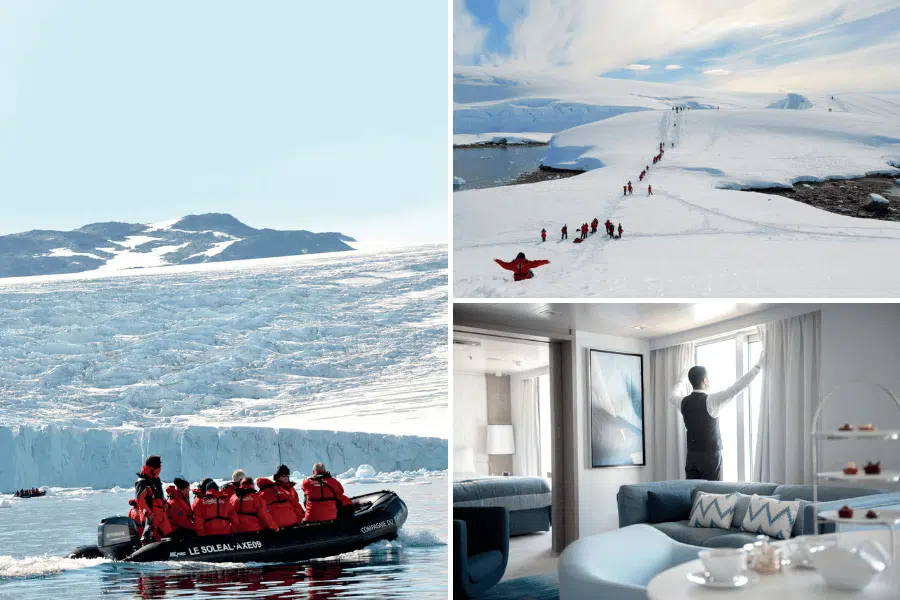 "There's never anything new or different." False!
Backed by expertise and with ships designed for exploring the most amazing locations on the planet, PONANT takes you close to nature, far from busy maritime routes! From glaciers and great rivers to the jungle and lost lagoons, our unique routes are rewritten regularly. Our ship's captains and expedition teams have the vital experience required for exploring protected areas that are difficult to get to.
"You can personalise your whole trip." True!
Designing your trip from start to finish is a breeze with PONANT. Get in touch with an adviser and build your cruise the way you want it. Destination, excursions, flights, transfers: every aspect of your trip is managed for perfect budget control.
"Everything is included in the price of the cruise and plenty of services are available." True!
No unwelcome surprises when you step on board. Here at PONANT, "all-inclusive" covers cabin accommodation, full board, drinks from an open bar (even champagne!), Wi-Fi and access to all shared spaces (fitness room, pool, solarium etc.). This even includes all outings on expedition cruises.
"There's no time to see the stopover locations." False!
Whatever your destination, several stopovers allow you to explore the towns and countryside along your route. The whole idea of a stopover is to enable you to get the most out of the location. Optional excursions accompanied by a private guide give you a chance to take full advantage of every stopover!
"People with reduced mobility are welcome." True!
All of the ships can accommodate passengers with reduced mobility in great comfort. Specially designed cabins, access ramps, excellent signage, cabin numbers in braille… All the necessary adjustments have been made already.
"The on-board personnel only speak English." False!
The PONANT "French touch" is everywhere, starting with the language spoken. Whatever your destination, French is the main language spoken on board. If you have a question, a wish or a comment, all of the on-board personnel are easy to approach in French, but also in English.
The environment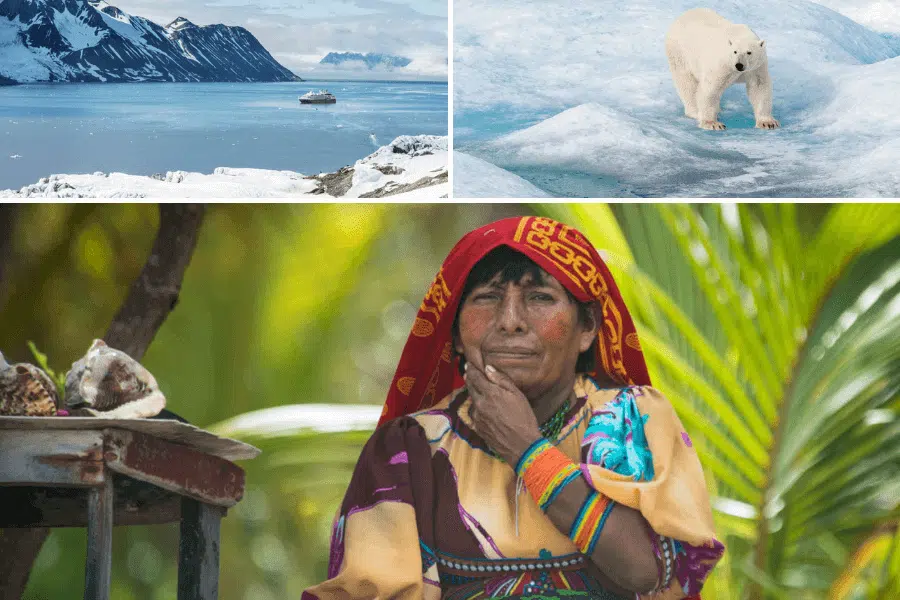 "All cruise ships create such a lot of pollution." False!
Thanks to the cutting-edge technology employed on-board the ships – optimum garbage and waste water treatment, sonar system for detecting shoals, refrigerated gas used for air conditioning and low energy lighting etc. – PONANT is one of the few cruise operators with a full commitment to environmental protection. With its policy of drastically reducing the consumption of fuel oil for running its ships, the company was awarded the international "Clean Ship" label for its reduced environmental impact. In addition, PONANT has completely phased out the use of heavy fuel oil (HFO), to consume only LS MGO (Low Sulphur Marine Gas Oil), a hydrocarbon fuel obtained by refining crude oil, which is less polluting in terms of sulphur and fine particles. The company has thus made the mandatory switch to less polluting fuels a year ahead of schedule. PONANT will be taking its commitment to another level in 2021 with the launch of a polar exploration vessel powered by LNG (liquefied natural gas). This brings many benefits: 25% lower carbon emissions, 85% lower nitrogen oxide emissions and even 95% lower fine particle emissions.
"Care is taken to protect fauna." True!
An environmental assessment is made beforehand of every stopover to ensure that the impact of disembarkation is only temporary and transitory. In terms of the fauna, the flora and the people living in the locations visited, a detailed inventory is made to avoid encroaching on zones requiring protection. PONANT also runs a number of initiatives for the protection of biodiversity with a range of bodies (for example: French Southern and Antarctic Territories (TAAF), the Seychelles Foundation, the Aldabra Foundation and the Chico Mendes Institute)
So, are you ready to take to the waves now that we've shed a bit of light on things?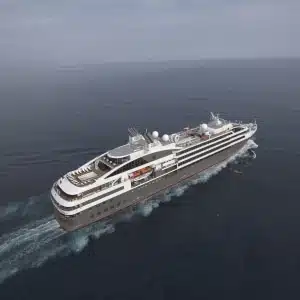 Enjoy a unique approach to the cruise experience with the only company sailing under the French flag.