Two Mediterranean Edens

Both Greece and Croatia are Mediterranean paradises in the Balkans. One is located on the southern tip, the other in the north. It isn't easy trying to decide between the treasures of these two Eastern Mediterranean destinations, but we're going to give it a go!
Climate – Be aware of the seasons!
There's no best or bad time to visit Greece or Croatia. But the land of Socrates is hotter and drier than its Balkan neighbour, so maybe visit Greece between April and June for a spring getaway or between September and November for a late summer treat. Although Croatia is very sunny (especially in the south), the climate is more humid and less stifling. You will feel comfortable even in the height of summer as temperatures remain pleasant or even cool if you go to the beautiful Plitviče Lakes region.
Beaches – Fine sand or pebbles
Greece and Croatia have the most and second most islands in the Mediterranean respectively. However, Greece is the clear winner with nearly 6,000 islands versus Croatia's 1,200 islands, islets and reefs. Still, both are ideal places to go if you love swimming. In Greece, it's warm enough to swim from May, while in Croatia, those who feel the cold should wait until June. Also note that in Greece, the Cyclades and the Ionian Islands offer a wealth of fine sandy beaches, while Croatia's Dalmatian Islands are dotted with pebble coves, creating a host of secret bays just waiting to be discovered.
Landscapes and culture – A question of perspective
Greece is all about ochre hills dotted with villages featuring narrow streets that wind their way between whitewashed houses and churches with turquoise blue domes, all peppered with a dash of vibrant fuchsia pink bougainvillaea. But of course, it's also about ancient stone temples, sanctuaries, amphitheatres and other remains of the birthplace of the modern world. In greener Croatia, you can drink in the fresh air as you admire lakes and waterfalls in the many national parks (Plitvice, Krka and Paklenica), before strolling through cities of stone houses with red-tiled roofs. It is the perfect destination for nature and hiking enthusiasts.
Hospitality – Each has its own character
Smiles, generosity and the joy of giving… In Greece, don't be surprised if you find yourself invited to someone's house to share some grapes, bread dipped in olive oil or a small glass of ouzo over a game of backgammon. The Greeks have an innate sense of hospitality that is always sincere, natural and welcoming. In Croatia and in Dalmatia in particular, people surrender more to fjaka, the art of taking your time, freeing yourself from material constraints to concentrate on what really matters. This translates into residents with a calm, carefree attitude, which can be disconcerting at first but has its own special charm. Fjaka is more than just a state of mind. It's a way of life!
Looking at a plate of food, it's hard to decide between Greece and Croatia. From Crete to Korcula, restaurants share the same taste for Mediterranean flavours. For fresh and healthy food from the land and sea. For the sweet scents of olive oil, bay, thyme and rosemary. And for fine wine.
You may have guessed: refereeing a face-off between Greece and Croatia is like trying to put a square peg in a round hole! The best way to decide between them is probably to go there yourself! There's nothing like first-hand experience, after all!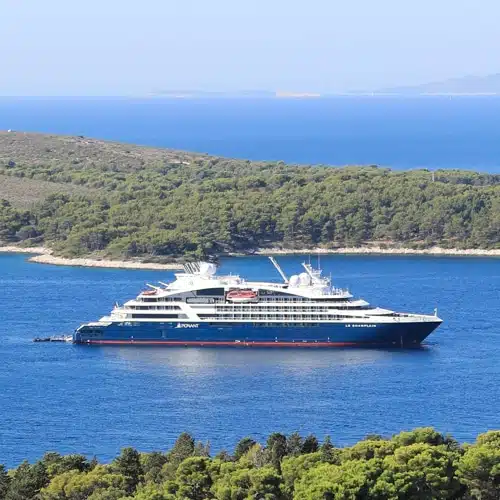 Explorez avec PONANT les plus beaux rivages des archipels sauvages de la Grande Bleue