Go island hopping and reconnect with nature
Discover a wonderful way of life that is closely linked to centuries-old traditions, nature that is both bucolic and spectacular, historical heritage inviting contemplation, and more. The Croatian word pomalo, meaning 'take it easy', is the ideal term for describing a trip along the coastline of Croatia and Montenegro.
Recharge your batteries among wild, bucolic landscapes
With its range of fun seaside activities and historical gems, Croatia has become a popular holiday destination for travellers in search of a summer Eldorado. Luckily, this popularity hasn't tarnished another of the country's facets, with its unspoilt nature reserves, spectacular landscapes and green havens of peace remaining intact. A myriad of Eden-like islands and islets lie along the Dalmatian coast, where you can recharge your batteries away from the hustle and bustle of the outside world.
Mljet, or 'Green Island', is one such example, partially covered by a lush Mediterranean forest and adorned with rocky inlets lapped by turquoise waters. Seatrekking is the best way for adventurers to discover these coves. Developed in Croatia a decade ago, the sport involves exploring the shoreline over multiple days without the aid of a boat via swimming, freediving, snorkelling and hiking. If you'd prefer a less physically demanding way of cove hopping at your own pace, try snorkelling.
In Pučišća, on the island of Brač, you can sample the delights of swimming in secret lagoons against a backdrop of pine forests and enchanting little villages. 
Lastovo is a calm and beautiful spot set away from the tourist trail dotted with emerald hills, sleepy hamlets and azure bays. Let yourself be lulled by the ballet of fishing boats as you enjoy the gentle breeze blowing through the pines. Exuding serenity, it invites adventurous travellers to press pause and enjoy a stopover outside time. 
Vis, a small island that was long closed to tourists, is ideal for visitors seeking authentic experiences. Lose yourself on the small paths as you discover beautiful geological formations, ancient ruins, rocky coves and pretty villages anchored in maritime traditions.
A lifestyle steeped in culinary traditions
Travelling along the Dalmatian coast also means embracing a way of life that celebrates ancient agricultural and maritime traditions, which are passionately perpetuated by its inhabitants. On Hvar, visit the fertile plain around Stari Grad – a UNESCO World Heritage site – and stop at a local farm to sample specialities such as lavender cheesecake in the midst of olive groves.
On the Elaphiti Islands, oysters have been cultivated on ropes since the 17th century. Harvested from March, they are celebrated at spring festivals, served with posip, a lightly fruity local white wine. If you visit Šipan, the largest island in the archipelago, you simply must try octopus stew, a traditional recipe served at the table of a welcoming konoba (tavern).
Benefitting from a diverse geography and climate ideal for vine cultivation, Croatia is one of the best wine regions in the world. Several islands along the Dalmatian coast, such as Brač and Vis, have specialised in winegrowing since ancient times. Vineyard and cellar tours, including at the famous Lipanović Winery, are a must for anyone visiting the region. Vugava is a white wine that is delicious paired with fish or seafood dishes, while Plavac Mali is a red wine best served with quality cheese and Dalmatian prsut ham. 
The street food is also influenced by Croatian history! In Dubrovnik's Old Town, street vendors invite you to try borek pastries.
The splendours of the past, frozen in time
As you island hop, historical gems will reveal themselves to you like treasures. Off the coast of Dubrovnik, embrace the beauty of Lokrum, also known as The Island of Love. Colonised by majestic peacocks, this small island is home to a Benedictine monastery that was used as the set for certain scenes in Game of Thrones. 
Korčula meanwhile pays tribute to Marco Polo. Some say it is his birthplace, although this is unverified. 
On the island of Brač, discover the Pučišća stonemasons who train here in the ancient trade of traditional stonemasonry: for centuries, the island's limestone has been used to build palaces, cathedrals and the beautiful Renaissance houses in Cavtat.
Finally, no getaway to the Dalmatian coast is complete without a visit to the spectacular mouths of Kotor in Montenegro. Head off on a kayak to see medieval cities, island monasteries and secret beaches up close.
The poetry of Croatian folklore
The dominant form of local music on Croatian islands is klapa, which involves a (usually) male choir singing a cappella in harmony about love and the loss of a loved one. Meanwhile, the island of Korčula is known for moreška, a centuries-old traditional sword dance that can be discovered in the island's towns and villages throughout the summer.
Photos credits: © Istock; © Studio PONANT: G. Lebras, M. Monneret, M. Sib.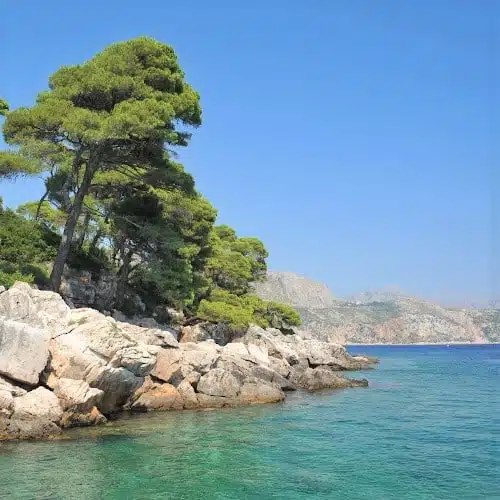 Sample the wonderful Croatian way of life on a Mediterranean cruise