A breath of fresh air, artsy strolls and light shows
Quebec's largest city, Montreal inspires and attracts visitors from all walks of life, sometimes even for stopovers. What can you see in a day in Montreal? Here is a guide for your adventure in Canada's premier French-speaking metropolis.
9amBreathe!
The lungs of the city, Mont-Royal Park was designed by the same landscape architect as that of Central Park in New York City. You can enjoy Castors Lake, pleasant for picnics and walks in the summer and great for skating in winter! Mont-Royal Park also boasts a large hill, measuring 234 metres, and providing a stunning view across the city and surrounding lakes. This park is a real breath of fresh air in the centre of this metropolis that is home to over 1.7 million people.
11amA tour of the museum
The Montreal Museum of Fine Arts is known internationally for the variety and richness of its collections. All eras are represented. The visitor will discover the archeological treasures of the Mediterranean, Asia, Africa and the Middle East. It then plunges into the art of the Middle Ages, the Renaissance, the Baroque, Classical and Enlightenment periods, right up to Impressionism and into contemporary art, photography and design. The area reserved for Quebec and Canadian art completes these permanent and temporary exhibitions, among the most comprehensive in the world.
1pmMarket cooking
For lunch, go to Jean-Talon Market, open from 7am to 6pm. You will love the local produce as well as the Asian and Middle Eastern flavours. The stalls are overflowing with cut flowers, fruit and vegetables, seafood produce (catch of the day guaranteed) and meat aged to your taste. For immediate consumption, you can opt for oysters, pizzas, burgers and even Japanese specialities: everything to guarantee that your lunch break will be pleasant, in one of the biggest markets in North America.
14h30A touch of Europe
Although skyscrapers are flourishing in Montreal as they are in all the major cities in North America, the historic centre has managed to preserve the feel of yesteryear. In Old Montreal, lining narrow paved streets, the facades of low buildings echo 17th century European architecture. Art Deco and Neoclassical styles sit together amongst cafes and pleasant terraces. Among the essential sights, don't miss the Place d'Armes where the first skyscraper of the city was built in 1988 and the Place Jacques Cartier. Car-free in the summer, it is very lively, with artists present, restaurants and ice cream parlours. In winter, it hosts a fairy tale-like Christmas market.
5pm
Time for tea
Anyone feeling hungry might be tempted by a bagel, the small round buns available plain or with seeds, garnished or not. It seems that they rival those found in New York. You'll have to taste them to find out! The secret of the Montreal bagel recipe is to be found in the touch of honey added to the water during the cooking by boiling.
6pmA wonderful show
In the late afternoon, the Notre-Dame basilica is adorned with its most beautiful finery. Every evening, at 6pm and 8pm, a stunning sound and light show takes place. But the visit is also worth a detour during the day. Built in 1829 in a Neo-Gothic style, it is known above all for its stained-glass windows and its blue vaulted ceiling decorated with angels and stars in 24-carat gold.
8pmA traditional or gourmet dinner?
In Montreal there is something to satisfy all tastes. On your first visit, you absolutely should taste poutine. This iconic Quebec dish is made up of French fries, melted cheese and a delicious gravy sauce. La Banquise restaurant is an iconic venue to try it: it is open continuously, day and night. Refined palettes will prefer to enjoy the delights of one of the venues that is reinventing Quebec cuisine. With harmoniously prepared dishes, fresh and in-season local produce marries perfectly with more exotic flavours. Creativity and good taste make this cuisine, and a new generation of chefs, successful.
Photos credits : ©iSotck / ©Unsplash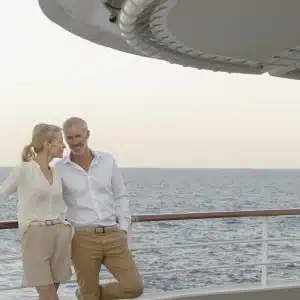 Embark on a cruise with PONANT to discover North America and Canada.