Head to this natural paradise in the Balearic Islands
Spain's Balearic Islands are home to the island of Menorca, a jewel that is a far cry from the party atmosphere of Ibiza or the tourist beaches of Majorca. It is a calmer and less well-known eco-friendly paradise, where nature reigns supreme. Listed as a UNESCO biosphere reserve in 1993, Menorca offers visitors lush landscapes, crystal-clear waters, protected wilderness and a sweet way of life that you just have to try.
The island of Menorca: a natural oasis
Menorca is a genuine open-air eco-museum. Although it is only 700 km², this oasis of greenery in the middle of the Mediterranean Sea offers a wide range of landscapes. The south coast is a series of wild coves and white sand beaches. Inland, abundant vegetation flourishes, infused with the wild scent of pine and olive trees. These natural gems are why Menorca was declared a biosphere reserve by UNESCO in 1993. And its many nature parks, which are a stopover for thousands of migrating birds, played a key role in this decision. One such park is the S'Albufera des Grau nature reserve in the northeast of the island, where you can see water birds (including herons and cormorants) and birds of prey (such as osprey and booted eagles).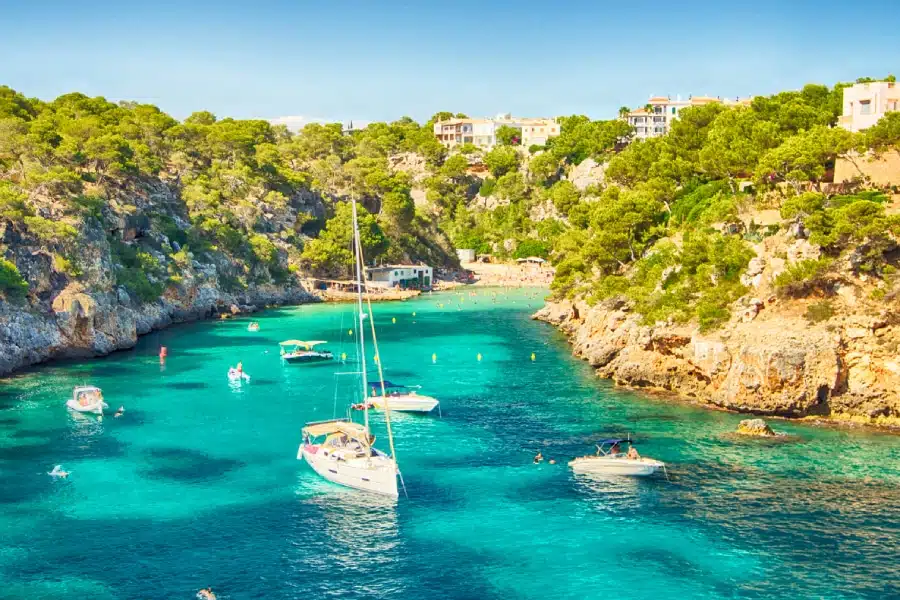 Menorca's varied and protected coastline
This small Balearic island boasts a gorgeous coastline of azure blue sparkling water stretching more than 220 kilometres. An enjoyable hike around the island along the Camí de Cavalls coastal path promises spectacular views of rocky bays with turquoise water, known as "calas". Adventurous visitors can also follow a route to take in the five lighthouses scattered along the island's shore. Perched on top of a cliff over 90 metres high, Cavalleria lighthouse offers the best views of Menorca's north coast and marine reserve. Created in 1999, the reserve covers 5,119 hectares of marine waters, making it the largest in the Balearic Islands, and protects sea creatures living in this Mediterranean region. Trawling and fishing of endangered species are banned within these waters. And it is easy to see species such as barracudas, Moray eels, groupers and octopuses, making it a fantastic diving site.
Must-see attractions during a trip to Menorca
No list of Menorca's unmissable attractions is complete without Mahon, the island's capital. Its harbour is considered one of the best natural harbours in the world, which is no doubt why its history was shaped by various foreign navies' invasions: Greek, Phoenician and Carthaginian. Another gem is hidden just 8 kilometres from Mahon, in the southeast of the island: the white-washed village of Binibeca. Set in a cove, this small fishing village exudes typical Mediterranean charm due to its houses with white-washed walls and roofs. White-washing is an environmentally friendly way to keep interior rooms cool and combat humidity and insects. And to enjoy a bird's-eye view, climb El Toro. At 363 metres, it is the highest point on the island, making it the perfect place to get a 360° panoramic view encompassing the island's little sister: Majorca.
A taste of the Mediterranean
Spain has the largest area devoted to organic farming in the European Union, and Menorca pulls its weight: the island is brimming with organic farms and markets. Menorcan specialities include "Algendaret Nou" from Mahon, a cheese made from cow's milk at Algendaret Nou, one of the first farms on the island to convert to organic farming. It is also one of the few farms to raise Menorquina cattle, which, despite producing less than Friesian cattle, produce milk that is particularly well suited to making high-quality cheese. Menorca's biggest culinary contribution is a world-famous condiment: mayonnaise. In the 18th century, when the Duke of Richelieu took Mahon harbour, he tried a sauce known as aioli. Once back in France, his cook gave the sauce his own twist and called it "mahonnaise", after the city of Mahon. A few years later, the original name morphed into "mayonnaise". In addition to its wealth of natural gems, Menorca also promises unforgettable culinary delights.
Crédits photos : © Istock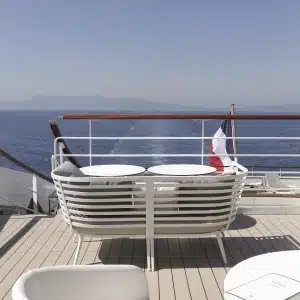 Discover the sweetness of the Mediterranean islands during a PONANT cruise