Is this region the world's last secret destination ?
Many travellers dream of hidden gems, lands that are still unspoilt, destinations that haven't been transformed by hordes of tourists. Kamchatka is one such place. This volcanic peninsula in the Russian Far East, just a stone's throw from Japan, is a magical place that seems to come straight out of an adventure story. And it may well be your next holiday destination !
Kamchatka
 offers a glimpse of what the world may have looked like a million years ago. On these forgotten lands jutting into the Pacific Ocean, volcanoes, geothermal energy and cyclones have shaped a fascinating array of fauna and flora. 
A
trip to Kamchatka
 takes you to the very heart of these surreal landscapes, up to the peaks of volcanoes and into the depths of taiga forests, giving you the chance to meander between geysers and tremble at the idea of finding yourself face to face with a brown bear. 
Kamchatka
 is one of the most remote and largest 
nature sanctuaries
 in the world. It was only opened up to foreign and Russian tourists in 1990. Today, despite being the size of France, Belgium and Luxembourg combined, this peninsula has a smaller population than Nottingham (and 70% of its inhabitants live in the capital Petropavlovsk-Kamchatsky).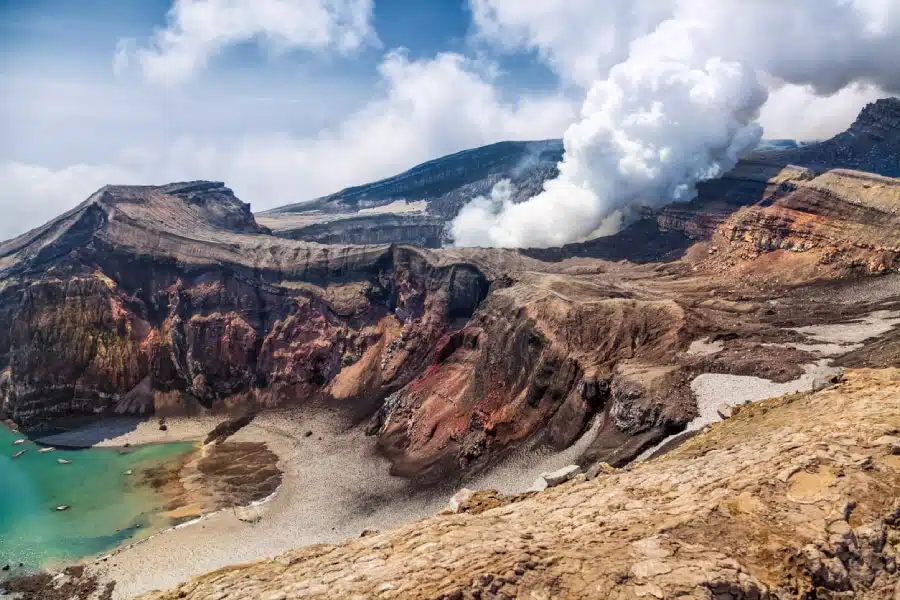 Trek through a land of fire and ice
Kamchatka is located in the Pacific Ring of Fire. Due to the mountain ranges – Sredinny, Valaginsky, Ganalsky and Kumroch – that run from North to South, the peninsula is shaped like a giant fish. Klyuchevskaya Sopka, a large volcanic cone (culminating at 4,750 metres of altitude), is the highest active volcano in Eurasia. It is so high that the top two-thirds are covered with snow. You could say that volcanoes are Kamchatka's speciality. You see them at virtually every turn: the region is home to 300 volcanoes in total, 29 of which are active. Several are protected as UNESCO World Heritage Sites (representing 27% of the total area of Kamchatka).
A hike on these still smoking volcanoes is a unique experience. Get close to crater lakes, lava flows, vast fields of bubbling geysers, calderas, natural stone sculptures and more, and be reminded of just how small we really are in comparison. Trekking into the Mutnovsky crater is an almost indescribable experience; everything about it is unfamiliar and exceptional. First, you drive towards it in an off-road vehicle, heading into an increasingly lunar landscape. Then begins a surprisingly easy walk to access the bowels of the Earth. You walk through a narrow gully which opens onto the crater. And there lies the volcano's lair: glaciers dusted with ash, fumaroles, multicoloured rock, hot springs, and kettle holes of boiling mud. You feel like the first explorer to have ever set foot there.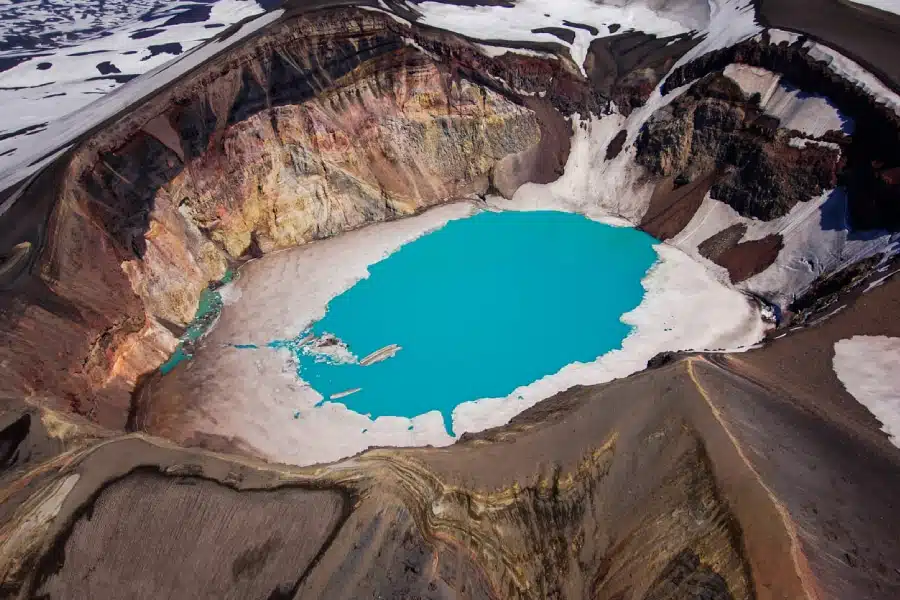 Encountering Kamchatka's brown bears… and salmon!
The geological landforms are not the peninsula's only draw; it is also a paradise for nature lovers due to its abundant wildlife. It is home to Kamchatka brown bears, snow sheep, deer, sables, wolverines, Arctic foxes, Steller's sea eagles (50% of the global population), white-tailed eagles, golden eagles, gyrfalcons, peregrine falcons, Aleutian terns, Steller's sea lions, walruses, fur seals, orcas, whales, sea otters and the most river salmon you will ever see in your life! There are so many that, in summer, you can catch them in your hand, and walk on their backs across an arm of the river. The Russian Far East is home to some of the most diverse, most productive and healthiest river and ocean ecosystems in the world. An estimated one-fifth of all Pacific salmon comes from Kamchatka, and the peninsula hosts the greatest diversity of salmonidae species on Earth.
As bears are partial to salmon, Kamchatka is also a paradise for them. Whether the prospect of meeting a bear fills you with dread or excitement, you're bound to come face to face with one as you explore the wild forests and volcanoes. The region is home to the largest population of bears in the world. As Themo Anargyros, who made a documentary on the region, says: "There are nearly 20,000 brown bears there, one-fifth of all the bears in Russia. You're more likely to come across a bear than a human being." These giants are generally 2.4 m long and weigh 500-700 kg.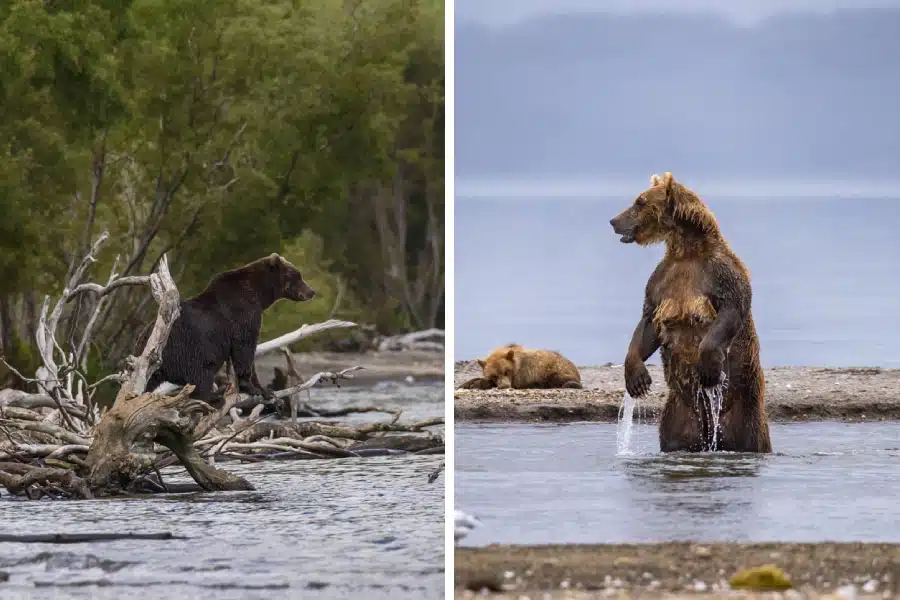 Relax in hot springs
Kamchatka will move you. There is nothing like bathing in hot springs between two breathtaking panoramic views. Full-on spas can be found in the wild all over the peninsula! The springs near Khodutka volcano, south of Paratounka, are surrounded by greenery and form a hot lake! Though truth be told, it is more of a scalding lake: the temperature of the water hovers around 43°C. Nearer the river, the water is a little cooler, and you can still enjoy a breathtaking view of the volcano. The steaming hot river on the Kuril island of Iturup is also exceptional.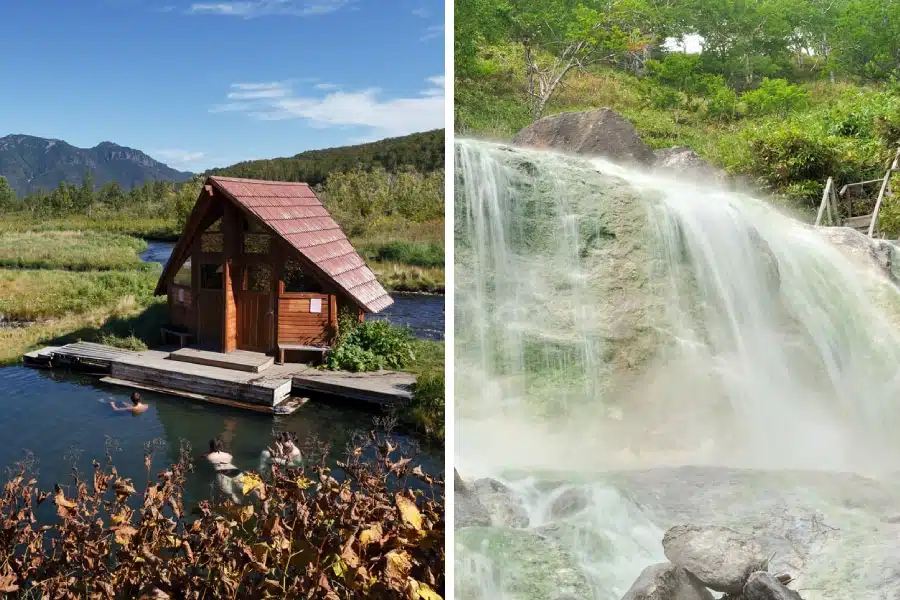 Meet the indigenous populations
What would a country be without its inhabitants? In the open tundra and eroded mountain landscapes of the north peninsula, you may come across some nomadic people. The Koryaks, Chukchi, Itelmens and Evens maintain a traditional way of life hunting and fishing. The Evens' main occupation is reindeer herding. They move camp every 4/5 days in search of fresh grazing land for their herds. Fancy a career change?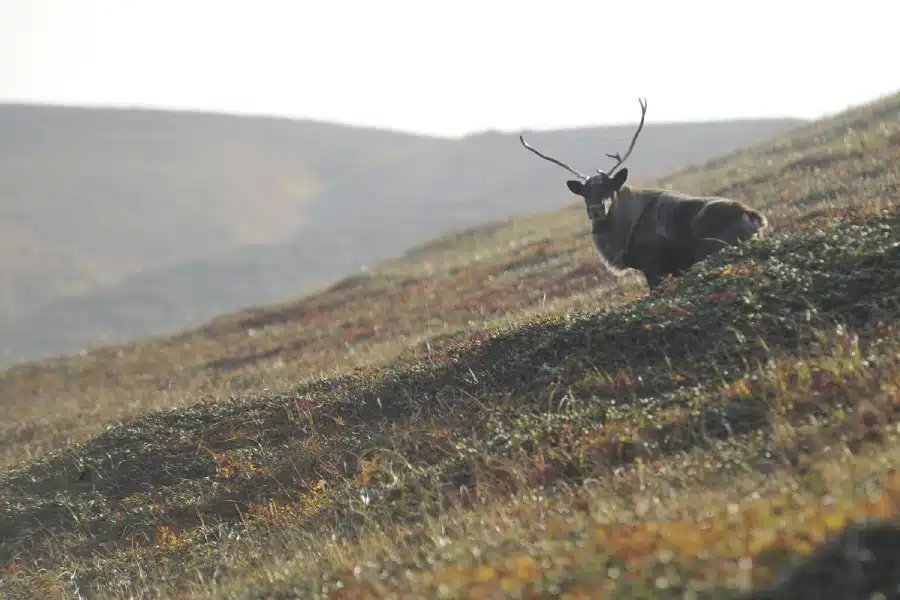 Whether you do or not, Kamchatka will leave a lasting impression. It is one of the most spectacular regions in Russia – its untouched nature is what makes it so breathtakingly beautiful. The end of the Earth. For your eyes only.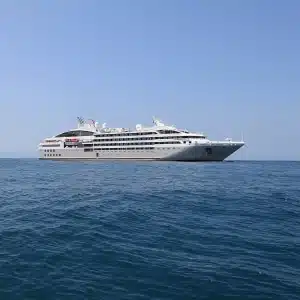 Explore the Kamchatka Peninsula on a fascinating expedition cruise