Take a walk on the tropical side of the United Kingdom

The Pacific islands do not have a monopoly on white sand beaches, palm trees and turquoise water. The landscapes in the North Atlantic are equally beautiful, inviting you to daydream and enjoy.
The Isles of Scilly – Lush nature and turquoise water
Off the Cornish coast, in the middle of the Celtic sea, islands rear up like the chimera in the Iliad and the Odyssey, islands that look like they stem from a dream: the Iles of Scilly. With fine sand coves, clear water, tropical plants, mild temperatures and lush vegetation, nature reigns supreme there. Dolphins leap beside the boats, basking sharks get up close and curious, and turtles come to explore. The Isles of Scilly provide unforgettable walks, offering intoxicating panoramic views dominated by the turquoise blue sea. Connected by boat, each island is unique. But they all have one thing in common: they feel like a slice of paradise, that has wound up in the United Kingdom.
The Isle of Wight – Taking you back in time
To the south of England, a diamond-shaped island welcomes a whole host of curious travellers each year. As the distinctive characteristic of the Isle of Wight is that it offers a range of landscapes and atmospheres on a single piece of land lost in the Channel. Boasting multicoloured sandstone cliffs, pointed rock formations reminiscent of L'Aiguille in Étretat, green hills, wildflower meadows where sheep roam, wide sandy beaches and landscaped gardens, it provides a change of scenery untouched by time. You can go back to the Middle Ages at Carisbrooke Castle or meet Queen Victoria's ghost at Osborne House. Be amazed by the fossils at Dinosaur Isle or take a ride on a steam engine: the Isle of Wight is a vast natural amusement park, steeped in history.
The Hebrides – All the mystery of Scotland distilled into a few islands
A haven for large seabirds and seals, the Inner and Outer Hebrides look like ghostly apparitions in the midst of Scottish waters. Featuring standing stones that have hardly been touched by erosion and conical Iron Age brochs, they inspire adventure and exploration. Step back in time to encounter the first islanders and their legends – you can still hear the battle cries of enemy clans so barricade yourself in a thatched roof house or hide in the ruins of a fallen castle. A little further away, you can walk along the white sandy beaches, admiring the colourful blue waters, and be drawn in by the Gaelic songs sung by the Scots who have chosen to live there, on these timeless islands. Craftsmen weave Harris Tweed, which is a joy to wear. Traditional folksongs spill out of the pubs, to be enjoyed with langoustines and lobsters. On the island, the desire to be self-sufficient is overwhelming, and flocks of seagulls come to say hello in a blast of sea spray.
The Isle of Mull – A colourful shelter for rare birds
In the Inner Hebrides, right in the middle of Scottish waters, the first thing you spot of the Isle of Mull is the Rubha nan Gall lighthouse, a spotless cylindrical tower that is over 150 years old, which seems to await visitors like the guardian to a secret passageway. In the small and charming town of Tobermory, you look at life through colour-tinted glasses, with red, yellow and blue houses and craft shops, a theatre company and lively pubs. A stone's throw from there, perched on a green hill, Duart Castle has been fully restored and now peacefully waits to wage war once more. It must settle for acting as a shelter for white-tailed eagles, sea eagles that have chosen Mull as a refuge where they live undisturbed.
The Isle of Staffa – Puffin paradise
In the middle of the Sea of the Hebrides is an unmissable wild island where nature still enjoys its full rights: the Isle of Staffa. Formed by volcanic eruptions, the island is made up of a green grassy mattress and cliffs in which basalt columns have carved out a home, a geological curiosity that delights tourists. It also hides a whole host of coves and underwater caves, like Fingal's Cave as described by Jules Verne. It is here, in this still wild and rough nature, that puffins come to nest. And let you take their photo.
Although atolls and lagoons always go hand in hand with escape, the islands of the North Atlantic are not to be outdone when it comes to discovering enchanted lands. With the harsh Scottish and English accent, flourishing nature and breath-taking panoramic views, you are there, in another world where everything is beautiful and mysterious.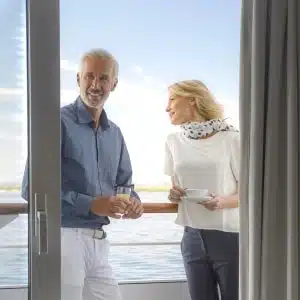 Set off for a cruise to discover the treasures of the North Atlantic!