Interview with Florence Kuyper and Delphine Aurès
Much like the great adventurers who consider travel a way of life and a necessity to flourish, there are women who explore the planet, motivated by the same passion as their male counterparts. To mark Women's Day 2018, Escales magazine celebrates the accomplishments of Florence Kuyper and Delphine Aurès, both expedition leaders. These North and South Pole enthusiasts talk about a fascinating profession that is as exhilarating as it is demanding.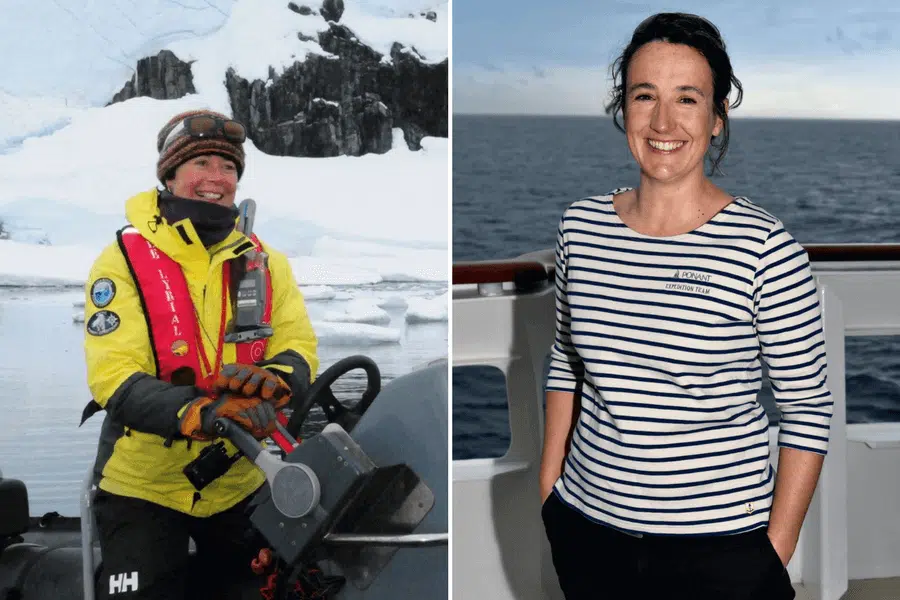 Florence Kuyper and Delphine Aurès, PONANT expedition leaders
How did your passion for travel come about? Has it always been ingrained within you, or did it develop with time and experience?
Florence Kuyper: I was born in the Netherlands into a family for which travelling beyond Europe was inconceivable. As a child, I wanted to become a farmer or explorer. Looking back, I realise that the common theme between these two "callings" is nature. Nature has always been a source of inspiration for me. Especially vast spaces… This is probably because I come from a flat country. But even though I've always travelled a lot, it was only after twenty years of working in a different field that I made travelling my career.
Delphine Aurès: For my part, I have always wanted to understand the world. As a child, I dreamt of working amidst nature and discovering human communities in remote places or hostile environments. I was also fascinated by prominent figures such as the primatologist Dian Fossey and the great explorers.
What are the challenges that interest and inspire you on a daily basis?
Delphine Aurès: I was a journalist for a few years. We took viewers to remote locations they had never been to, such as the west of the Falkland Islands, the Chatham Islands off New Zealand, or an isolated village on an ice floe to the east of Greenland… It is very good "training" for a position as an expedition leader. Even if you prepare your documentary in advance, there are always many unforeseen situations that force you to improvise.
Florence Kuyper: We must be ready to improvise in order to adapt to an unexpected situation, such as arriving at a given location where disembarking turns out to be impossible due to weather conditions or a build up of ice. In such cases, we must urgently come up with a Plan B, with one objective in mind: ensuring that the passengers experience the trip of a lifetime. It is our responsibility to make this happen. It is also about working together, on the one hand with my team of nature guides, but also with the crew members and the various service providers aboard the ship.
What is your overriding emotion when you travel to the other side of the world?
Florence Kuyper: The link between all these destinations is the feeling of vastness, particularly in the case of desert landscapes. They remind you that you're merely a visitor; you feel very small, whether out on the ocean or in Antarctica.
Can you tell us about a particularly memorable adventure?
Delphine Aurès: Near the end of my studies, I was given the opportunity to travel to the Crozet Islands, an archipelago located in the south of the Indian Ocean, lost between Madagascar and Antarctica. I was one of the first women to spend the winter at the Alfred-Faure research station, between 1996 and 1998. We were very isolated, contact with the outside world was rare… I took the opportunity to take photographs, which I then sent to a scientific press agency. That's how, somewhat by chance, I became a journalist.
As women, do you feel there are differences in the way you approach your work, compared to your male colleagues?
Delphine Aurès: I don't think so. I attach great importance to human relations within the team and with the crew. Using my skills, I feel that, in my role, I help dispel certain prejudices associated with my gender… I hope that I show female crew members that it is possible to access managerial positions.
Florence Kuyper: Being a woman perhaps brings a different approach to the job because we accord greater importance to emotions and relationships. We also contribute to a change in mentality. Some passengers are sometimes surprised to see women working as expedition leaders or nature guides, gun in hand to ensure everyone's safety during excursions, and in charge of a zodiac!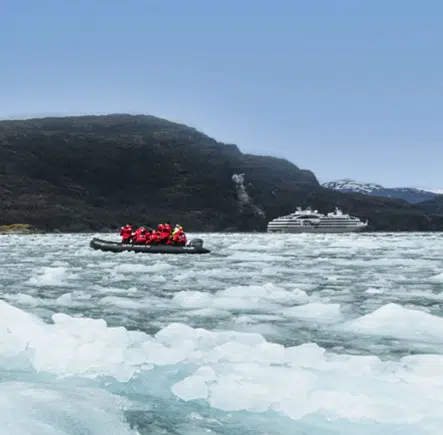 Polar or tropical expeditions
From the Antarctic to Papua,PONANT will take you as close as possible to pristine nature and ancestral cultures, far from the crowded maritime routes.