Technology for the ultimate escape!
While a call to adventure is sometimes hard to resist, you need to make sure you are well equipped before straying off the beaten track. From an expedition to the outer limits of Alaska to a hike in the fjords of Chile or a trip to the heart of fascinating Indonesia, countless challenges await. To ensure your safety and comfort as you travel around the world, Escales presents its selection of essential innovations to take with you everywhere. Compact, mobile and ever-practical, they will ensure you are equipped for every eventuality.
HERE WeGo: the vital app for all road trips
Proper preparation is the key to every successful trip, and the HERE WeGo application will help you do just that. Downloading your maps beforehand means you can always get your bearings, even when offline. In addition to being free of charge, it also suggests routes for all types of transport.
Wacu: get more space in your luggage
You're ready to go, but still want to lighten your travelling load. Practical and compact, the Wacu vacuum device is the ideal way to arrange and protect your belongings. Inside a special-purpose bag, your items take up as little space as possible, while staying dry even in torrential rain.
Power Bank: the pocket-sized solar charger
Make sure your telephone works at all times with this solar charger, which weighs just 380 g and measures just 17 cm. Even in cloudy weather, the Power Bank and its integrated battery can recharge all your devices with its kit of connectors and double USB socket.
GoPro Hero7: the camera that follows you everywhere
When you're enjoying life's greatest thrills, it's only natural to want to immortalise the experience. Sturdy and equipped with an integrated GPS, the GoPro Hero7 camera produces fluid images of outstanding 4K quality and considerably improves the stability of your videos. As a faithful companion on all your adventures, it will record your every move, even if you are ten metres deep underwater.
Leaf For Life: a connected leaf-shaped parasol
When you can't find shade from the sun's stifling heat, the Leaf For Life parasol provides a refreshing and vital break. In addition to its special design that prevents it from flying away, it has an anti-UV coating and a solar panel for recharging your smartphone.
AroundMe: find vital services wherever you are
No one is immune to the odd emergency, and the AroundMe application can prove very handy in an unknown place. It quickly geolocates the closest banks, service stations, hospitals, train stations and public transport facilities wherever you happen to be in the world.
SAS Survival Guide: Bear Grylls, eat your heart out!
This application provides extreme adventurers with a mine of information and advice for surviving in harsh conditions. Only available in English, the SAS Survival Guide can be used offline and explains techniques on how to set up camp efficiently, protect yourself from animals and insects, nurse minor wounds and tackle various biotopes.
Travelling well prepared and well equipped: the recipe for getting the most out of your global adventures, from remarkable landscapes to exhilarating experiences!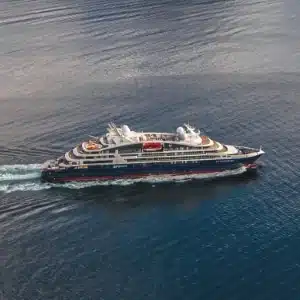 Head off the beaten track on a 5 star cruise.