Wild and mysterious islands in southern Chile
The Chiloé Archipelago is made up of about 40 islands, an extension of the Andes mountain range in the Pacific Ocean off Chilean Patagonia, in the Los Lagos Region. For a long time, these 40 islands were almost inaccessible, cut off from the continent. The largest island, Chiloé Island or Greater Island of Chiloé, is still the mysterious guardian of exceptional folklore, suffused with ancient myths and legends, with a unique history and wildlife.
A mix of cultures off the coast of Chile
The people of Chiloé Island would describe themselves as "Chilote" first and "Chilean" second. And it is probably with this same pride that the island's Mapuche and Chono peoples "welcomed" the Spanish colonists in the mid-16th century. The unique mix of indigenous and European cultures gave rise to the mysteries and mythology of the Chiloé Archipelago. The 300 churches and chapels dotted across the archipelago, built between the 17th and 19th centuries by Jesuit then Franciscan missionaries, are a testament to this distinctive identity. With their singular architectural style, unique in South America, 16 of these colourful wooden churches are now a designated UNESCO World Heritage Site.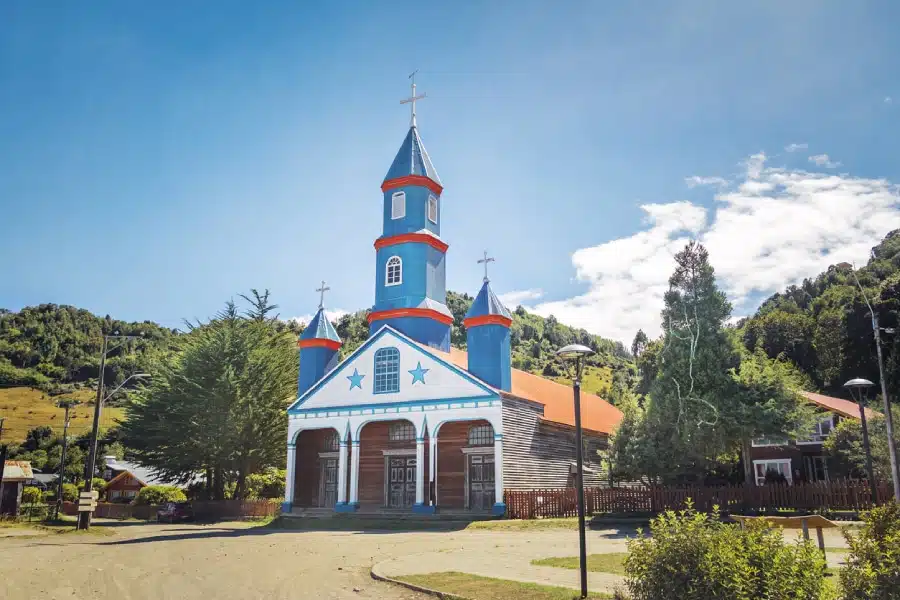 Chiloé Island: an island of two halves
This strong identity is matched by the landscapes of Chiloé Island. A calm countryside to the east, with a jagged coastline where, sheltered from the wind, meadows and woods overlook a myriad of fjords and small islands. And a wild primal forest to the west with old-growth trees standing opposite the untameable waters of the Pacific Ocean. It is in this deserted western half that you can find the island's three nature reserves: Tantauco Park, Tepuhueico Park and Chiloé National Park, all of which are stewards of outstanding fauna and flora. The rivers, dunes, lagoons and deciduous and fern forests are home to pudus (the world's smallest deer), marsupials and Darwin's foxes, an endemic species named after the famous naturalist who explored the island's forests during his trip to Chile in 1834. Today, hikers follow in his footprints while other travellers prefer to admire the island from afar during a short cruise to observe South American sea lions, pelicans and Humboldt and Magellanic penguins in Puñihuil Penguin Colony.
Land of legends
Along these coasts battered by the wind, rain and ocean, and in the heart of this impenetrable forest sometimes shrouded in mist, the equally abundant Chilote mythology was born, a reflection of the all-powerful Mother Nature. Starting with the creation myth of the Chiloé Archipelago, which tells of a titanic battle between two rival serpents: Cai-Cai Vilu, the god of the sea, and Ten-Ten Vilu, the god of the Earth. The archipelago's rugged topography was formed from the debris and destruction caused by this clash between the two elements. But Chilote mythology also owes a lot to the surprising cultural and spiritual amalgamation of indigenous legends and European witchcraft. A wicked dwarf, beautiful mermaid, ghost ship, dark warlocks and more: a whole series of legendary land and sea creatures are used to explain all aspects of life, from its origins to its everyday routines. Although this mythology may not be taken as seriously these days, it is still discussed by Chilote of all ages.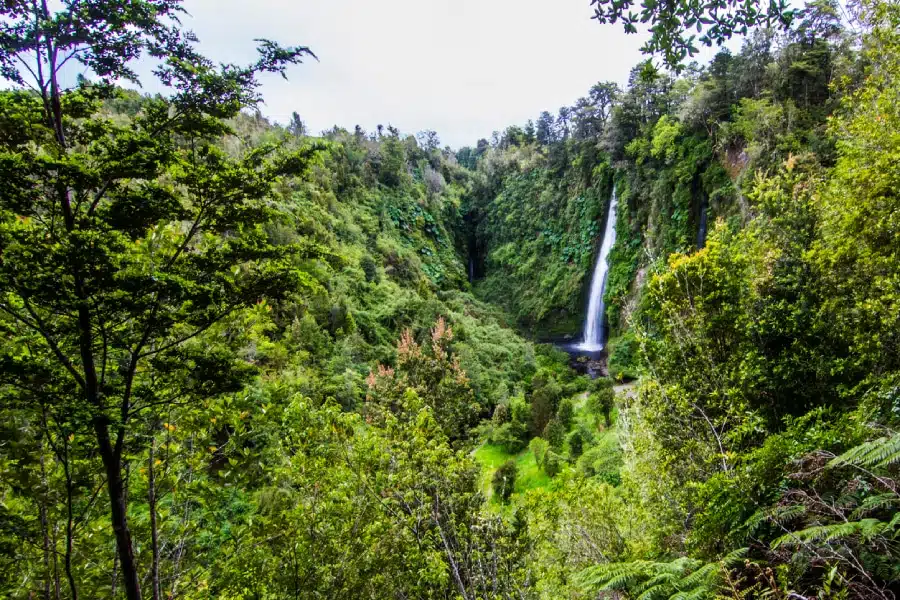 A quick Who's Who of Chilote mythology:
El Trauco: a repulsive goblin who lives deep in the forest and enters women's dreams to trick them into sleeping with him. He is sometimes invoked to explain sudden or unwanted pregnancies, especially among unmarried women.
La Pincoya: a mermaid-like creature with long blonde hair and fair skin. She rises, naked and pure, from the depths of the ocean to perform ritual dances on the shore that dictate whether the sea will be full of fish and seafood or if it won't. According to another belief, her sister La Sirena Chilota and her husband El Pincoy attract shipwrecked sailors and drowned souls to El Caleuche.
El Caleuche: a ghost ship that is as fascinating as it is disturbing, sailed by mysterious warlocks. Perhaps you will spot it at nightfall cruising off the coast of Chiloé Island. Although, you're more likely to hear the songs of its sombre crew. Bewitching songs that are said to attract shipwrecked and lost sailors.
Los Brujos: equally mysterious warlocks, members of the occult brotherhood La Brujeria. Who are they? Where can they be found? Nobody knows for sure. But legend has it they live isolated in their cave, guarded by the terrifying Imbunche. Los Brujos practise dark magic during their ceremonies, hoping to corrupt the Chilote people.
Secret and proud, wild and unruly, the Chilean islands of the Chiloé Archipelago are some of the most beautiful sites in South America. Only Easter Island and its moai are shrouded in as much mystery. The Chiloé Archipelago is a must-see on the route to Patagonia and the Tierra del Fuego for those willing to wander off the beaten path.
Photos credits : © Istock / © Studio PONANT/Laurence Fischer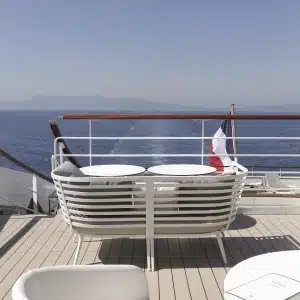 Set sail with PONANT on a cruise to discover legendary cultures and landscapes.