We meet Stirling Design International's CEO
Thibaut Tincelin is the CEO of marine architecture specialists Stirling Design International – the firm behind the design for PONANT's own cruise ships' – so we wanted to hear his vision for the future of sea vessels. There is one thing we can say with certainty: Tomorrow's cruise ships will be powered more self-sufficiently, equipped with new technology and even more aesthetically pleasing for their passengers.
What have been the most significant developments in the marine architecture world over the last ten years?
Thibaut Tincelin: The energy transition is underway in the transport industry and shipping in particular. Ships need to reduce all kinds of emissions, including sulphate, nitrate, particles and CO2. This drive to build ships that use less fuel and respect the environment more has had a huge reshaping effect on the marine architecture industry.
Meanwhile, the cruise sector has split to form two distinct identities: one for large ships, one for small. As container ships and some cruise vessels have swollen hugely in size, a niche market has developed for cruising in smaller expedition yachts. On the one hand, larger ships offer real economy of scale; but on the other, travellers also want to get closer to nature.
Your architecture firm designs innovative, luxury cruise ships, including French company PONANT's latest flagships, the PONANT EXPLORERS, each of which boasts its own retractable marina platform and world-first underwater lounge. Tell us about these futuristic projects!
Our top priority is to make the ship owner's vision a reality. The concepts for the retractable marina and underwater lounge originate from PONANT. It was the CEO, Jean-Emmanuel Sauvée, who came up with both ideas. Architect Jacques Rougerie worked on the underwater lounge. At SDI, we were particularly involved in developing the marina and drew our inspiration from ocean-bound yachting. As a result, we were able to work with PONANT to find innovative technical solutions.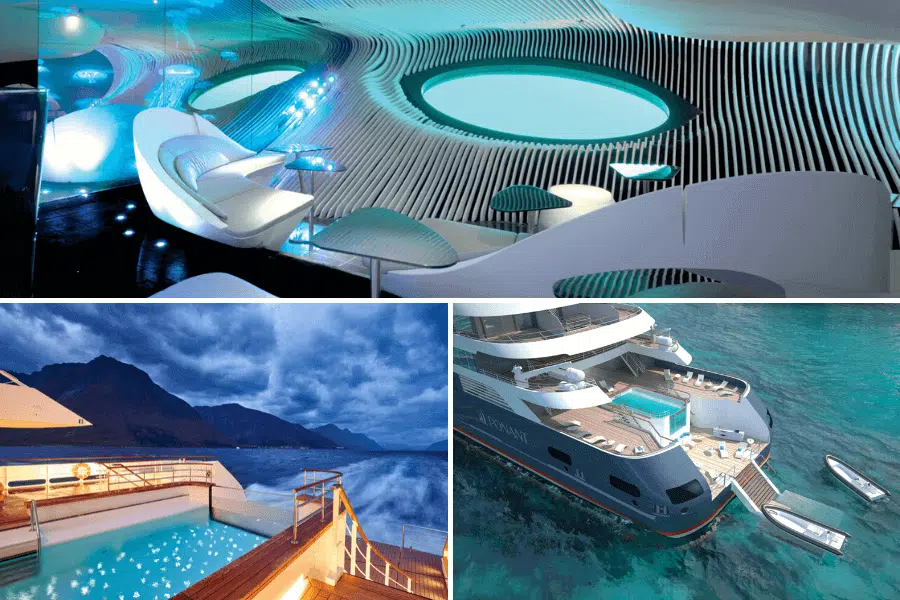 Top: The "Blue Eye" underwater lounge. Bottom: The pool and retractable marina.
As a marine architect, how do you picture the ship of the future?
New design and industrial tools open up the potential for designing forms far more freely. The ship of the future will be able to take on a whole new geometrically complex aesthetic quality, making the whole vessel much more streamlined and lending it a simpler overall visual character, which is extremely important. Biomimetics are one research area that is helping us move in this direction. In terms of technical features, research has been done on sharkskin-look anti-fouling paint, for instance, which reduces friction on the submerged part of the hull.
Sustainable energy equipment such as solar panels and wind turbines will become more and more apparent on ships. The shipping industry is looking to cut down sulphate, nitrate and particle pollution, which is why almost all boats built are now powered by natural gas or gasoil.  The challenge in the next few years, however, will be reducing carbon emissions right across the transport industry. Solutions have already been suggested. One example is either plugging ships into quays or using batteries or hydrogen to store energy generated out at sea in spots where emissions were less problematic.
The ships of tomorrow will undoubtedly be more self-sufficient in terms of their energy usage, but they will also be able to choose their itineraries more freely. In my view, we're moving back towards a kind of slow travel. In the year 2000, all anyone talked about was speed and performance. Now, the ship is seen as a destination in its own right, with passengers spending more time on board enjoying everything it has to offer. The inside of ships will become more modular and ergonomic and space will be optimised more effectively.
What kinds of innovations can passengers expect to see over the next few years? And what energy solutions will ships use?
In my opinion, the biggest development will be in the range of cultural and educational activities available to cruise ship passengers. Virtual reality will be used to inform them in advance about the ship's upcoming itinerary and raise their awareness about environmental concerns. VR will also enable them to take their on-board experience home with them and keep the dream alive! We sell photos to passengers at the moment, but we can take that a step further by making their memories as real as the experience itself.
The ship of the future will use renewable energy sources such as solar or wind power. Projects are already underway, like Zéphyr & Borée's for example. This Nantes-based ship owner is currently constructing a ship with huge sails that will transport parts of the Ariane 6 launch vehicle. It has been named Canopée and can reach speeds of 30kph. Les Chantiers de l'Atlantique are also developing new sails. They have already fitted them on the Le Ponant sailboat. They will attempt a bigger prototype in 2020.
What forward-looking new projects is Stirling Design International working on at the moment?
SDI is pursuing its research into and work on sailboats, which are only going to grow in importance. We are also looking to develop maritime passenger transport that will serve as a viable alternative to flying for certain journeys and scenarios. And lastly, we're developing future projects around ferries, trams and patrol vessels that will help to change our ever-developing world.
After studying engineering at France's École Polytechnique, Thibaut Tincelin trained as a maritime engineer in the Dutch city of Delft. He then returned to France to work at Chantiers Navals de Saint-Nazaire and also spent time at subsidiaries in Miami and Lorient. He would eventually meet his mentor (and architecture and naval design firm Stirling Design International's founder), Joël Brétécher. In 2007, the designer invited him to head up the company. SDI and PONANT have developed a special relationship over many years which the two are now pursuing in the Le Boréal series of cruising yachts, the Le Commandant-Charcot polar expedition ship and the Le Ponant sailing yacht.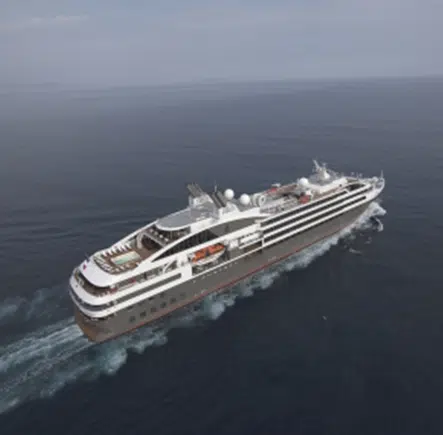 Explore the latest generation of ships designed by marine architects SDI.