Interview with Alain Bidart, a polar naturalist guide
A naturalist guide specialising in sea birds, Alain Bidart travels the world to observe this specific from of wildlife. This is a passion that he willingly shares with passengers when he accompanies the cruises. In Iceland, he takes travellers to discover the Atlantic Puffins and Northern Gannets. 
What is the most surprising thing about Iceland?
What always surprises me about Iceland is the diversity of its landscapes: it has grassy coastal areas with and without cliffs, and further inland warm water rivers, black earth and more. Such a patchwork, on a relatively small landmass, is incredible. While very few birds are found in the heart of the island, where the sterile environments and volcanic landscapes are not conducive to the development of wildlife, its coasts, on the other hand, are home to numerous species of seabirds and ducks.
Which species of birds can be found in Iceland? Is it easy to observe them?
On the coast, you can see a lot of Atlantic puffins. There are two particularly ideal places from which to observe them. The first is on the island of Grímsey, where you can walk to the top of a cliff to enjoy watching the comings and goings of the puffins and see their burrows. The second is the island of Vigur where Atlantic puffins mingle with Arctic terns. But in Iceland, you can also see Northern Gannets, Black-Legged Kittiwakes and Northern Fulmars, as well as beautiful ducks such as Harlequins and Common Eiders.
But be warned! We are not in the Antarctic, among thousands of King Penguins! Their numbers are smaller, but sufficient to guarantee some beautiful sightings.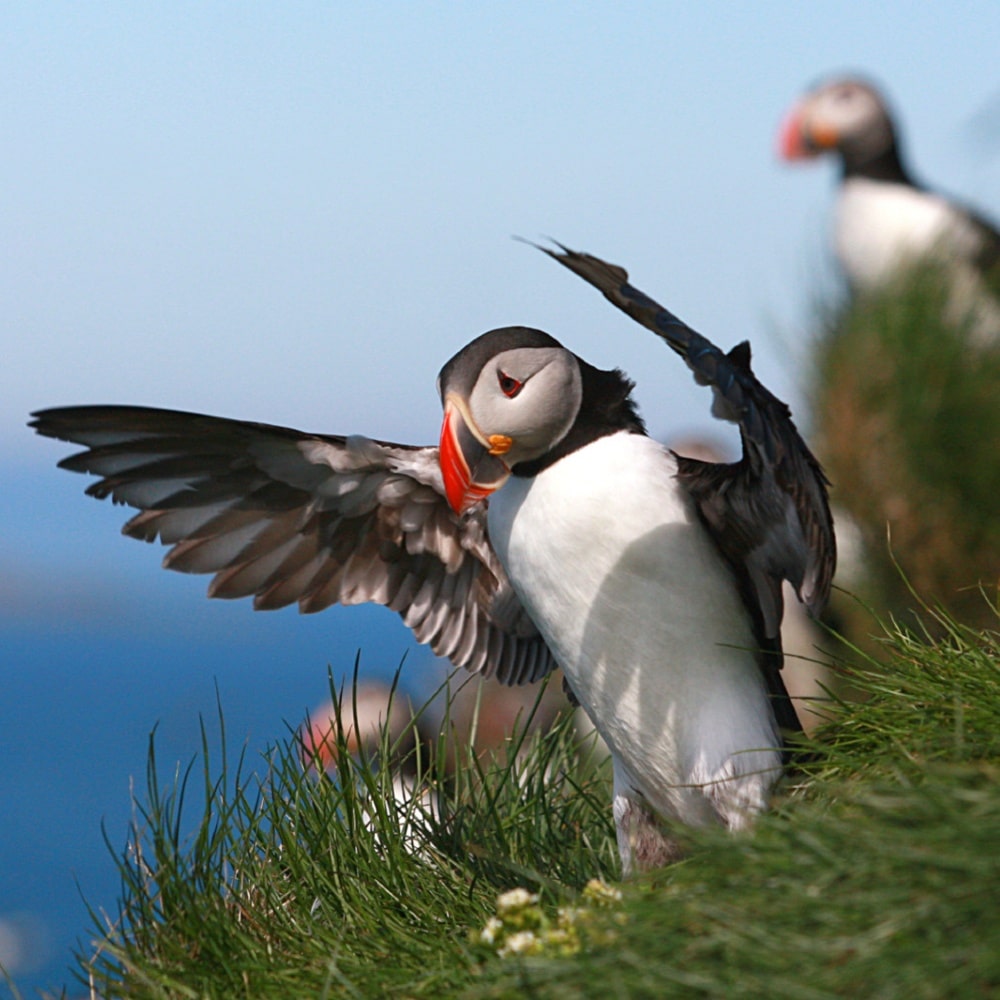 There is also a tradition that continues today with regard to the Common Eider…
It is a Viking practice dating from over 1,000 years ago. The female Common Eider pulls out her feathers to create a soft nest for her chicks. Once the nest is abandoned, people take the feathers to make duvets or down jackets. So, on Vigue, we find Eider farms: the inhabitants have built walls in which the ducks can nest.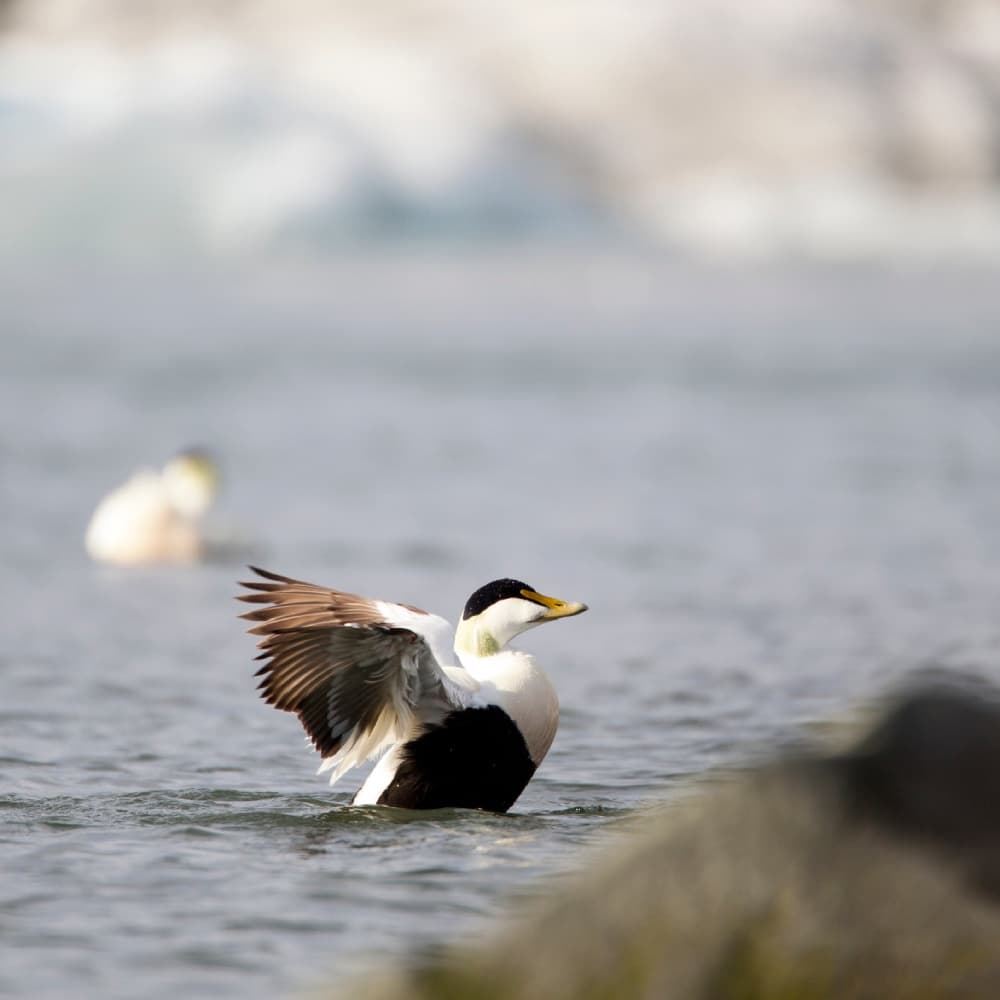 Why are all these birds in Iceland?
These are not great migratory birds who crisscross the planet. After the breeding season, we find some of them in the Northern Atlantic or in the Mediterranean, always offshore. Their presence in Iceland is above all due to the food that they find there, and due to low human activity on certain islands and the absence of predators such as rats that can go for their eggs. Also, puffins and gannets are birds that very fussy about where they build their nests. Puffins needs cliffs with grass in which to dig a burrow. Gannets will choose cliffs on islands with very specific edges. Of course, in places where all the right conditions are found, you will find large populations of these birds.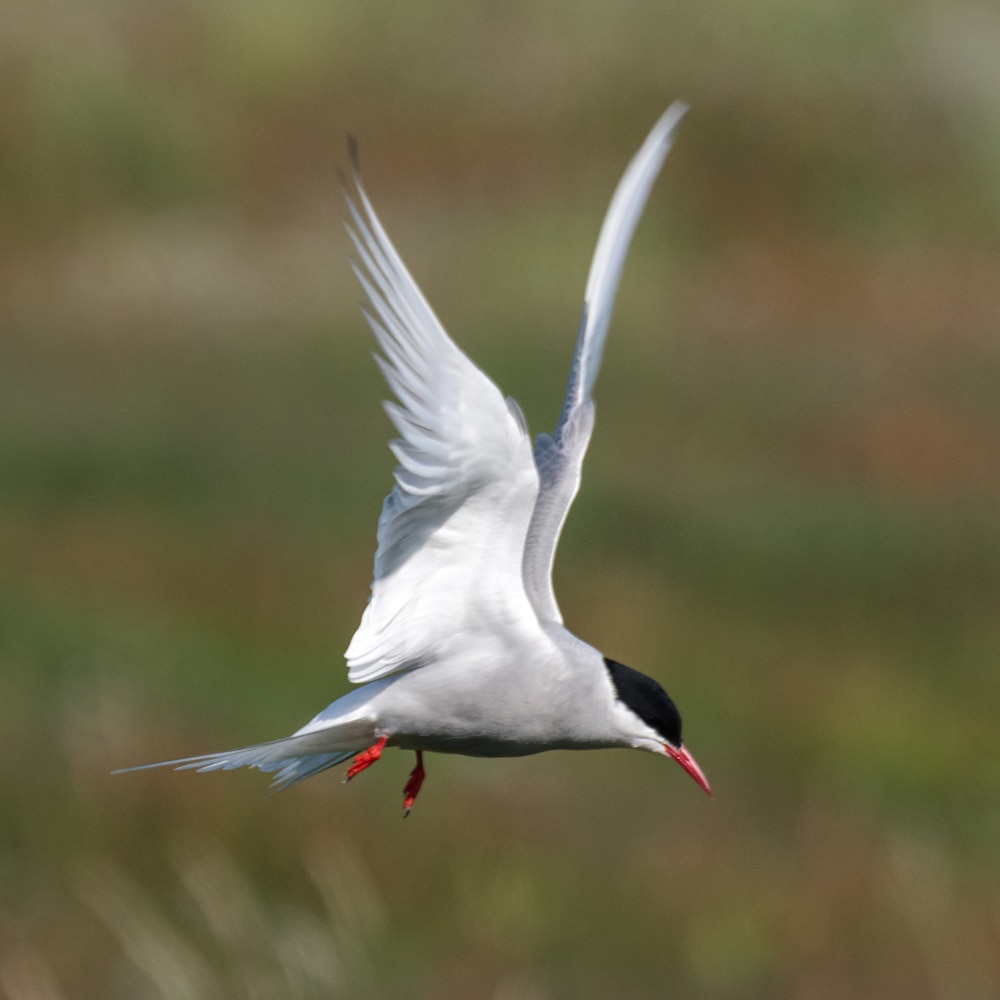 What advice would you give to passengers interested in bird watching?
Whether it's in Iceland or elsewhere, don't forget to bring binoculars! Whether on an excursion or observing from the Zodiac, we always stay a certain distance from the animals. So as not to miss the spectacle they offer, a pair of binoculars is essential. And having a good camera is also important, especially if you want to capture the birds in flight.
Photos credits : © Istock ; Studio PONANT/Doriane Letexier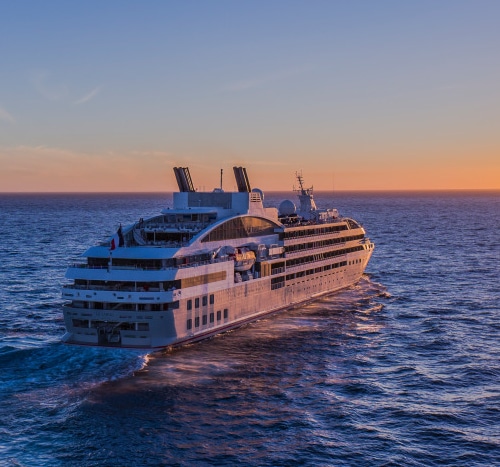 Greenland, Iceland, Norway, Canada… The Far North awaits you with its magnificent landscapes that combine icebergs, ice seas and volcanic landscapes.