Interview with Amaury Bouhours and Jérôme Lacressonnière
Alain Ducasse operates Michelin-starred restaurants all over the world. But his name also represents a commitment, an instantly recognisable culinary DNA that travellers have the chance to enjoy every day on board PONANT ships. Top chefs are regularly invited to offer one-off gala dinners and masterclasses. Jérôme Lacressonnière, Director of Ducasse Conseil, and Amaury Bouhours, Chef at Le Meurice Alain Ducasse, invite us behind the scenes in the kitchen of Le Bougainville during a cruise…
A story of two trajectories
Jérôme Lacressonnière and Amaury Bouhours are deeply bound by the quest for excellence, a passion for ingredients and the pursuit of taste experiences. Immersed in the world of high-end gastronomy, these two men are all aboard PONANT's culinary adventure.  Their common denominator? Their father figure, Alain Ducasse, the famous Monegasque chef, whose prestigious name is attached to their respective careers. Michelin-starred chef Jérôme Lacressonnière has been at the head of Ducasse Conseil for several years now, using his expertise and know-how to offer the best of French cuisine to passengers on PONANT cruises. "He's like a Swiss Army knife," says Amaury Bouhours. "He adapts to the location, ingredients, theme, and the experience guests want." Chef at the two-star gourmet restaurant Le Meurice Alain Ducasse, Amaury Bouhours joined the PONANT adventure as one of the guest chefs of honour on our cruises. The culinary art of these two enthusiasts honours the spirit of Alain Ducasse: a search for the right authentic taste, with an emphasis on harmony that also extends to dishes' presentation. This pursuit of an ideal cannot come to fruition without giving absolute priority to local and seasonal ingredients, with deep respect for farmers and growers.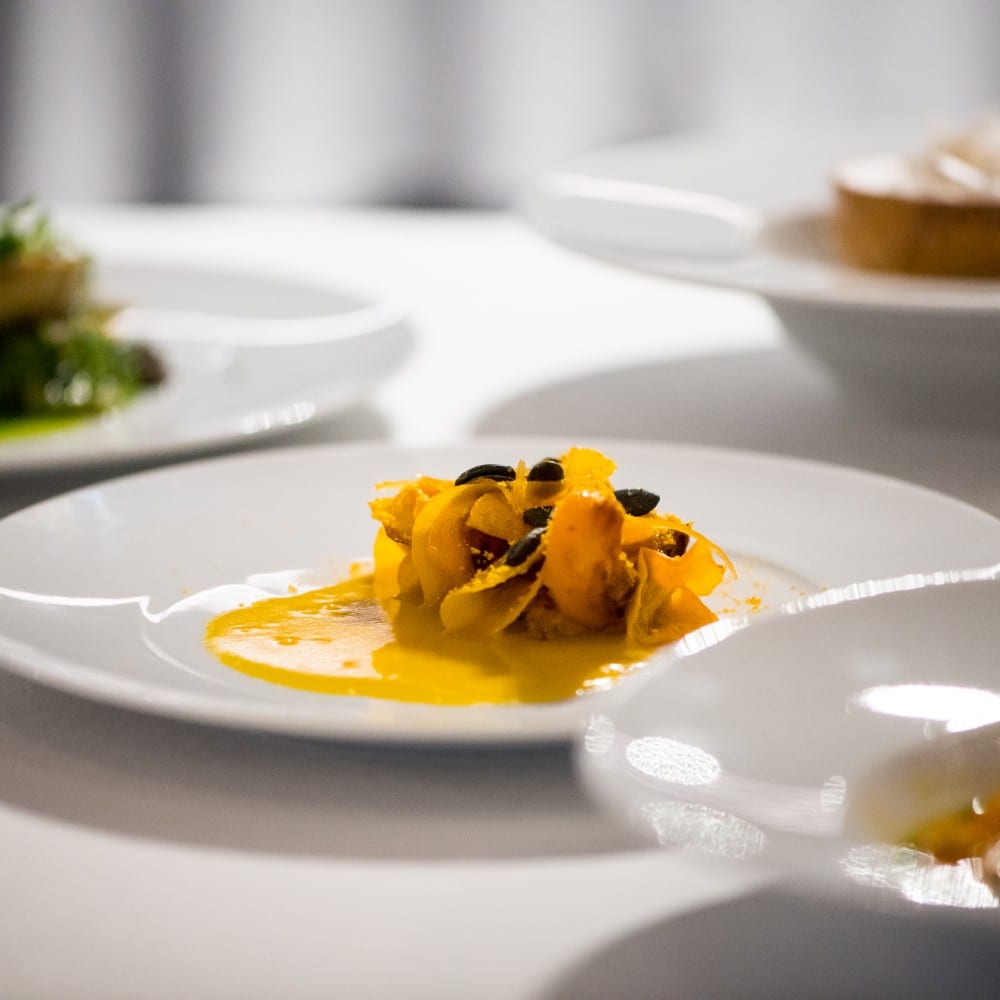 Ducasse Conseil and PONANT
PONANT teamed up with Ducasse Conseil, a company headed by Michelin-starred chef Alain Ducasse, in 2016. This prestigious partnership aims to guarantee exceptional food on board and services provided by highly trained staff. It has been a real success, meeting the requirements of French and international passengers seeking high-end services and unforgettable experiences, with regular one-off gala dinners and masterclasses offered by top chefs.
A culinary voyage of sharing and discovery
To serve on board PONANT cruises, you have to be a creative master chef who understands how to perfectly combine ingredients. But it is also a question of knowing each ingredient inside out, selecting the best of each region's terroir and going to meet artisans who want to offer the best of the sea and the land. "We like to be inspired by where we are," explains Jérôme Lacressonnière. His first instinct when he arrives in a new country? "I immediately go to the local market", he says. Curiosity is the key to this culinary voyage, adapting to each stopover, each territory, each gastronomic culture. The menus on board are therefore neither unique nor fixed: they are deeply influenced by the stops that punctuate the journey while retaining the spirit of French gastronomy and the DNA of Alain Ducasse's cuisine. Jérôme Lacressonnière remembers, for example, a paella cooked aboard Le Lyrial on departure from the Spanish city of Valencia. The food on board is all about sharing and exchange: "We're here to listen to passengers, to provide that extra special touch that will make all the difference," adds Jérôme Lacressonnière.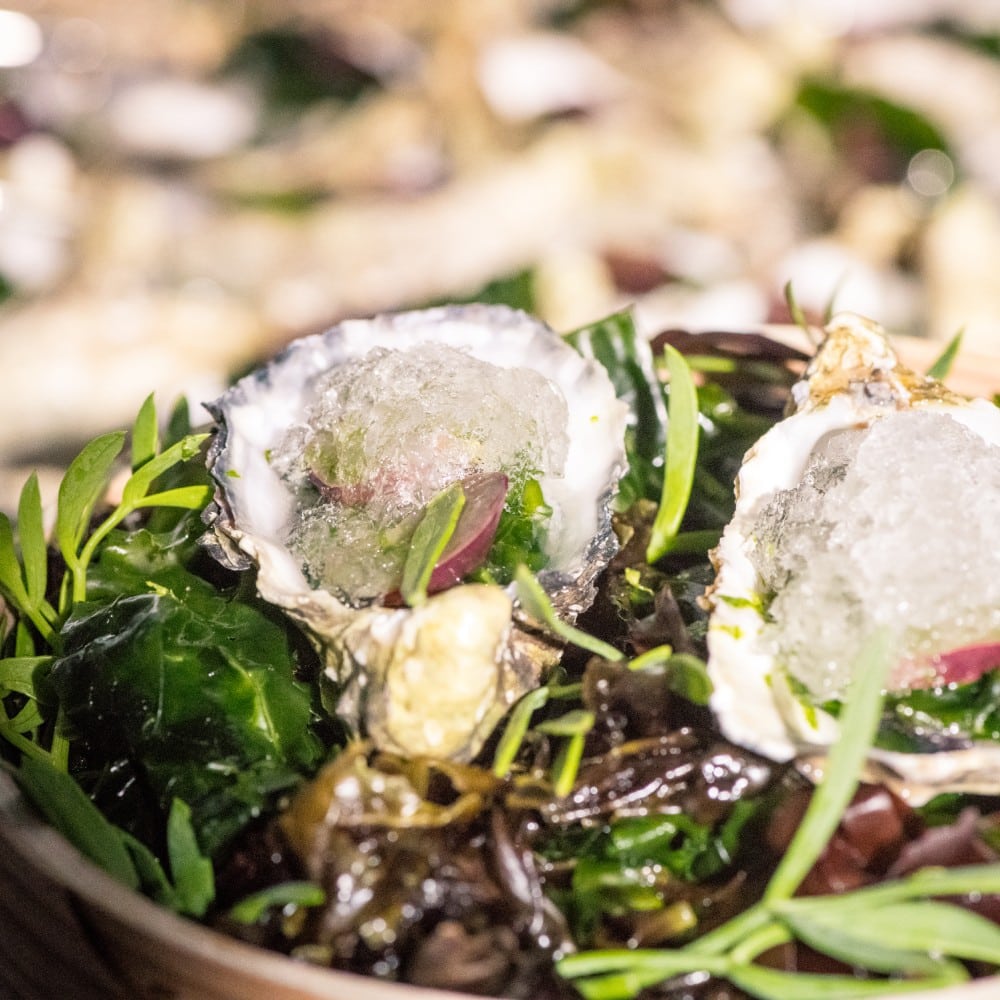 Culinary masterclass: the art of French haute cuisine
During one masterclass, Amaury Bouhours chose to celebrate one of the culinary treasures of the sea: oysters. Poached in its shell with verjuice, lemon marmalade, sea lettuce and pickled grapes, this delicacy – a staple of the French Christmas culinary tradition – is revealed through the chef's creative vision.
In the kitchen, it all boils down to sustainability
Keen to guarantee sustainable food to align with current issues, the renowned chefs who serve on our ships are deeply invested in fighting waste. Avoiding waste and adjusting quantities are essential missions for Jérôme Lacressonnière. "The 21st-century chef must always be aware of the importance of the environment," he explains. This approach is shared by Amaury Bouhours, who is keen to use every part of the ingredient. "For example, with fish, we will use the bones, eggs, head, etc. Any part of a vegetable that we don't use will be given back to the market gardener on land to use as fertiliser." He went on to say:  "Nature is what feeds us today. It is what will feed us tomorrow and the day after. It is what we will leave behind. We need to take care of it now."
This contemporary cuisine is all about respect for the environment, in the image of what travel must now be, carried out in full awareness.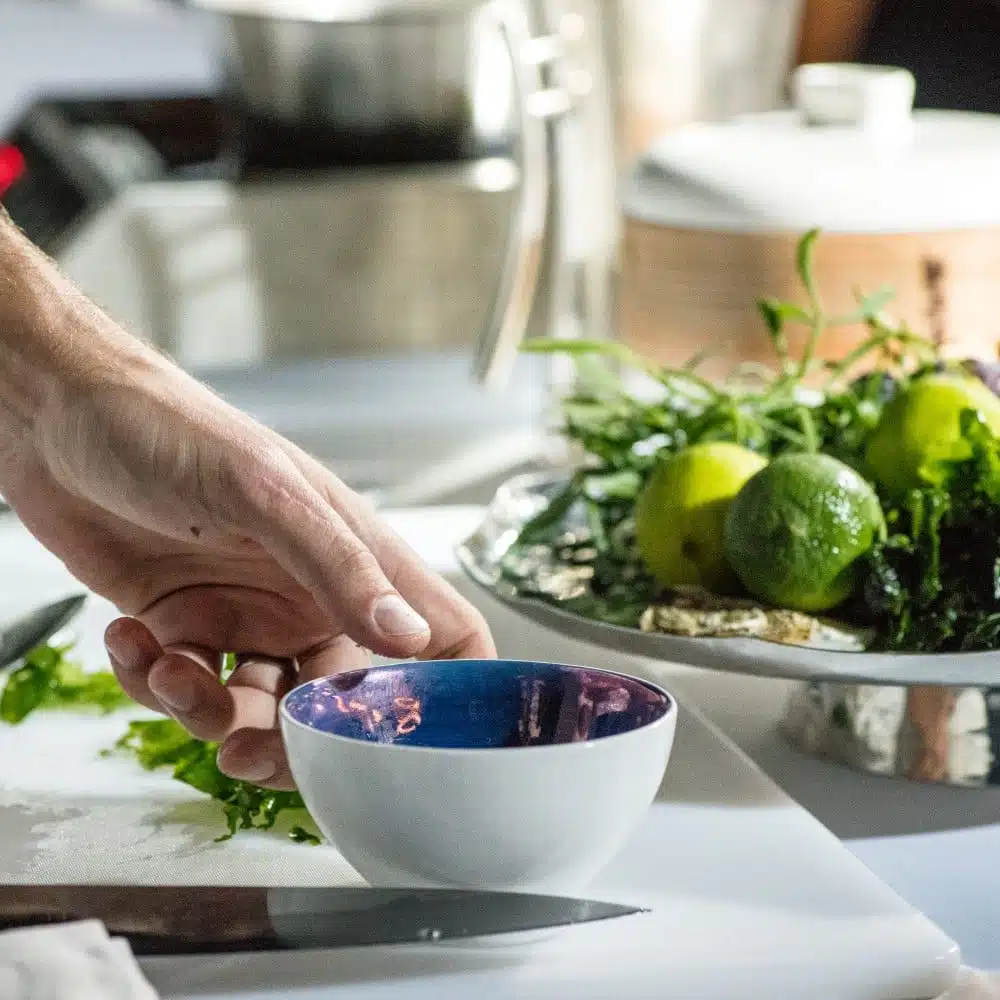 Photos credits :  © StudioPONANT-Adrien MORLENT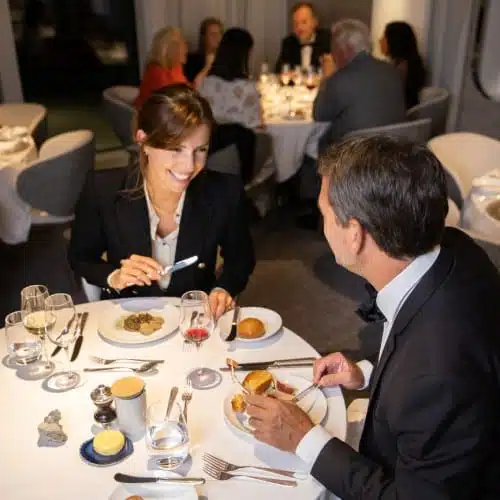 Explore the flavours of the world with PONANT