PONANT & Ducasse: an elegant gourmet collaboration aboard Le Commandant Charcot
A unique ship requires unique dishes. So it is only natural that PONANT and Alain Ducasse have been working closely together to ensure that the food on board Le Commandant Charcot is worthy of the unique and enchanting settings this new ship will explore. Read on for a brief overview of what's been going on behind the scenes.
PONANT and DUCASSE Conseil: a shared philosophy
PONANT and DUCASSE Conseil, the consulting firm founded by the famous Michelin Star chef, entered into an ambitious partnership in 2016. After a test run to identify problems and constraints during a cruise in New Zealand, DUCASSE Conseil created an entirely new culinary identity in collaboration with the PONANT teams. It showcases healthy, gourmet and elegant dishes and 'Haute Couture' cuisine that can be enjoyed on the water. Available on all the ships in the PONANT fleet, this new gourmet offering has given rise to some 500 recipes in four years. 
This successful partnership has endured because Maison DUCASSE Paris and PONANT share a philosophy: offering excellent service. Trust and working together in a mutually beneficial way are the secrets to the success of this long-term collaboration. "We get as much out of it as we put in," says chef Jérôme Lacressonnière, director of DUCASSE Conseil. "We pool our know-how and share our expertise. We learn a lot with the PONANT teams; it is genuinely an exchange between us, which is the key to successfully serving passengers in the best possible way." 
And because gastronomy is a key piece of the puzzle aboard Le Commandant Charcot, DUCASSE Paris and PONANT have created an experience that is as unprecedented as it is successful.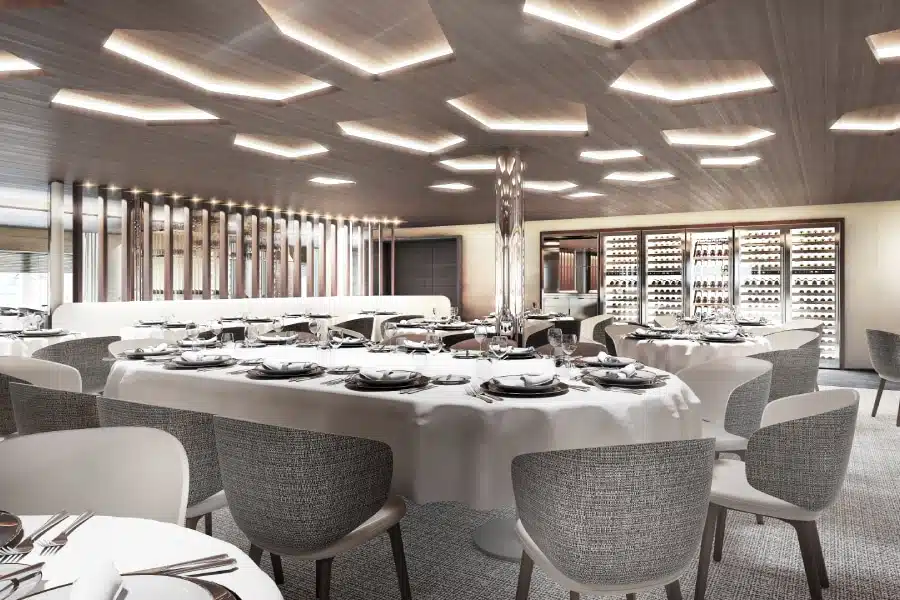 PONANT chefs at the Louis XV-Alain Ducasse restaurant
To bring this 'Haute Couture' cuisine to the new ship, executive chef Florent Delfortrie, pastry chef Michel Jurek and restaurant manager Baptiste Regnault headed to Monaco to spend four days working in the Hôtel de Paris Monte-Carlo. The hotel's crown jewel is the Louis XV-Alain Ducasse. "We were welcomed by Franck Cerutti, executive chef of all the hotel's restaurants. He took us on a tour of the kitchens at the Louis XV and Le Grill and showed us behind the scenes before leaving us with chef Patrick Laine at one Michelin star Le Grill," says Michel Jurek. The first day ended with a meeting with Dominique Lory, chef at the three Michelin star Louis XV while the second kicked off with Alain Ducasse himself: "Standing in front of him was utterly unreal; it was rather intimidating. But we were able to discuss the plans for Le Commandant Charcot and some possible menus," says Florent Delfortrie.
This meeting enabled them to discuss the ship's three restaurants and the requirements and particular logistics of "on board" cuisine. How do you plan all the menus in advance as there's no market on board? How do you keep the menu fresh so passengers don't get bored? How do you rise to this challenge? Throughout this immersive training, the PONANT chefs pitched in, gained new skills, discussed the essence of luxury catering and observed the fluid ballet of the various services at Le Grill and Louis XV-Alain Ducasse. They visited the market in Nice with Dominique Lory and even tried the special menu at the Louis XV-Alain Ducasse. "We couldn't have dreamed of a better experience!" says Michel Jurek. "It was extraordinary!" concludes Florent Delfortrie.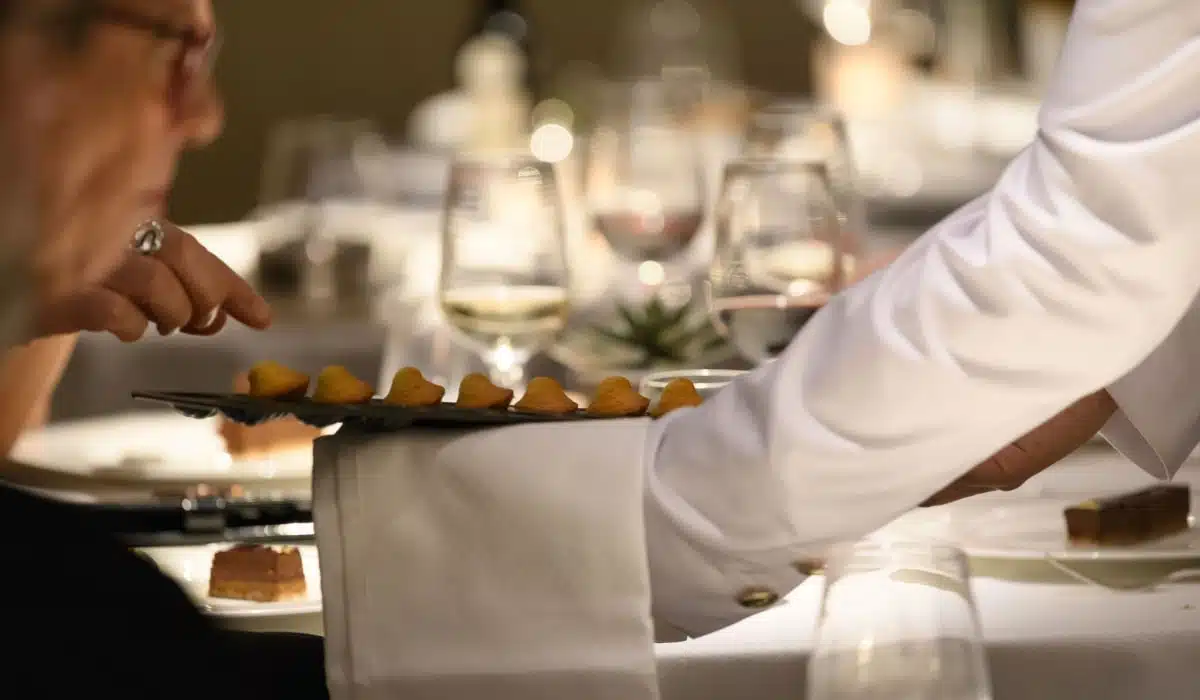 Gastronomy aboard Le Commandant Charcot
It is now up to the three men to share the fruit of their experience with their teams before Le Commandant Charcot sets sail on her first cruise. "We have had to create positions that didn't exist before, such as a reception manager," says Florent Kuhry, one of the ship's two hospitality managers. "We have to ensure that the service and food meet the passengers' expectations every day." In-person team training is also planned with the Dorchester Collection Academy so that the excellence of the service matches the excellence of the cuisine.
With 235 staff members, 135 suites and no less than three restaurants, this extraordinary 30,000-tonne ship had to create an exceptional food offering. "I really like the idea that passengers will discover distant horizons, the rugged beauty of polar landscapes and so a complete change of scenery – and then for their meals, they will return to the soft atmospheres of these charming and elegant restaurants to enjoy refined French cuisine," says Alain Ducasse. 
This promise is set to become reality aboard Le Commandant Charcot. Each of the three restaurants will have its own signature, offering the unique experience of French hospitality. On the terrace, the Inneq bar has an offering that varies daily as well as a permanent menu. Gastronomic restaurant Nuna gives pride of place to natural, healthy and gourmet cuisine from breakfast to dinner. And Sila offers an original and hearty buffet. From the dining experience and service to the wine waiting and atmosphere, everything will be in harmony to create unforgettable culinary memories.
Crédits photos :  ©PONANT/Studio Jean-Philippe Nuel – Axe 3D Studio / ©PONANT/François Lefebvre / © istock photo / ©PONANT/Alexis Harnichard / ©PONANT/Nicolas Matheus / ©Ducasse Conseil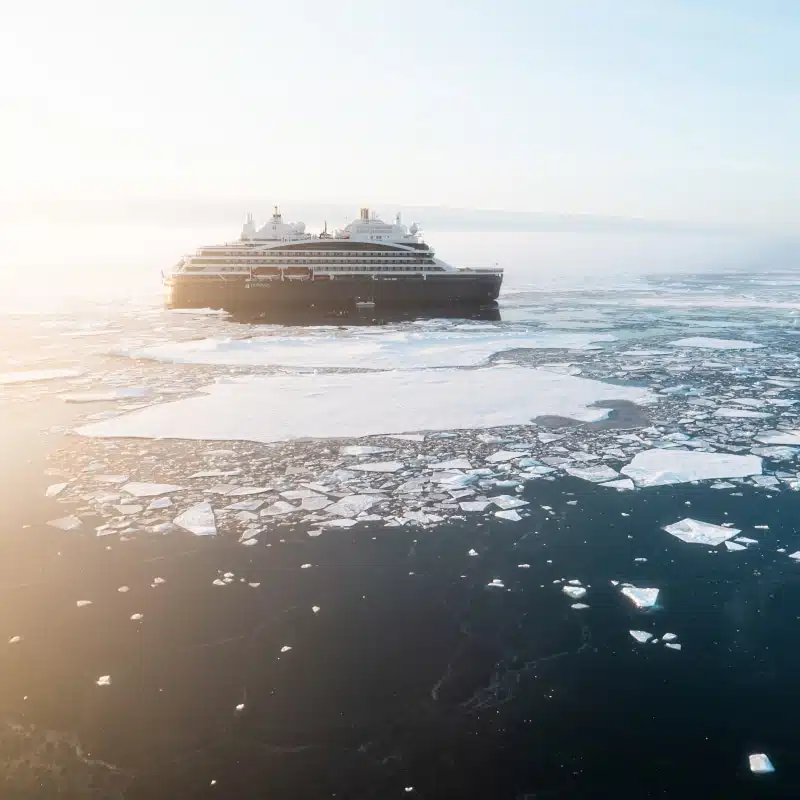 Pairing haute cuisine with polar exploration
Embark on an unprecedented culinary and polar odyssey aboard Le Commandant Charcot