An archaeological treasure to discover in Australia
The oldest First Nations Peoples rock art paintings have been reliably dated at more than 17,000 years. This ancient tradition provides an insight into the customs and continuing history of Australia's First Nations Peoples. Mick Fogg, photographer and PONANT Expedition Director specialising in the Asia-Pacific region, guides us through this intriguing and diverse history.
The oldest art form
Across Australia, rock art is an integral part of First Nations life and customs. "Many sites are considered sacred and are protected under the Environment Protection and Biodiversity Conservation Act ," explains the Expedition Director. "The oldest rock art image of a Kangaroo motif in the 'Naturalistic' style from the Kimberley region has been successfully dated at 17,300 years. This predates the finely painted complex representations of the human form known as Gwion Gwion or Gyorn Gyorn that are known to be at least 12,000 years Old," he says. As dating technology improves, much older dates are likely to be revealed. "Some are even thought to be at least five times older than the Egyptian hieroglyphs," says Mick Fogg. "Making them the oldest anthropomorphic motifs on our planet,  providing a window into how humans lived and thought on the Australian continent since their arrival between 65,000 and 80,000 years ago."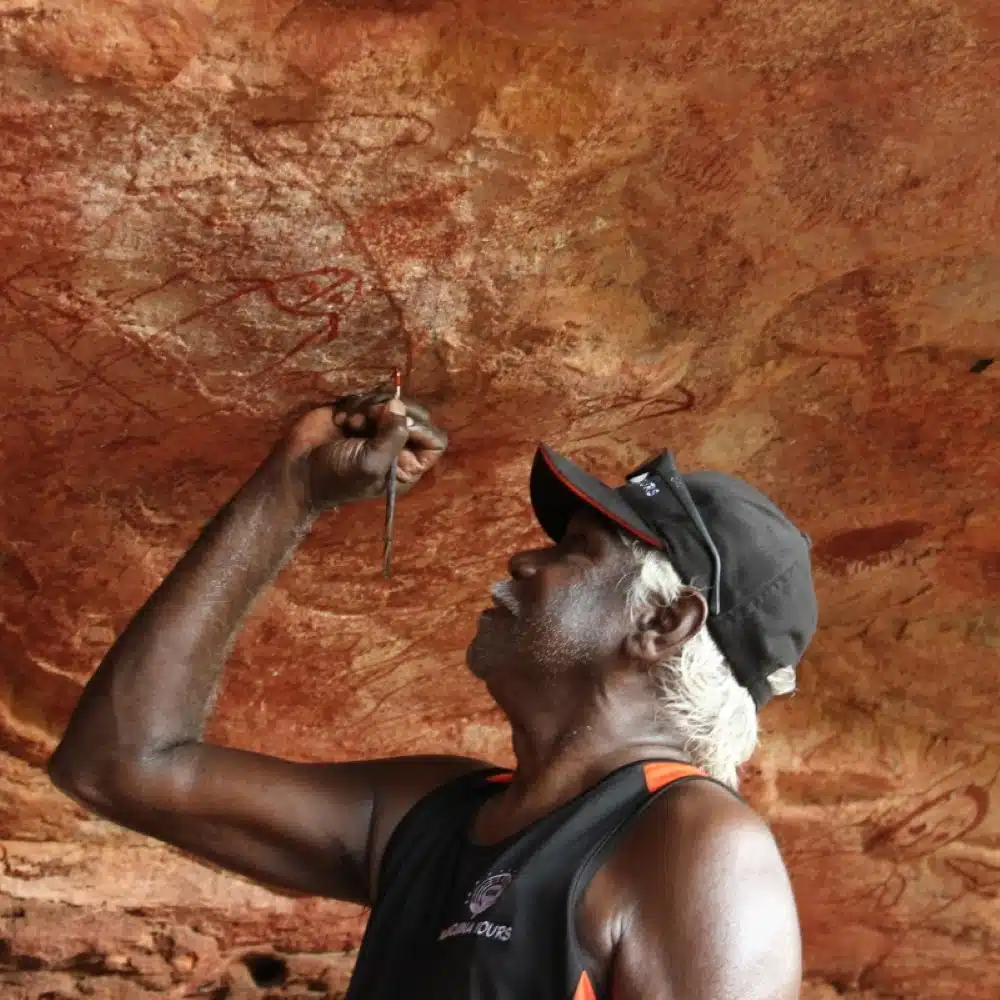 Whilst hundreds of thousands of sites have already been recorded, it is estimated that there are tens of thousands more awaiting rediscovery in the Kimberley region alone. In February 2021, a rock art painting of a kangaroo was discovered that dates back approximately 17,300 years. It was dated by analysing fossilised wasp nests underneath and on top of the pigments.
Symbols and techniques
"These images typically represent the Dreamtime (creation time), totemic animals, ritual, custom or living traditions," says Mick Fogg. They have two main forms: engravings (petroglyphs) and paintings or drawings (pictographs). Petroglyphs are created by removing rock through pecking, hammering, or abrading in order to leave a negative impression. Pictographs are made by applying beeswax, spinifex resin or pigments to the rock. The most common types of pigments include a variety of ochres, charcoal, clay and chalk. In a broad sense Rock art in Australia features three main pattern types, within which there are infinite variations reflecting the artist's preferences or cultural group: handprints or negative stencils created by blowing wet pigments from the mouth, geometric forms (circles, arcs, dots or animal tracks) and human or animal figurative forms.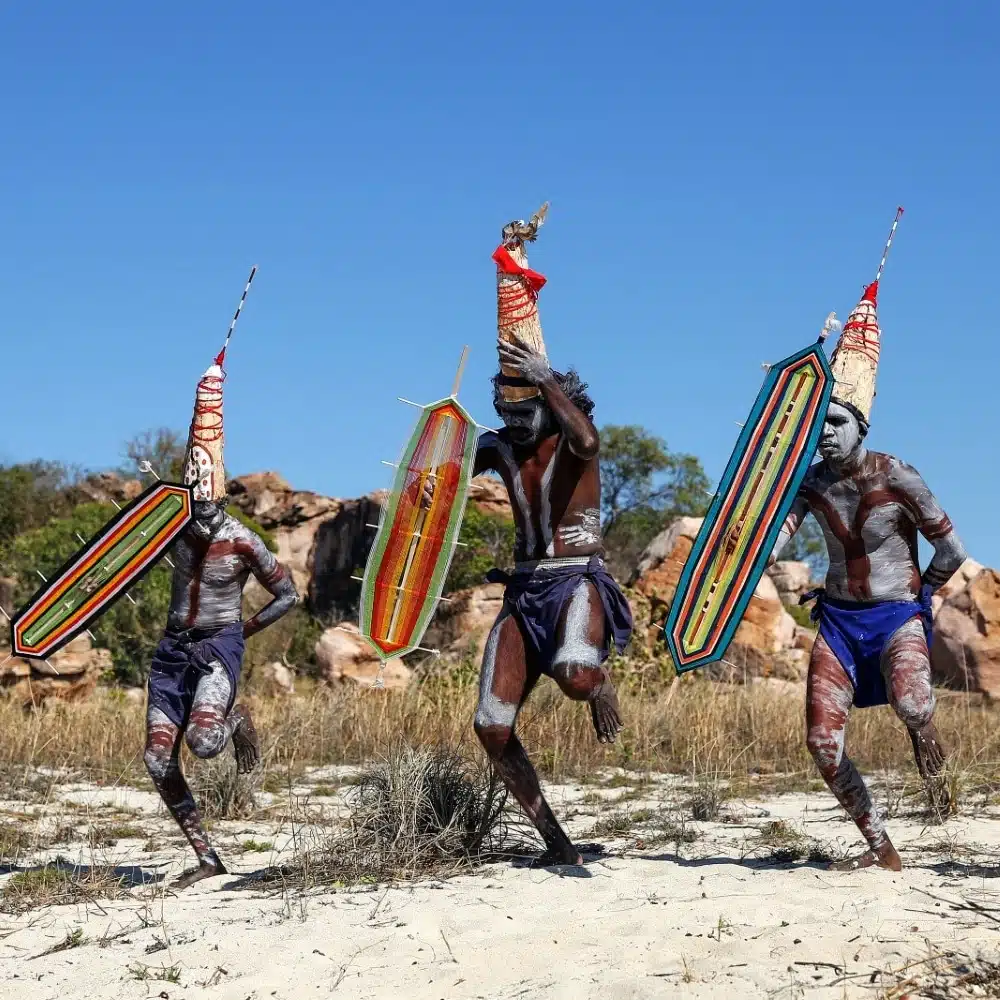 Each region has its own treasures
There are hundreds of thousands of rock art sites in Australia, including the Central Desert, Cape York, Arnhem Land, Burrup Peninsula (with over a million petroglyphs) and the Kimberley. "Each region has its own unique famous images, such as the Quinkans of Cape York, the Rainbow Serpents and x-ray images of Arnhem Land, and the Wandjina and Gwion Gwion styles unique to the Kimberley region, a vast region, two-thirds the size of France, which alone is home to more than 500,000 sites," says Mick Fogg.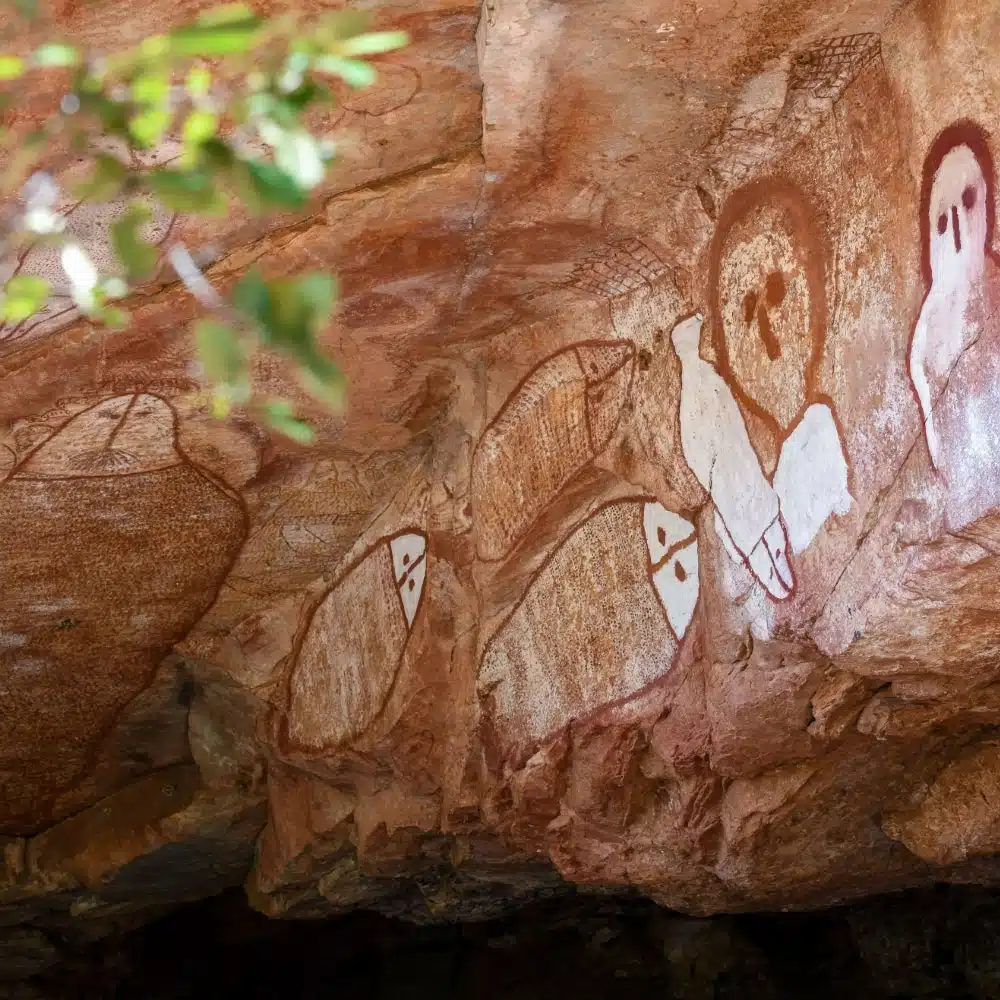 Gwion Gwion rock art depicts finely painted human figures in elaborate dress with a rich range of artefacts, including clothing, spears, boomerangs, dilly bags and ornaments. 
The Wandjina paintings depict the spirit ancestors in anthropomorphic form with halo-like headdresses and mouthless faces with large round eyes, set on either side of an ovate nose. The Wandjina continue to be refreshed to ensure the annual renewal of the seasonal cycle and the associated periods of natural fertility.
Photos credits : © Studio PONANT ; © Mick Fogg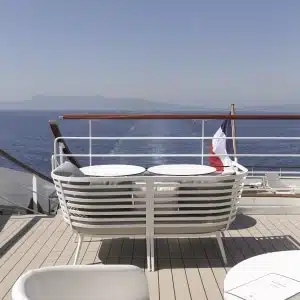 Set sail for the treasures of Oceania