The expedition around the world to fight plastic pollution
Plastic pollution is now one of the most pressing environmental issues we face. Although traditional approaches attempt to limit the phenomenon, the Plastic Odyssey project is going a step further. In 2020, a self-sufficient boat will explore the oceans, stopping all over the world to discuss plastic recycling. An encounter with Maïté Abos, head of the association.
How would you describe Plastic Odyssey in a nutshell?
The Plastic Odyssey association was founded two years ago by two merchant navy officers and two engineers. Why? They had observed that enormous amounts of plastic on our shores end up in the ocean. Collecting it would seem to be the simplest solution. But in practice, only 1% of plastic waste floats on the surface of the water, the rest sinks and decomposes into microparticles, making it almost impossible to recover. To tackle the root of the problem, we are developing new solutions to turn the waste into useful items, before it gets into the water. So far, existing solutions have been technological and extremely expensive and therefore only available to industrialised countries. We are therefore drawing inspiration from machines that already exist in our countries and adapting them into low-tech machines that are easy to build and repair and use very little energy. We have decided to build them without patents so that anyone can copy them and adapt them to their environment.
© TRISTAN REYNAUD / ZEPPELIN NETWORK
What kinds of machines are you talking about, can you give us some examples?
We have a sorting sensor that works using spectroscopy. Currently, a small cheap sorting sensor costs €15,000; ours costs €100 at most. There is also a recycling machine for shredding the plastic waste, washing it, pushing it through an extruder and melting it. The result looks a little like modelling clay which can be used to make all kinds of useful, and most importantly, sustainable items: bricks for houses, paving for roads, and furniture. The third machine involves converting the non-recyclable waste into fuel. With one kilogram of plastic, you can make one litre of fuel. All these machines will be on board the boat, which will be powered by fuel made from plastic waste.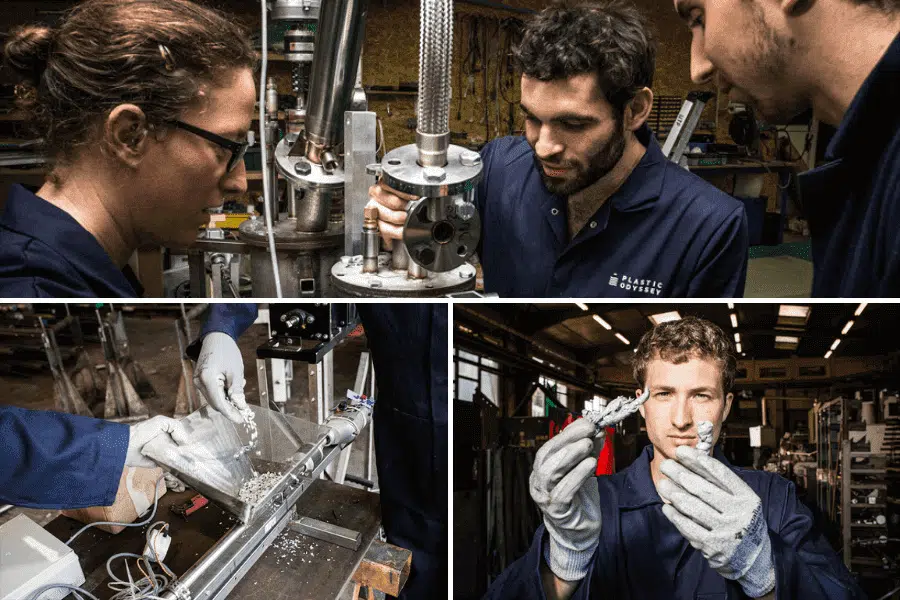 © TRISTAN REYNAUD / ZEPPELIN NETWORK
How far has the project come?
The 1 st stage of the project was to launch a 5-metre prototype catamaran: it worked. We are now working on educational machines. At the end of 2020, around fifteen people will set sail on the boat, even though the association's activities will be mainly based on dry land. At each of the 30 stopovers, we will set up a mobile village, where we will present alternatives to plastic as well as solutions that are accessible to all. We will also hold workshops and training sessions to build machines with the locals.
Where will the boat stop?
Setting off from Marseille, we will do a tour of the Mediterranean, followed by Africa, South America, and finally Asia, before heading back to the starting point via South Africa.
We are still working out the rest of the route. We have focused on the coasts most affected by plastic waste pollution.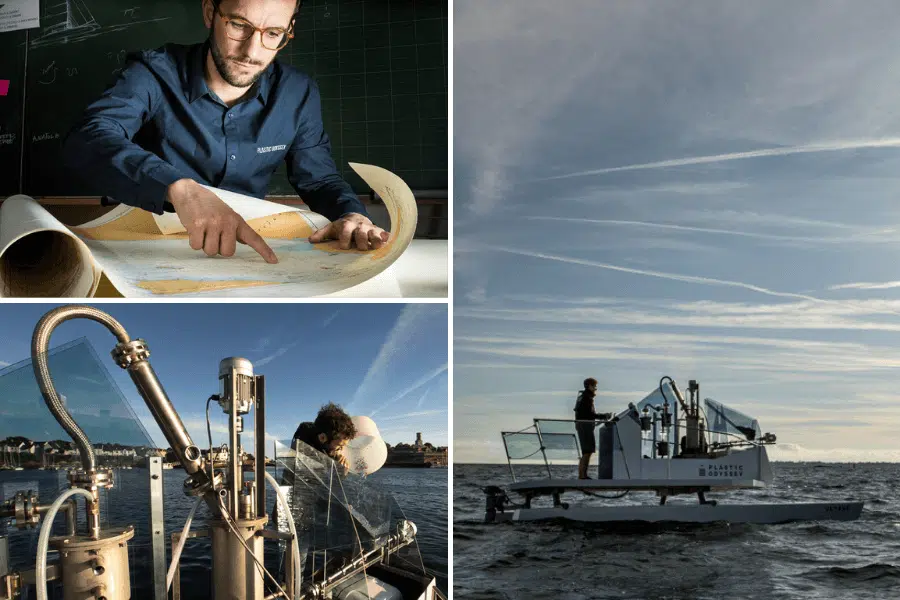 © TRISTAN REYNAUD / ZEPPELIN NETWORK
How are you preparing for these different stopovers?
We are working with anthropotechnic researchers to identify the on-site equipment and any potential cultural and social barriers linked to beliefs. The appropriation of our machines is a key issue for us, and we want to integrate the human factor so that we are not just focusing on technological solutions. We are often asked: aren't you afraid someone will copy you? No, so much the better if they do!
Will all the waste collected be used during the trip?
The waste will be collected on land, at each stopover, and not at sea. The recyclable waste will be turned into items and the non-recyclable waste into fuel. This way, we will show that waste can be a resource for powering a boat, motorbike or engine-generator.
© TRISTAN REYNAUD / ZEPPELIN NETWORK
Plastic Odyssey: is there a link with the myth of Ulysses?
Of course! Our own odyssey is based around plastic. It will be a journey of sharing and learning. We are targeting destinations where we have a lot to contribute but also destinations that we can learn a lot from.
Is that the core of your philosophy?
Yes. Linking the environment to social issues. Showing that there is an economy for used plastic, that we can create jobs around recycling and make useful items from waste. Fighting plastic pollution and poverty at the same time.
© TRISTAN REYNAUD / ZEPPELIN NETWORK
Are mentalities changing?
Yes, lots of associations are already carrying out awareness-raising activities. Currently, there are two solutions: industrial, expensive, specialised, high-tech solutions that are only available to developed countries. And on the other end of the scale, we have grassroots initiatives, such as collecting waste by hand on the beaches. There was a need to develop something in between: tools accessible to anyone, that cost almost nothing to make and are quickly profitable so that small quantities of plastic can be recycled and very quickly turned into resources.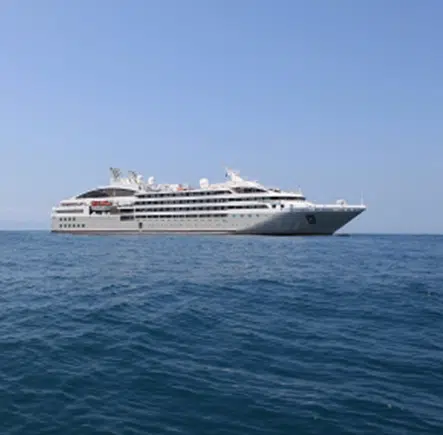 PONANT continues supporting sustainable tourism by launching its own Foundation