An exploration of coral reefs teeming with life with our expert diving specialist
Scuba diving is a hallmark activity on many a Caribbean cruise. But some travellers may have questions about the sport. Is it accessible to all levels and ages? What can you see in the Caribbean waters? Patrick Brissac, PONANT's director of water activities, helps answer your questions.
What are the best dive sites in the Caribbean?
There are many very interesting sites. I'd say that the best one is the 'Sisters' off Carriacou in Grenada. This pair of rocks is home to a rich variety of fauna, including grey reef sharks and spotted eagle rays.
In Saint Lucia it's possible to dive to a beautiful wreck, the Lesleen M. It's located off Anse Cochon between 12 and 22 metres below the surface. The ship is around 55 metres long and was sunk in 1986 to create an artificial reef. Today, it is packed with sedentary fish, moray eels and lobsters, making for a great diving experience.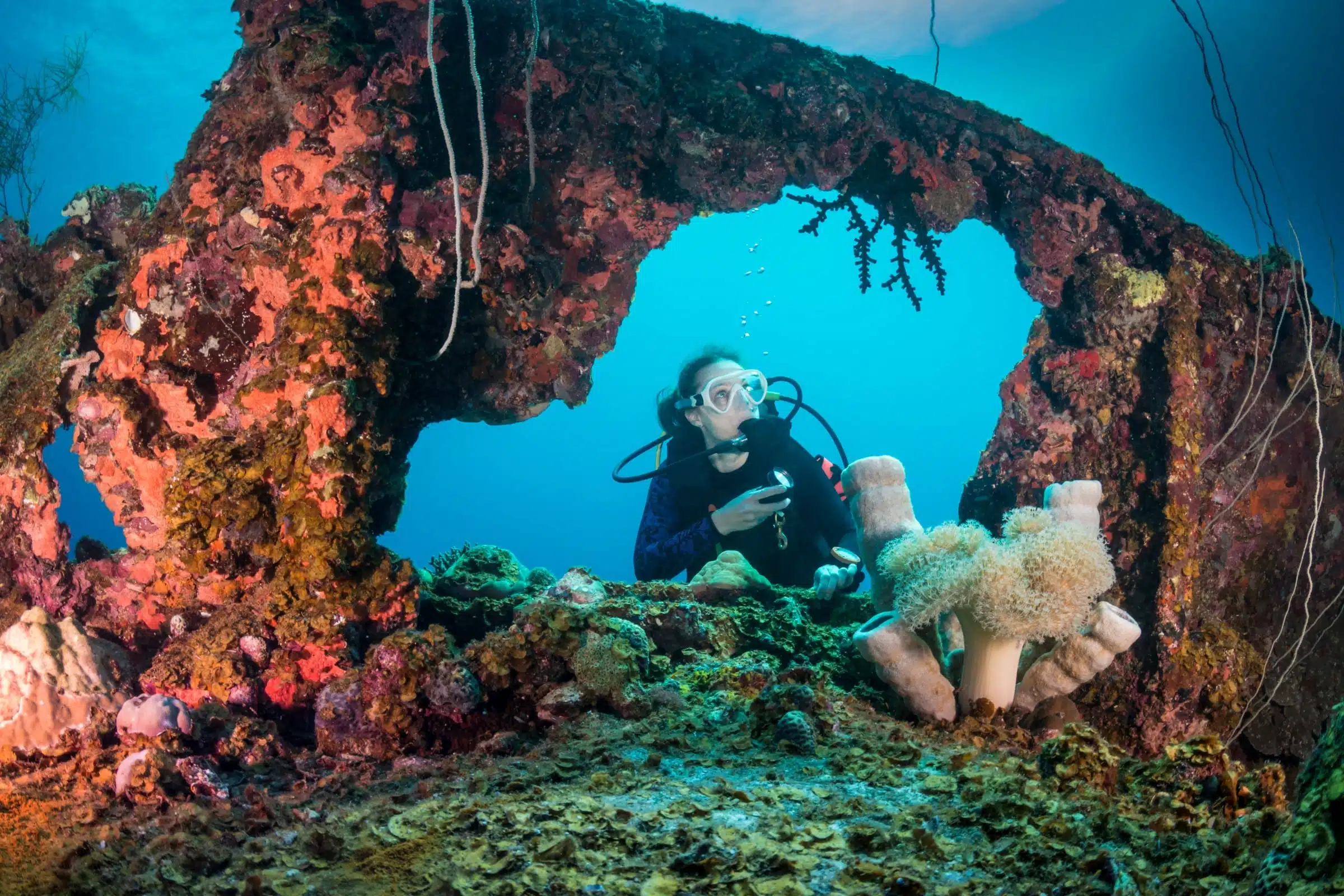 What typical fauna can you see?
There is an impressive number of fish, stingrays, triggerfish, green moray eels, lobsters and barracudas that any level 1 diver can access.
Depending on the area, you can find green and hawksbill turtles, nurse sharks and grey reef sharks — both harmless to humans — spotted leopard rays, stingrays, lobsters, gorgonians, sponges and even soft corals.
More and more frequently, we're also seeing species that are not native to the Caribbean. This is the case with the lionfish, a highly invasive species from the eastern Indian Ocean, the Red Sea and the Pacific Ocean.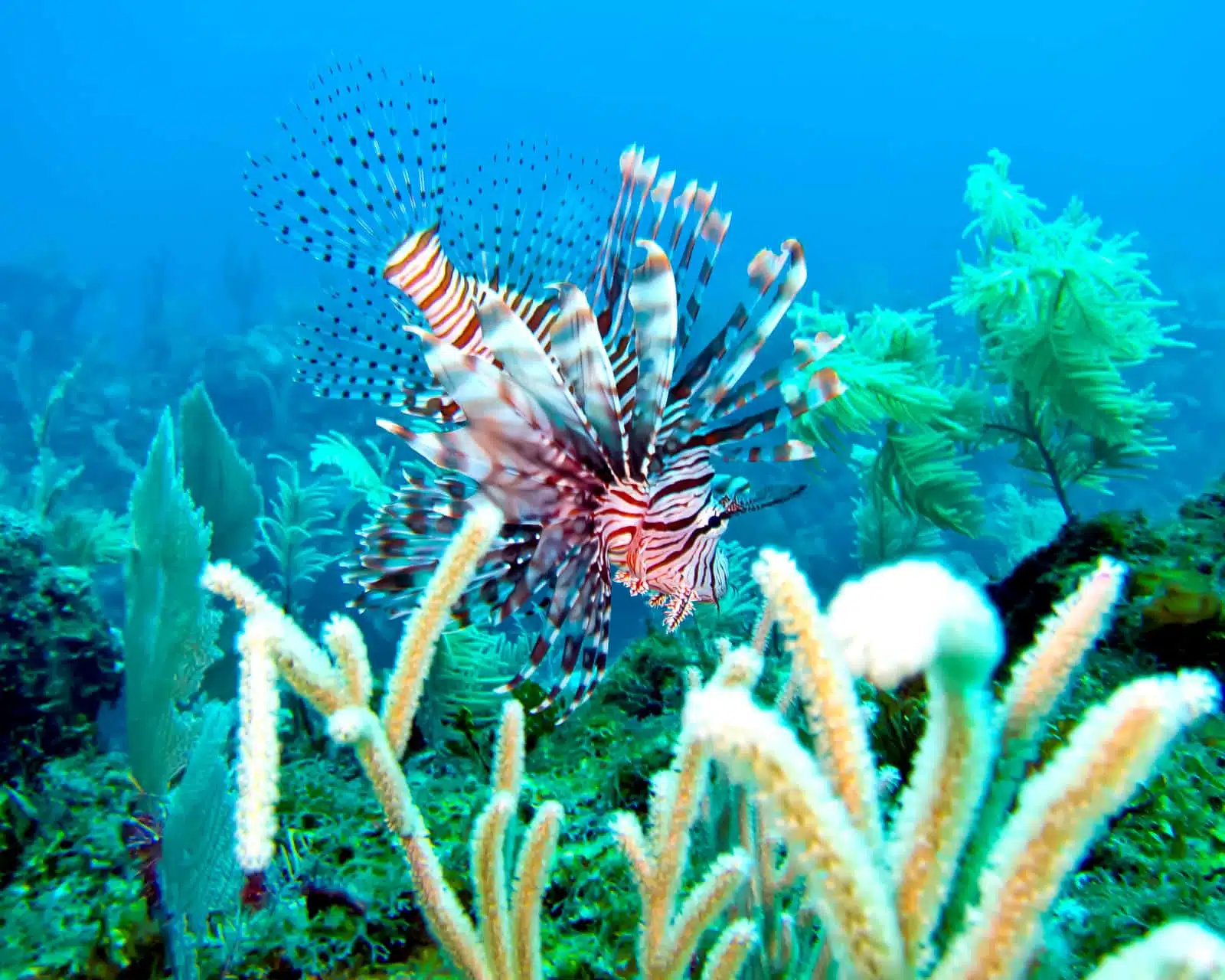 The red lion fish, an invasive species in the Caribbean
 It in the Caribbean waters around 30 years ago,

 

probably after being released from an aquarium. Today, they can be found everywhere, from Florida to Venezuela.
It

 

feeds on fish larvae and small coral reef fish, leaving these species no time to grow and breed.
It also has

 

a fast reproductive cycle

 

with stinging egg clusters. This means the eggs are not eaten by other fish.
It has no known natural predator in the Caribbean.
Lionfish have

 

venomous spines

 

on their dorsal and ventral fins.
They constitute

 

such a major threat to local ecosystems that special hunts are organised. All divers are allowed to catch them. Fishers sell them after preparing them (removing the venomous spines).
People then cook the fish during big charity barbecues or in restaurants. The

 

flavour is similar to that of the scorpion fish, but more delicate.
Are these dives open to everyone?
We always chose sheltered areas for our passengers that allow them to safely and comfortably learn to dive.
The Caribbean boasts many outstanding sites that are suitable for both beginners and experienced divers, including Bequia island in Saint Vincent and the Grenadines, Saint Barthélemy, Saint Lucia and Grenada.
In the Caribbean waters, you don't need to dive very deep to see some really beautiful things. For example, off the island Mayreau in the Grenadines, there is a beautiful wreck dating back to 1918 which has become an amazing artificial reef.
In Molinere Bay in Grenada, there's another unusual site: an underwater sculpture park. The reefs in this dive site were badly damaged. The park was created to encourage interest and make them more attractive. There's a variety of statues to see when snorkelling or diving, all at different depths and covering an area of several metres.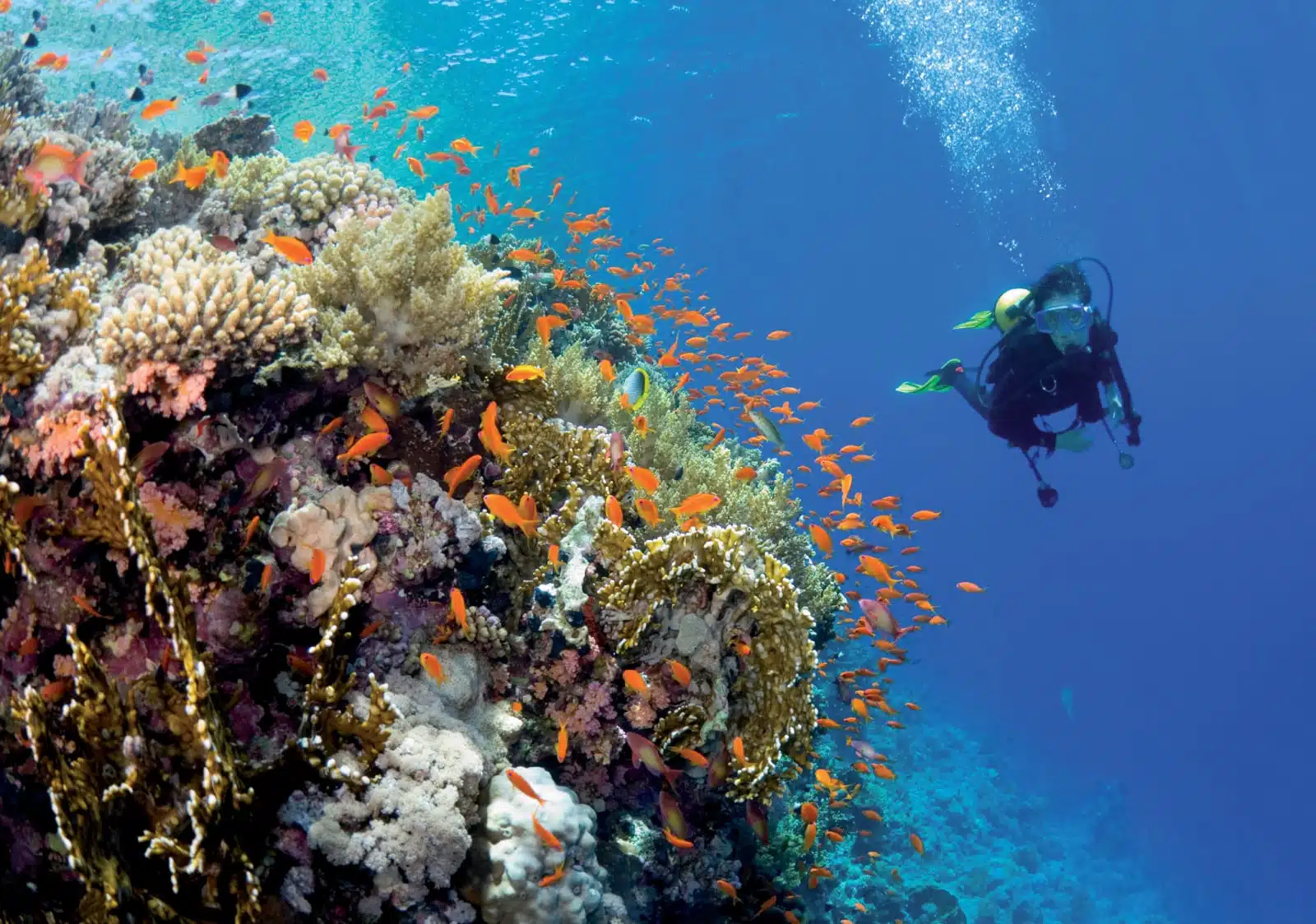 Can you learn to dive later in life?
Of course, many people take it up later in life! It's important to be fit and healthy as there are several contraindications for people with diabetes, heart conditions, vascular problems, breathing problems and neurological conditions, such as epilepsy.
It's possible to learn to dive on one of our 'yachting' cruises. These pleasure cruises are also the most interesting for level 1 divers. On our expedition cruises, we are in more isolated environments so divers normally require level 2 or advanced certification.
The rules to follow when diving to help protect and preserve the environment?
At PONANT, we often say that 'the more you know about something, the better you protect it'. This holds particularly true for marine environments. Our instructors offer advice before each excursion with very clear instructions. It is important that passengers are aware that their behaviour — no matter how unintentional — can have a devastating effect on the seabeds visited. You should not break anything, pick up things, cling on to the reefs or splash about in an uncontrolled fashion. We make them aware that certain species are very delicate. For example, barrel sponges growing up to two metres high can be easily damaged and take a very long time to recover.
We also try to educate those on board who don't dive. We show them photos of the seabeds in the areas they are visiting and provide detailed explanations.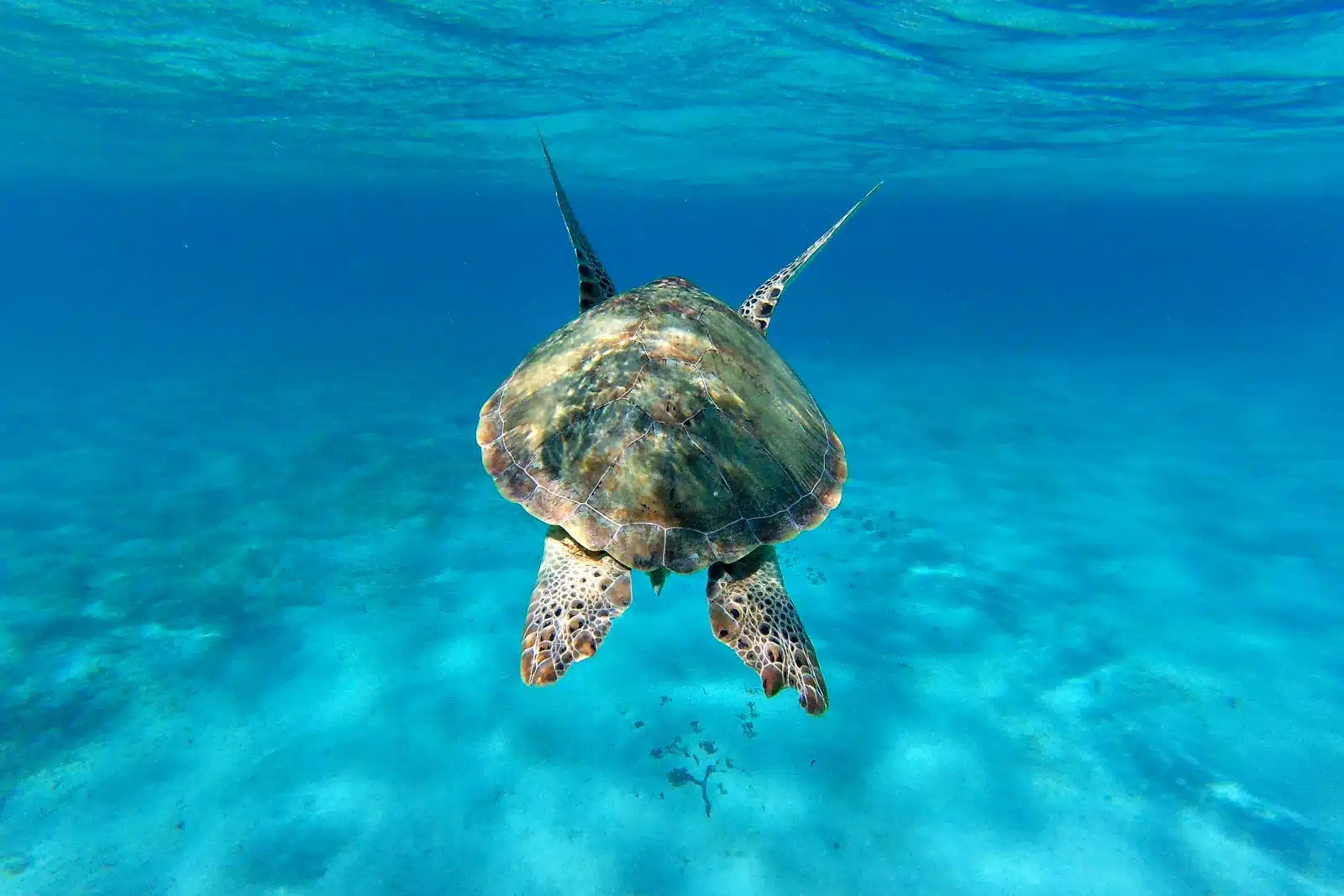 Can you share one particularly poignant Caribbean diving memory with us?
The first one that springs to mind is from 1992. I was diving in Barbuda (Ed.: north of Antigua, in the Lesser Antilles) when I discovered a plane wreck 12 metres below the surface. According to the authorities, it had been used for drug trafficking. It was amazing to see something like that underwater that most people wouldn't be able to access. I experienced a unique sense of adventure and discovery.
I also have great memories of my first dive in an enormous shipwreck which sunk in 1961 off Saint George's in Grenada. At the time, it was the biggest wreck in the Antilles. You could go inside and explore it. Today, time has taken its toll. The site is smaller, some objects have deteriorated and others have been taken by the currents. It's a dangerous dive and entering the wreckage is not advised.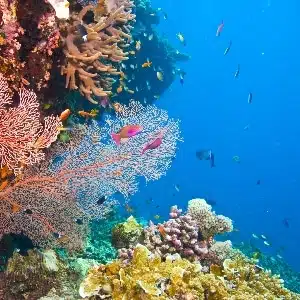 Experience the amazing seabed world of the Caribbean on an extraordinary cruise with PONANT